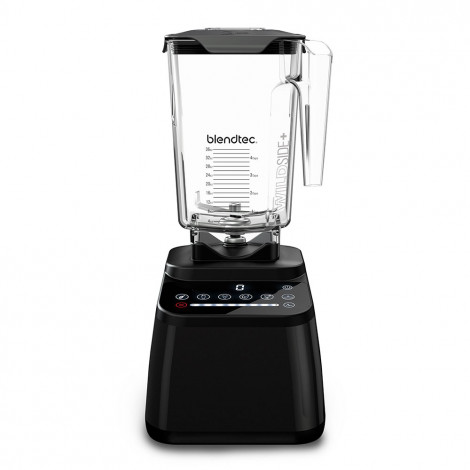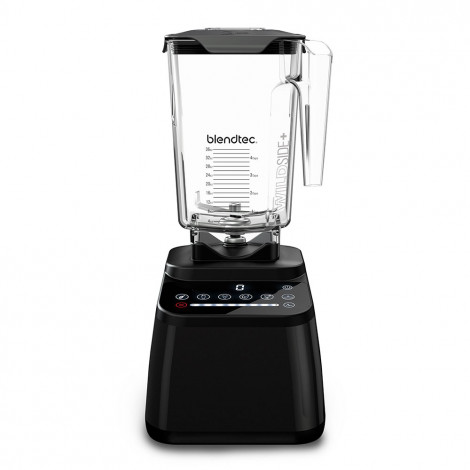 Blender Blendtec Designer 650 Black

Blender Blendtec Designer 650 Black
In Stock
Specifications
Country of Origin
United States of America
About Blendtec Designer 650 Black
Blendtec blenders are made in the States. It's one of the strongest brands in the market, popular not only between worldwide food chains, but also Lithuanian business clients. The main reason for that – long serving time and impeccable blending quality.
Because of the powerful engine and patented jug qualities, you won't need extra mixing sticks or crushers and the cleaning will be done in seconds. Because of exclusive technological solutions, like impulse blending system, square jug shape, 10 times thicker bent blades and solid titanium axis, the process will be impeccable when blending, crushing, grinding or even making peanut butter from whole nuts!
With home blender Designer 625 you will make delicious fruit smoothies and juices – healthy lifestyle for you and your family has never been easier! Blending will save all the vitamins of your fruits and vegetables, unlike juicing. This blender will handle seeds, fruit cores or even hard stems. Designer 625 is very versatile – you will blend not only healthy and delicious smoothies, but also nutritious, creamy soups from fresh vegetables, make your own vegetable sauces or delicious cold desserts with ice cream. This blender can easily handle unprocessed grain or mix dough for bread and all of that in less than 90 seconds! Just click one button and while Designer 625 home blender with a Smart-Touch technology does the job for you, enjoy a free moment for yourself. Cooking has never been this easy! When you choose Blendtec Designer 625 blender cycle, you can easily speed it up or slow it down depending on your needs. Once the cycle finishes, your new blender will automatically stop. Unique Blectec jug design and specially shaped knives will blend your products till that perfectly smooth texture. Powerful engine and patented jug qualities make sure that nothing gets stuck or needs hand mixing.
You will clean the machine very easily in just a few seconds. Smooth design and flat integrated panel – no complicated handles or buttons. Jug control is also very easy – simply pour warm water, a bit of cleaning liquid and press the button "clean" for a few seconds. Rinse it out and your jug is ready for the next recipe.
RIGHT BEARINGS
Most manufacturers avoid using ball bearings because they cost more. Blendtec uses specially created sealed carbon steel bearings. This technology reduces friction, noise level and extends engine durability.
AUTOMATICALLY ADJUSTABLE SPEED
Some ingredients blend better at a lower speed. Blendtec blenders carefully adjust and set the most optimal speed.
EVEN BLADES
Patented Blendtec vertical wing-type knives are very sharp and created to reach max effectiveness. Your ingredients will be blended very well because of the exclusive knives design.
SAFETY IS IMPORTANT!
Be sure for your safety – Blendtec is certified according to ETC, which means that it meets all the national safety standards.
TALK TO ME
Digital screen will let you know, when the blending is finished. It will also watch and count your actions. When using the blender for the 9th…99th…or 999th time, you will make sure that you purchased the right product!
NO PART IS TOO SMALL
Even the smallest Blendtec parts had a lot of attention and work by experienced engineers, who made sure that everything works smoothly and serves a long time.
ENDURANCE
Unique rubber tray will help keep your blender stable on the desired surface. It also makes sure that hot air which comes out does not mix with the cold air that comes in. This way the working temperature is reduced and serving time is extended.
KEEPS EVERYTHING IN PLACE
Every Blendtec jug has a square base, which fits really well with the square platform. This way the optimal stability is created and the jug can not move around. In the package you will find a 1.8 l FourSide jug and as extras you can also buy a 2.4 l WildSide and a 0.5 l Twister jugs. Twister is made for small amounts and very smooth, even texture food, like nut butters, baby food, sauces and so on.
All Blendtec jugs work great with all Blendtec blenders. Adjust according to your personal needs!
CONTROL ACCORDING TO YOUR NEEDS
Scaled sensor screen function allows controlling your blender according to your needs. One move will start the machine working at desired speed.
Features:
Commercial quality, 1.560 watts kitchen blender with 3 horse power direct drive motor.
32 000 rpm.
LED screen integrated in the front.
Control panel has illuminated, universal and easy-to-understand icons, which all to select desired functions quickly and comfortably.
Universal smoother with ice crushing function for blending, mixing, chopping, heating.
In the set there's a removable, Four Side 1.8 l jug, made from Triton Polyester (BPA-free) with bent cold forging blades, which can handle large loads, safe and reliable lid with ventilation, instructions and a book with more than 230 tested recipes.

Six preprogrammed cycles: Batters, Ice Crush, Smoothie, Ice Cream, Whole Juice, Hot Soup

8 blending speeds + pulse function

5 touch-sensitive speed buttons.
2 year warranty for fixing. Warranty starts from the purchase day. 8 year factory warranty for blender when an individual purchases for home use. 1 year for legal entities and commercial use. 2 year warranty for FuorSide 1.8 l jug.
Frequently Asked Questions
Ask your question about the product
Blendtec Designer 650 Black reviews