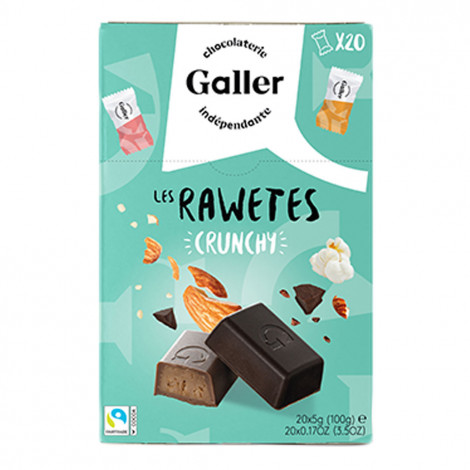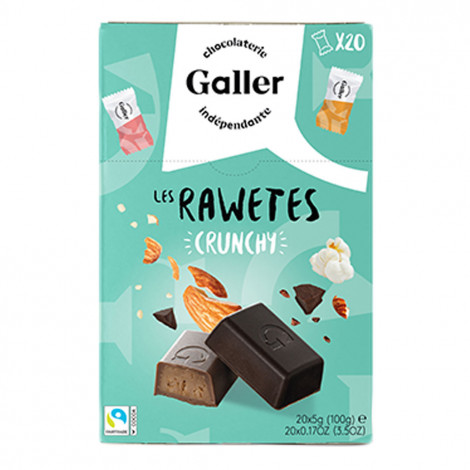 Chocolate candy set Galler "Les Rawetes – Crunchy", 20 pcs. (100 g)
Delivery takes 3 – 5 days * 85% of orders are delivered the next day

Chocolate candy set Galler "Les Rawetes – Crunchy", 20 pcs. (100 g)
In Stock
Specifications
Country of Origin
Belgium
About product
This candy set produced by the famous Belgian chocolate manufacturer is sure to impress those who prefer some crunchiness in their sweet treats. In the box, you'll discover individually packed candies, or rawetes, of four different types: there are 6 milk chocolate candies with hazelnut praline (caramelised nut cream) and popcorn pieces, 4 milk chocolate candies with almond praline filling, 6 dark chocolate candies with hazelnut praline and biscuit pieces, as well as 4 white chocolate candies with hazelnut praline and puffed rice.
In Walloon dialect, the word rawete means "a small, pretty, lovely addition". The region of Wallonia is where the Chocolaterie Galler was established in 1976. Ever since then, thousands of chocolate lovers all over the world have fallen in love with this brand.
Like the rest of the brand's assortment, the candies "Les Rawetes – Crunchy" are made from natural ingredients. They're free of artificial flavourings, colouring agents and preservatives.
Ingredients: sugar, cocoa paste, whole milk powder, cocoa butter, vegetable fat (shea butter, coconut oil, sunflower oil), hazelnuts 5%, almonds 2%, inulin, whey powder (milk), dextrose, low-fat cocoa powder, biscuits 1% (wheat flour (gluten), sugar, concentrated butter (milk), skimmed milk powder, barley malt, salt), roasted corn 0.6% (corn, sunflower oil, salt, rosemary extract), emulsifier (soy lecithin), skimmed milk powder, caramelised sugar, natural vanilla flavouring, crispy cereal 0.1% (rice flour, sugar, salt, cocoa butter), Guérande salt, emulsifier (sunflower lecithin). Cocoa solids: dark chocolate: no less than 60%, milk chocolate: no less than 30%, white chocolate: no less than 23%. May contain traces of other nuts, eggs and cereals containing gluten.
Storage conditions: store at a temperature below +21 °C.
Frequently Asked Questions
Ask your question about the product