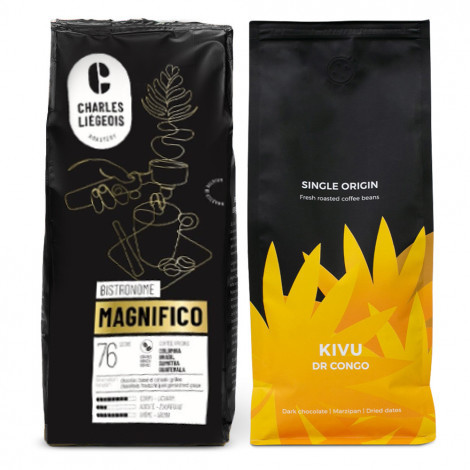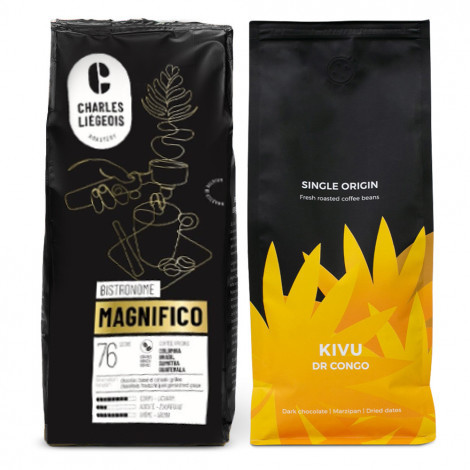 Coffee bean set Kivu + Magnifico
In Stock
Delivery takes 3 – 5 days * 85% of orders are delivered the next day

Coffee bean set Kivu + Magnifico
In Stock
About product
Coffee Mate's beans "Kivu", 1 kg
This coffee was grown in a unique place – the valley of Virunga, toward the north of Lake Kivu. Coffee trees grow at 1500 – 2000 meters height above sea level. The complexity of the soil, humidity coming from the Lake of Kivu and tropical heat makes for the ideal conditions of this unique coffee to develop its taste. Coffee is grown in the small farms owned by local families, which are merged to KAKONDO cooperative. Coffee is grown naturally in the shadows of the trees, without any pesticides. All coffee is picked by hands and every farm harvests around five (60 kg) bags of coffee. For this reason, there is only a small amount of this unique coffee that reaches the market. Coffee is processed wet at Bukavu village, in the central location of the cooperative.
TASTE PROPERTIES: Roasted specially by request of Coffee Mate. Roasting level: CITY (medium). Prepared coffee drink will reveal taste of sweet dried fruits and marzipan, with long-lasting black chocolate aftertaste. You will feel a little bit of forest fruit sourness along with sweetness. Perfect for espresso.
Type: 100% Arabica Burbon/Kent.
100% original and natural.
No added flavours.
Coffee beans Charles Liegeois "Magnifico", 1 kg
"Magnifico" is one of the bestsellers of Charles Liégeois. Its dominant notes include dark chocolate, wood and toasted cereal. The aroma is strong and the coffee itself is naturally sweet. A long-lasting aftertaste of chocolate lingers on your palate after taking the last sip. It's sure to please those who prefer classic coffee flavours.
This blend offers the perfect combination of coffees originating from different regions — Brazil, Sumatra and Guatemala — while the key tasting notes are the result of a Colombian variety.
In Colombia, coffee is grown at particularly high altitudes — coffee-growing spots are located more than 1200 metres above sea level. The ideal climate conditions lend complexity and richness to Colombian coffee varieties.
Ingredients: roasted coffee beans.
Storage conditions: store in a dry, cool place.
Frequently Asked Questions
Ask your question about the product