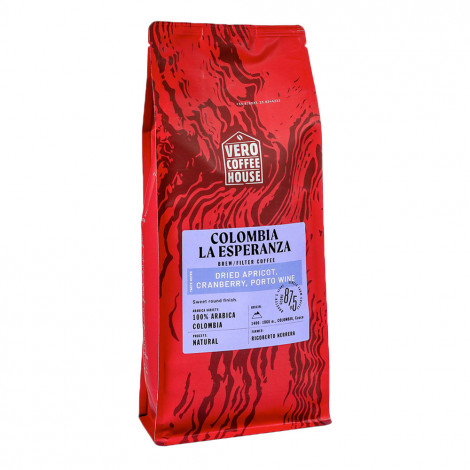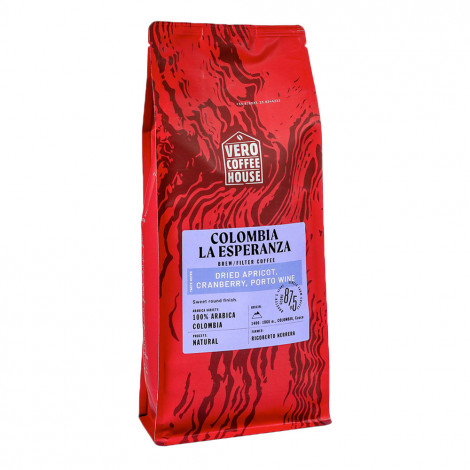 Coffee beans Vero Coffee House Colombia La Esperanza, 1 kg
Colombia
Single-origin
Medium
Product is no longer in production.

Coffee beans Vero Coffee House Colombia La Esperanza, 1 kg
In Stock
Specifications
Coffee kind
Single-origin
Manufacturer
Vero Coffee House
Coffee origin region
Colombia
Country of Origin
Lithuania
Coffee beans type
100% Arabica, Specialty coffee
About product
The flavour of this coffee is reminiscent of sweet port wine. Notes of dried apricots and cranberries tickle the palate. Roasted in extremely small batches, it's created for true coffee connoisseurs.
This is a truly exceptional coffee originating from a unique family-run farm called Cafe Granja La Esperanza. Managed by the Herrera family, this farm stands out from the crowd thanks to its innovative operation and use of modern technologies. Coffee grown there is always enchanting both in its taste and in its aroma. These 100% arabica coffee beans of the Colombia variety matured at an altitude of 1400–1860 m above sea level, in the region of Cauca. Once they had ripened fully, the beans were picked by hand, then fermented in a sealed container for as long as 15 hours. This is what has endowed this coffee with notes reminiscent of fermented drinks.
The SCA has scored this coffee 87.5 points out of 100.
COUNTRY: Colombia
REGION: Cauca
FARM: Cafe Granja La Esperanza (Rigoberto Herrera)
ALTITUDE: 1400–1860 m
VARIETY: Colombia
PROCESS: Dry
ROAST LEVEL: Fit for infusion and filter coffee
TASTING NOTES: Dried apricots, Cranberries, Port wine
Ingredients: roasted coffee beans.
Storage conditions: store in a dry, cool place.
Taste guide
Apricot
Cranberry
Winey
Coffee passport
Coffee origin region
Colombia
Coffee kind
Single-origin
Frequently Asked Questions
Ask your question about the product