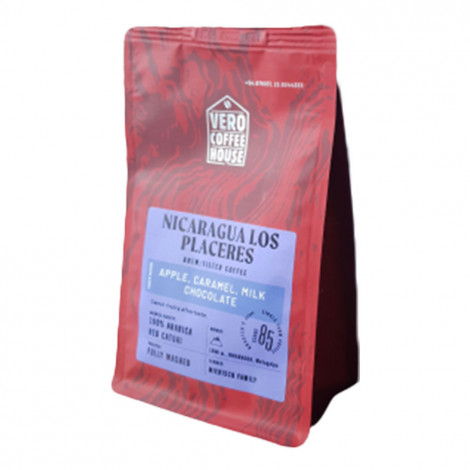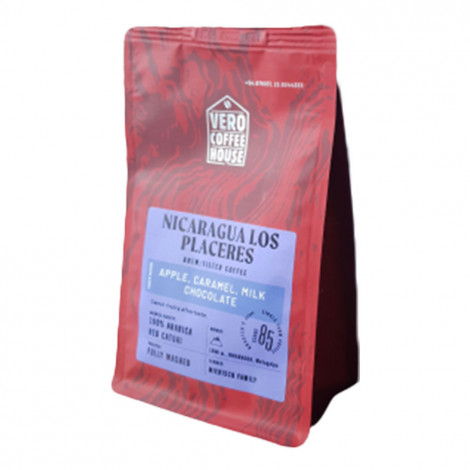 Coffee beans Vero Coffee House Nicaragua Los Placeres, 500 g
Nicaragua
Single-origin
Medium
Product is no longer in production.

Coffee beans Vero Coffee House Nicaragua Los Placeres, 500 g
In Stock
Specifications
Coffee kind
Single-origin
Manufacturer
Vero Coffee House
Coffee origin region
Nicaragua
Country of Origin
Lithuania
Coffee beans type
100% Arabica, Specialty coffee
About product
The dominant flavours detected in this coffee include apples, caramel and milk chocolate. Its aroma may remind you of sweet milk chocolate too, while the aftertaste boasts hints of fruit.
This exceptional coffee originates from the Nicaraguan Mierisch family farm where three generations work side by side. It was founded in 1908. Modern methods of growing and processing coffee are used here. The coffees from this farm were awarded several prizes in the prestigious Cup of Excellence competition.
Due to its exceptional quality and taste, this coffee is marked as Specialty. According to the SCA grading system, it scores 85 points out of 100.
COUNTRY: Nicaragua
REGION: Matagalpa
FARM: Mierisch family
VARIETY: 100% Arabica Red Catuai
PROCESS: Washed
ROAST PROFILE: Medium
TASTING NOTES: Apples, Caramel, Milk chocolate
Recommended brewing methods: Aeropress, espresso, moka pot, pour-over.
Ingredients: roasted coffee beans.
Storage conditions: store in a dry, cool place.
Taste guide
Apples
Caramel
Milk Chocolate
Coffee passport
Coffee origin region
Nicaragua
Coffee kind
Single-origin
Frequently Asked Questions
Ask your question about the product