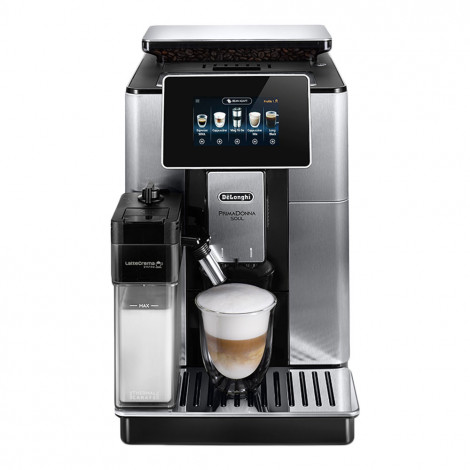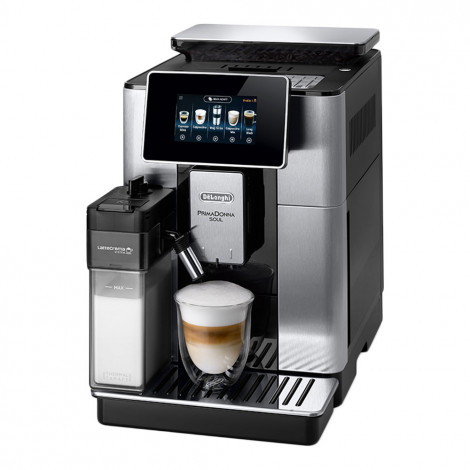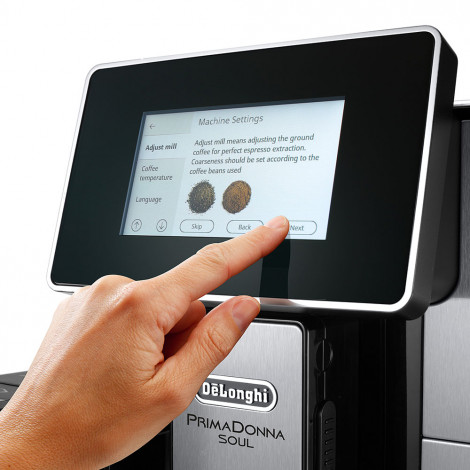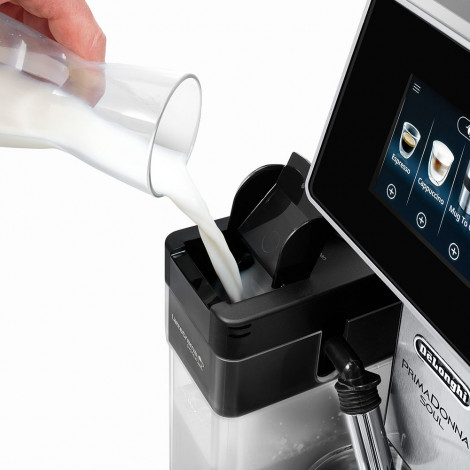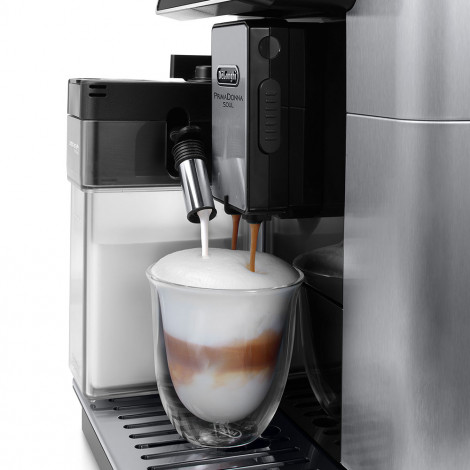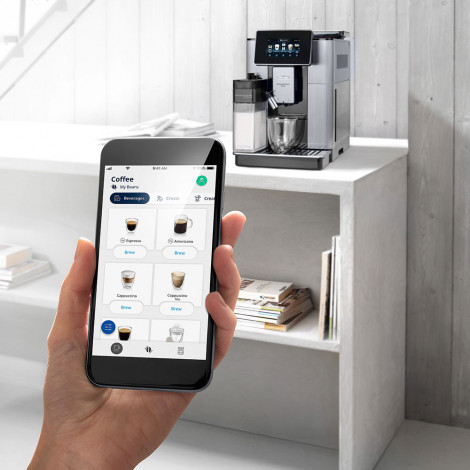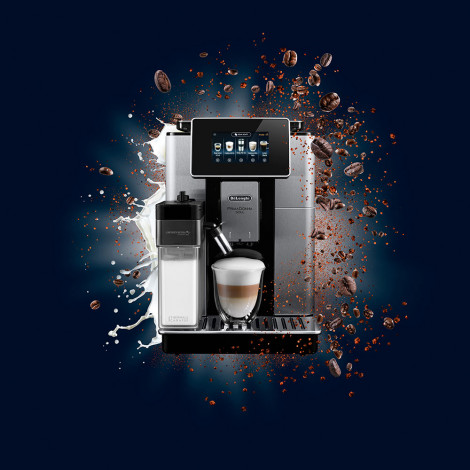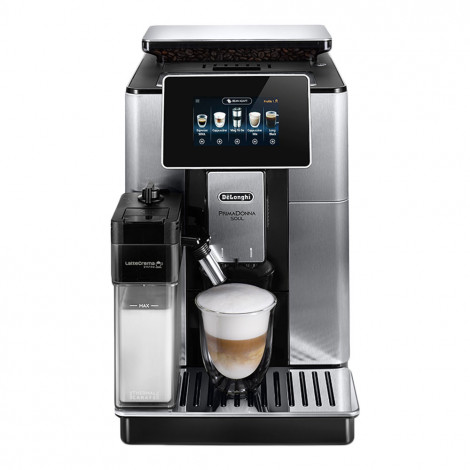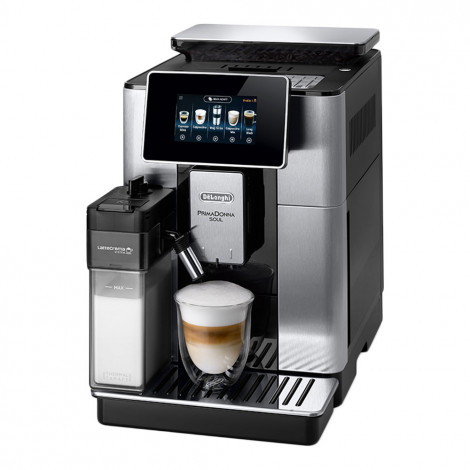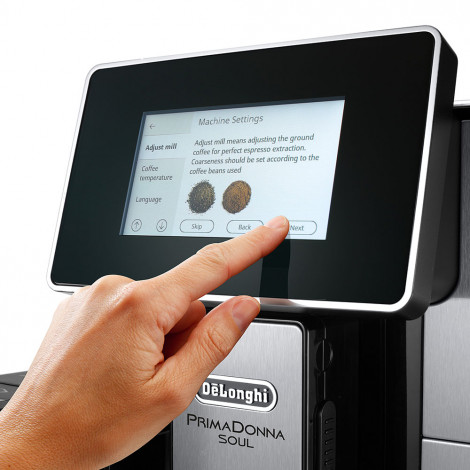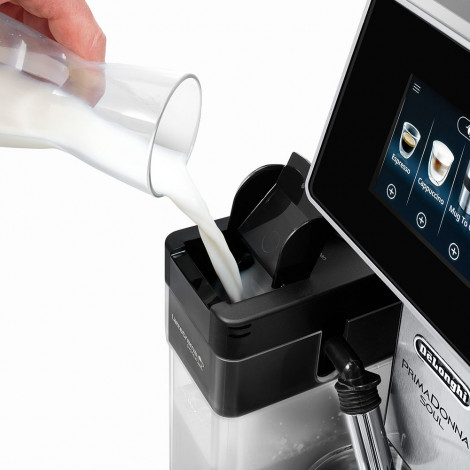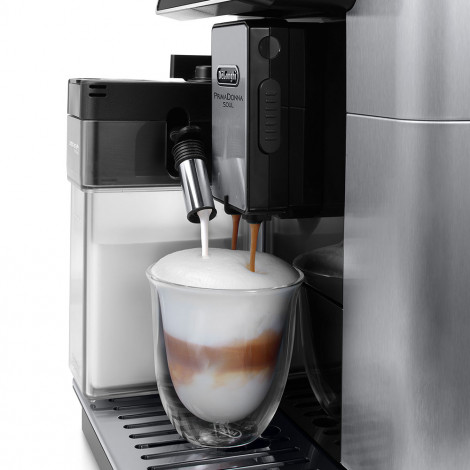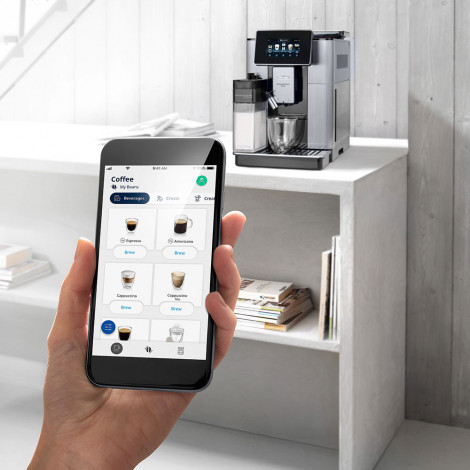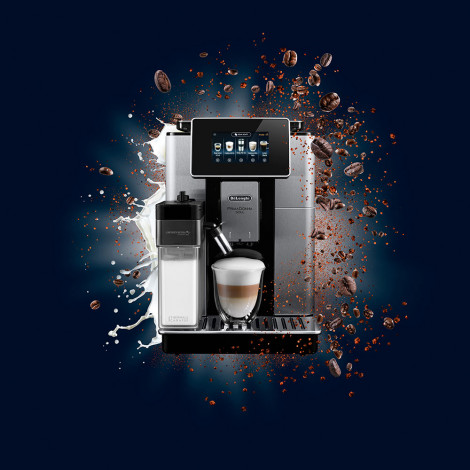 Coffee machine De'Longhi "PrimaDonna Soul ECAM 610.74.MB"
Once the parcel is ready for delivery, the gift voucher will be sent to the e-mail address provided by you (this may take a few days after payment). Promotions and discounts do not stack. he discount applies to all products except coffee machines. The offer is valid for natural persons only. Promotions are valid till 28.02.2023.
By buying this coffee machine, you become eligible for the VIP membership program and discount vouchers with a total value of 50 €.
Become a member of COFFEE FRIEND'S VIP program and receive up to 5 vouchers of 10 € each for your upcoming purchases at COFFEE FRIEND'S online store. More information will be provided via your personal e-mail address once you've completed your purchase. The offer applies exclusively to natural persons.
Delivery takes 3 – 5 days * 85% of orders are delivered the next day

Coffee machine De'Longhi "PrimaDonna Soul ECAM 610.74.MB"
In Stock
Specifications
Coffee machine uses
Coffee beans, Ground coffee
Milk system type
Integrated milk tank
Does coffee machine prepare hot water?
Yes
Does coffee machine prepare hot milk?
Yes
Height-adjustable coffee spout
14.2 cm
Water pump pressure
19 BAR
Coffee machine's screen
Colourful
Coffee machine's menu language
Czech, Dutch, english, finnish, French, german, Hungarian, Italian, Norwegian, polish, Portuguese, Romanian, russian, Slovene, Spanish, Swedish, Turkish, Ukrainian
Control type
Touch screen
Coffee grounds capacity (portions)
14
Number of black coffees prepared at once
2
Number of coffee with milk recipes prepared at once
1
Adjustable grinding level
13
Portion size
Programmable
Adjustable milk foam volume
Yes
Coffee strength (levels)
5
Coffee temperature (levels)
4
Milk system cleaning program
Yes
Other
Hot milk, Hot water, Hot water for black tea, Hot water for green tea, Hot water for oolong tea, Hot water for white tea, Milk foam
Coffee
Americano, Black coffee, Caffè latte, Cappuccino, Cappuccino doppio, Cappuccino mix, Coffee pot, Cold brew, Cortado, Double espresso, Espresso, Espresso Macchiato, Flat white, Latte Macchiato, Long black, Travel mug
Package contains
Cleaning brush, Descaling liquid, Ground coffee dosing spoon, Hot water tap, Milk container, Thermo cup, Water filter, Water hardness test strip
Coffee Drinks
Americano
Black coffee
Cappuccino
Cappuccino doppio
Cappuccino mix
Double espresso
Espresso
Espresso Macchiato
Flat white
Latte Macchiato
Long black
Coffee pot
Cortado
Caffè latte
Cold brew
Travel mug
About product
The bean-to-cup coffee machine De'Longhi "PrimaDonna Soul ECAM 610.74.MB" is designed for true coffee connoisseurs. Prepares up to 21 beverages at the touch of a button! The new Bean Adapt technology helps to reveal full variety of flavours and aromas in coffee: it is probably the only bean-to-cup coffee machine that automatically adapts the coffee brewing process to the roasting level of the beans. In addition to a variety of recipes and a perfect coffee brewing process, the machine is extremely pleasant to use due to its wide, colourful and touch-sensitive screen. Those who like smart technology can prepare coffee directly from their smart device.
WIDE VARIETY OF DRINKS: UP TO 21 RECIPE!
The coffee machine prepares all drinks with just one touch: from classic espresso, cappuccino and latte macchiato to trendy flat white, cortado and americano recipes (choose from 21 pre-programmed beverages). New functions have been installed for your convenience: with the touch of a button you can prepare the whole coffee pot and even prepare the coffee drink into your favourite travel mug (choose Travel Mug function). Using the function Brew Over Ice, you can easily prepare nowadays very popular iced coffee.
BEAN ADAPT TECHNOLOGY FOR A VARIETY OF COFFEE FLAVOURS
The taste of coffee hides in the coffee beans. In order to unfold the full palette of aromas and flavours, differently roasted beans need to be ground and brewed differently. The newest De'Longhi Bean Adapt technology takes care of that: all you have to do is connect the coffee machine to a smart device and set the roasting level of the beans via the De'Longhi Coffee Link app. The coffee machine automatically sets the grindind level, the amount of coffee to be ground and the brewing temperature. The coffee prepared in this way perfectly reveals all the taste and aroma hidden in the beans.
5 USER PROFILES
Even five users can create and save their own individual drink menu. Adjust and save the desirable strength for your drinks, the amount of milk and coffee.
CONTROL VIA SMART APP
Coffee machine can also be controlled using the De'Longhi "Coffee Link" application. Create drinks and adjust their settings directly from your smart device. The smart app provides the user with tips and suggestions for maintaining the coffee machine.
SMART TOUCH DISPLAY
Due to the intuitive and colour touch screen (4.3″) the control of the coffee machine is just a pleasure. On the screen you can easily select not only all coffee drinks, but also customize and save the settings of your favourite recipes. Everything is accessible with a simple touch! The coffee machine is extremely smart – it remembers the most frequently prepared drinks and displays them on the main screen.
19 BAR PRESSURE
This coffee machine uses a pressure of 19 bar to prepare coffee beverages, so that the prepared coffee has much more aroma and body.
AUTOMATIC MILK SYSTEM "LATTECREMA"
Due to the separate milk preparation system, the coffee machine is always ready to make the perfect milk foam. The switch on the integrated milk container allows you to select the desired consistency of milk. The "Clean" function ensures easy milk system cleaning. When the milk container is not in use, store it comfortably in the refrigerator. All parts are dishwasher safe.
THERMAL MILK CONTAINER
One of the secrets for a perfect milk foam is cold milk. In the new double-walled thermal milk container, the milk stays cold longer.
SIMPLE MAINTENANCE
The automatic descaling program, the possibility to use a water filter, rinsing programs for coffee brewing and milk systems and removable coffee brewing unit ensure perfect hygiene, which allows you to always drink impeccably-tasting coffee.
MODERN DESIGN
The coffee machine looks extremely stylish. Thanks to its versatile and modern design, it will fit perfectly in a variety different kitchen styles.
Frequently Asked Questions
Ask your question about the product