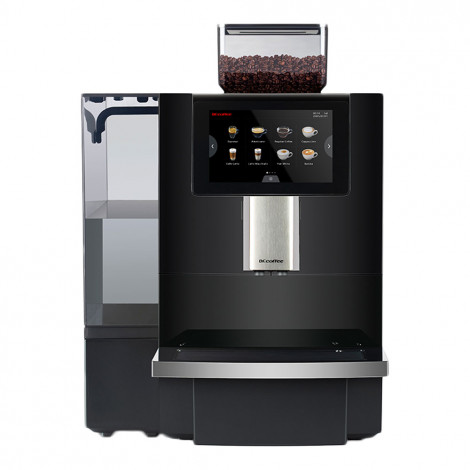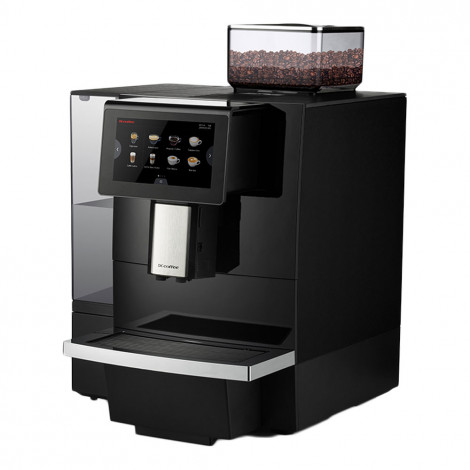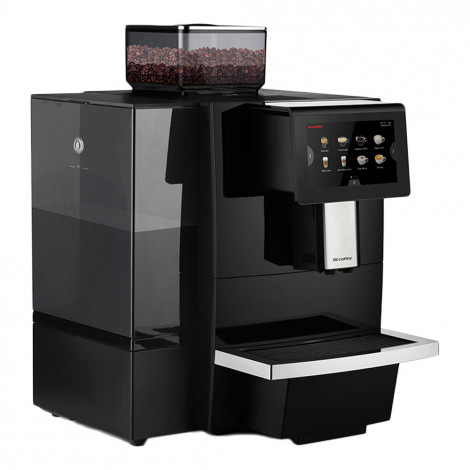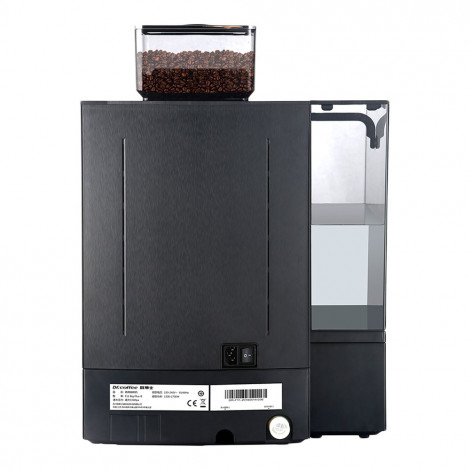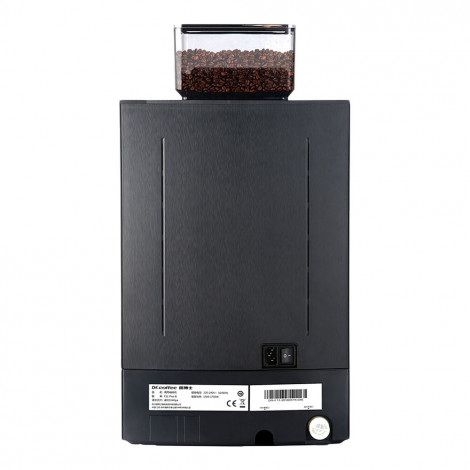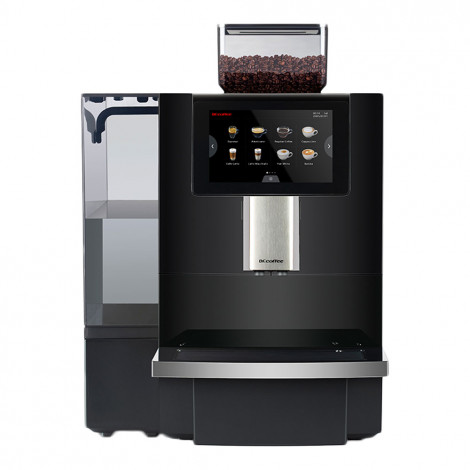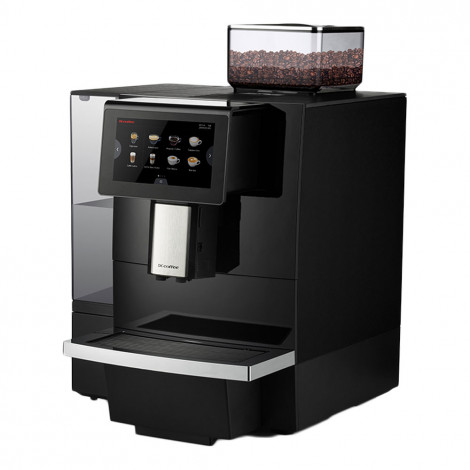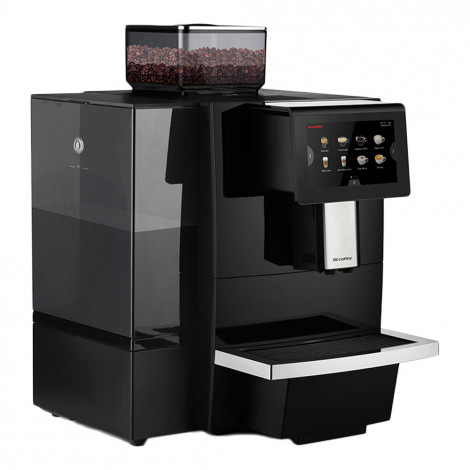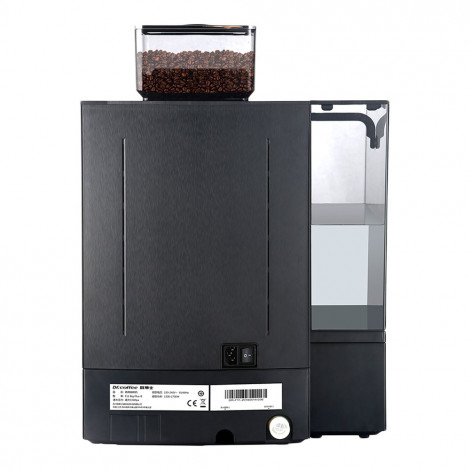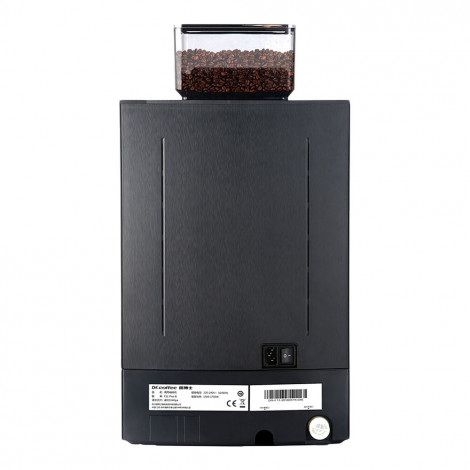 Coffee machine Dr. Coffee F11 Big Plus Black
Become a member of COFFEE FRIEND'S VIP program and receive up to 5 vouchers of 10 € each for your upcoming purchases at COFFEE FRIEND'S online store. More information will be provided via your personal e-mail address once you've completed your purchase. The offer applies exclusively to natural persons.

Coffee machine Dr. Coffee F11 Big Plus Black
In Stock
Specifications
Coffee machine uses
Coffee beans
Milk system type
Automatic milk pipe system
Does coffee machine prepare hot water?
Yes
Does coffee machine prepare hot milk?
Yes
Height-adjustable coffee spout
16 cm
Water pump pressure
19 BAR
Connection to the mains water supply
Yes
Recommended num. of cups per day
100
Coffee machine's screen
Colourful
Coffee machine's menu language
Chinese, Czech, Dutch, english, French, german, Hebrew, Italian, Japanese, Korean, polish, Portuguese, Romanian, russian, Spanish, Ukrainian
Control type
Touch screen
Coffee grounds capacity (portions)
70
Number of black coffees prepared at once
2
Number of coffee with milk recipes prepared at once
2
Portion size
Programmable
Adjustable milk foam volume
Yes
Milk system cleaning program
Yes
Other
Hot milk, Hot water
Coffee
Black coffee, Caffè latte, Cappuccino, Flat white, Latte Macchiato
Package contains
(*The manufacturer reserves the right to change the items included in the set without prior notice*), Brew group grease, Milk system tube, User manual
Coffee Drinks
Black coffee
Cappuccino
Flat white
Latte Macchiato
Caffè latte
About Dr. Coffee F11 Big Plus Black
You deserve to enjoy coffee of the highest quality! Dr. Coffee introduces "F11 Big Plus": a stylish, elegant premium coffee machine that's going to serve you with flawlessly brewed, exquisitely rich drinks of the perfect texture day in and day out. Whether you're a fan of silky black coffee, strong espresso or latte covered with some delicious milk foam, this professional and exceptionally productive appliance is bound to tick all of your boxes. Compact, yet powerful, offering a combination of advanced technologies and a genuine passion for coffee, this model is suited perfectly for offices, conference halls, meeting rooms, small shops, bakeries or even home coffee corners.
COFFEE OF THE HIGHEST QUALITY
A unique, patented system with two heating elements will enable you to brew coffee of the highest quality, marked by a particularly subtle aroma. Thanks to the extremely wide dosing range (from 7 to 16 grams), you can make your coffee exactly as intense as you like it. No exceptions and no compromises!
EXTREMELY CONVENIENT MILK SYSTEM FOR EXQUISITE MILK-BASED DRINKS
Capable of producing light, firm, mouth-wateringly delicious milk foam, the milk frothing system boasts adjustable temperature and is sure to surpass the expectations of the most discerning connoisseurs. Using the extremely convenient built-in rinsing function, you'll ensure perfect hygiene inside the milk system with a single touch.
MODERN 7.1″ COLOUR TOUCH PANEL
The horizontal 7.1″ colour touch panel will let you manage your choices and change settings with ease. Enjoy more than 20 different beverages brewed with the touch of a button!
FLAT CERAMIC BURRS FOR FLAWLESS GRINDING
The innovative, exceptionally consistent flat-burr grinder grinds beans with flawless precision, ensuring that the exact required quantity of ground coffee is always produced.
LARGER CONTAINERS FOR EVEN MORE CONVENIENCE
A larger bean container, water tank and grounds container guarantee that the brewing process will go just as smoothly every time, while the 19-bar extraction system ensures exquisite espressos covered with a layer of fragrant, golden crema.
UP TO 100 SERVINGS BREWED PER DAY
As many as 100 servings per day will surely be enough to provide every employee or client with the attention they deserve — along with a cup of perfectly rich coffee, of course! Let Dr. Coffee surprise you and enjoy exquisite flavours every day by choosing "F11 Big Plus".
PRODUCTIVITY OF DR. COFFEE "F11 BIG PLUS"
– Recommended output: 100 servings per day
– Capacity of the bean container: 1000 g
– Capacity of the grounds container: 70 servings (1 serving = 10 g of coffee)
– Capacity of the water tank: 8 l
– Hourly espresso (50 ml) output: single – 70 servings, double – 100 servings
– Hourly americano (240 ml) output: single – 50 servings, double – 70 servings
– Hourly cappuccino (180 ml) output: single – 50 servings, double – 100 servings
– Hourly hot water output: 15 l
CONFIGURATION OF DR. COFFEE "F11 BIG PLUS"
– Option of connecting the machine directly to the mains water supply
– Brewing system with two heating elements
– Water pump (one)
– Ceramic coffee grinder with flat burrs
– 7.1″ colour touch panel with an option of ad display
– Coffee based on individual settings
– 24 beverages to choose from
– Programmable recipes
– Hot water
– Milk system rinsing function activated with a single touch
– Milk foam adjustment (duration, temperature)
Frequently Asked Questions
Ask your question about the product
Dr. Coffee F11 Big Plus Black reviews