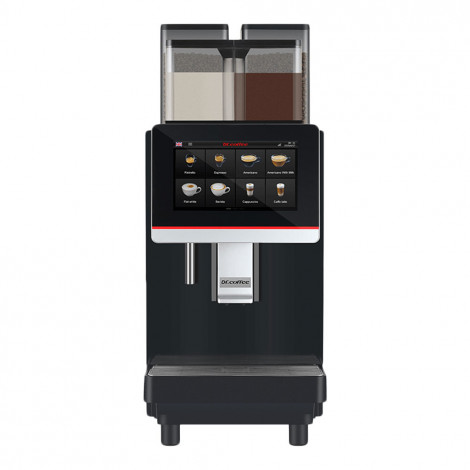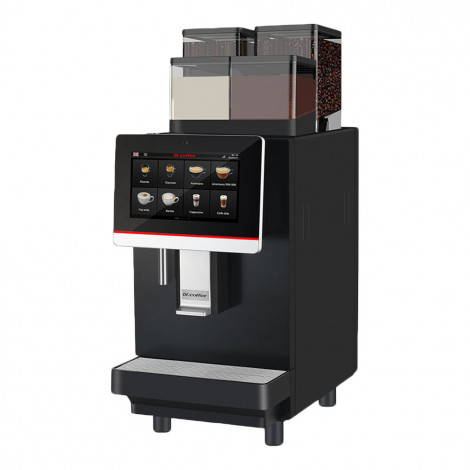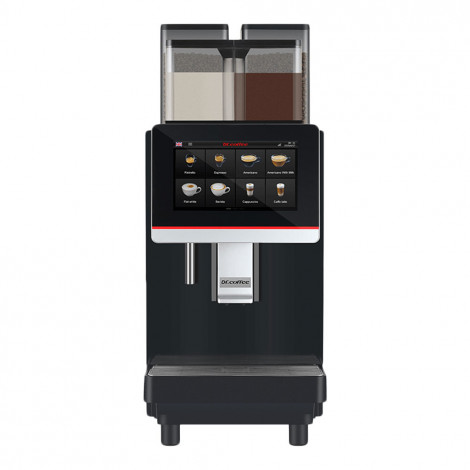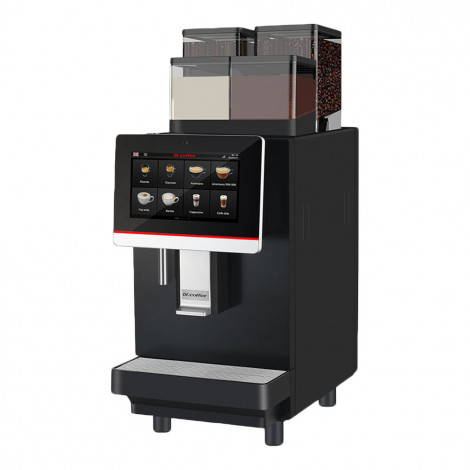 Coffee machine Dr. Coffee "F3 Plus"
Once the parcel is ready for delivery, the gift voucher will be sent to the e-mail address provided by you (this may take a few days after payment). Promotions and discounts do not stack. he discount applies to all products except coffee machines. The offer is valid for natural persons only. Promotions are valid till 28.02.2023.
By buying this coffee machine, you become eligible for the VIP membership program and discount vouchers with a total value of 50 €.
Become a member of COFFEE FRIEND'S VIP program and receive up to 5 vouchers of 10 € each for your upcoming purchases at COFFEE FRIEND'S online store. More information will be provided via your personal e-mail address once you've completed your purchase. The offer applies exclusively to natural persons.
Delivery takes 3 – 5 days * 85% of orders are delivered the next day

Coffee machine Dr. Coffee "F3 Plus"
In Stock
Specifications
Coffee machine uses
Coffee beans, Powdered chocolate, Powdered milk
Milk system type
Automatic milk pipe system
Does coffee machine prepare hot water?
Yes
Height-adjustable coffee spout
18 cm
Water pump pressure
19 BAR
Connection to the mains water supply
Yes
Recommended num. of cups per day
300
Second coffee bean tank
1200 g
Coffee machine's screen
Colourful
Coffee machine's menu language
Chinese, Czech, Dutch, english, French, german, Hebrew, Italian, Japanese, Korean, polish, Portuguese, Romanian, russian, Spanish, Ukrainian
Control type
Touch screen
Coffee grounds capacity (portions)
100
Number of black coffees prepared at once
2
Number of coffee with milk recipes prepared at once
1
Portion size
Programmable
Adjustable milk foam volume
Yes
Milk system cleaning program
Yes
Other
Cold milk foam, Hot water
Coffee
Americano, Caffè latte, Cappuccino, Cold brew, Espresso, Flat white, Ristretto
Package contains
(*The manufacturer reserves the right to change the items included in the set without prior notice*), User manual
Coffee Drinks
Americano
Cappuccino
Espresso
Flat white
Ristretto
Caffè latte
Cold brew
About product
"F3 Plus" is a new-generation professional commercial model boasting an even higher degree of efficiency and functionality, along with exceptionally high brewing speed. Simply touch the colour touch display and enjoy hot or cold milk foam produced in mere seconds! To ensure unparalleled productivity and flawless quality, "F3 Plus" is equipped with two built-in ceramic grinders, two water pumps and a brewing system with two separate heating elements. Advanced technologies, along with additional containers for coffee beans and other ingredients, guarantee a wide selection of available drinks. Truly exceptional in every respect, this coffee machine is suited perfectly for cafés, coffee kiosks, hotels, bakeries, shops and other businesses serving up to 300 cups of coffee per day.
HOT AND COLD MILK-BASED DRINKS
The built-in milk pump enables you to enjoy exquisite milk foam of an adjustable consistency. You can prepare both cold and hot lattes in as little as 1 minute, one after the other, with no breaks in between and no time wasted.
HIGH SPEED AND PRODUCTIVITY
Dr. Coffee will help you make your business even more efficient! Separate boilers, a built-in double water pump system and a modern milk pump all guarantee greater speed and consistent productivity, while advanced technologies keep you informed about any and all technical procedures.
LARGE CONTAINERS AND A VARIETY OF DRINKS
Use large containers for beans and powder to make the number of available drinks even higher! To brew some tea or warm your coffee cups, take advantage of the separate hot water spout.
TWO CERAMIC GRINDERS TO ACCENTUATE UNIQUE FLAVOURS
Two silent coffee grinders with flat ceramic burrs and a lifespan of as many as 500 kg efficiently disperse heat and ensure exceptional grind consistency, hence accentuating the unique flavours hidden in your coffee beans.
10.1″ COLOUR TOUCH DISPLAY
The 10.1″ colour touch display lets you select the desired beverage with ease. That's not all though: you can upload your chosen photos or videos and then use them as a screensaver to advertise your business or products!
INNOVATIVE AND CONVENIENT MILK SYSTEM
The innovative milk frothing system with adjustable temperature and frothing duration produces splendid milk foam from both real milk and milk powder, while the automatic rinsing function ensures easy maintenance and keeps milk tubes clean.
PRODUCTIVITY OF DR. COFFEE "F3 PLUS"
– Recommended output: 300 servings per day
– Capacity of the bean container: 2×1200 g
– Capacity of the powder container: 600 g for milk powder, 1000 g for chocolate powder
– Capacity of the grounds container: 100 servings (1 serving = 10 g of coffee)
– Hourly espresso output: single – 140 servings, double – 200 servings
– Hourly black coffee output: single – 120 servings, double – 150 servings
– Hourly cappuccino output: single – 120 servings
– Hourly hot water output: 27 l
CONFIGURATION OF DR. COFFEE "F3 PLUS"
– Option of connecting the machine directly to the mains water supply
– Rotary pump
– Double powder and bean containers
– Separate hot water spout
– Two ceramic grinders with flat burrs
– 10.1″ colour touch panel with an option of ad display
– Coffee based on individual settings
– Cold coffee
– Cold foam
– Patented brewing system
– Possibility of removing the brewing system
– Automatic milk system rinsing function
Frequently Asked Questions
Ask your question about the product