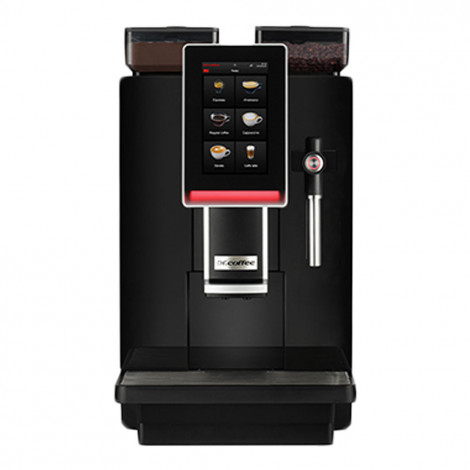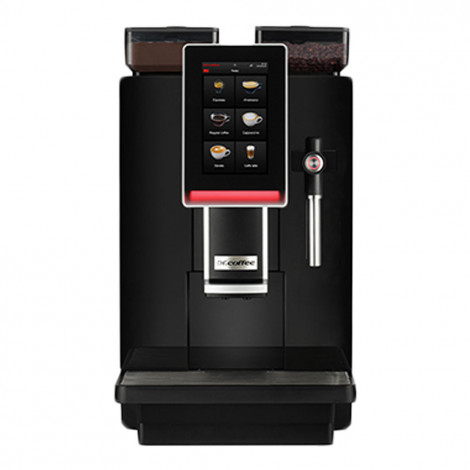 Coffee machine Dr. Coffee "Minibar S1"
Once the parcel is ready for delivery, the gift voucher will be sent to the e-mail address provided by you (this may take a few days after payment). Promotions and discounts do not stack. he discount applies to all products except coffee machines. The offer is valid for natural persons only. Promotions are valid till 28.02.2023.
By buying this coffee machine, you become eligible for the VIP membership program and discount vouchers with a total value of 50 €.
Become a member of COFFEE FRIEND'S VIP program and receive up to 5 vouchers of 10 € each for your upcoming purchases at COFFEE FRIEND'S online store. More information will be provided via your personal e-mail address once you've completed your purchase. The offer applies exclusively to natural persons.
Delivery takes 3 – 5 days * 85% of orders are delivered the next day

Coffee machine Dr. Coffee "Minibar S1"
In Stock
Specifications
Coffee machine uses
Coffee beans, Ground coffee, Powdered chocolate, Powdered milk
Milk system type
Automatic milk pipe system
Does coffee machine prepare hot water?
Yes
Does coffee machine prepare hot milk?
Yes
Height-adjustable coffee spout
18 cm
Water pump pressure
19 BAR
Connection to the mains water supply
Yes
Recommended num. of cups per day
200
Coffee machine's screen
Colourful
Coffee machine's menu language
Chinese, Croatian, Czech, Danish, Dutch, english, French, german, Hebrew, Italian, Korean, polish, Portuguese, Romanian, russian, Spanish, Ukrainian
Control type
Touch screen
Coffee grounds capacity (portions)
70
Number of black coffees prepared at once
2
Number of coffee with milk recipes prepared at once
1
Adjustable grinding level
9
Portion size
Programmable
Adjustable milk foam volume
Yes
Milk system cleaning program
Yes
Other
Hot choco, Hot milk, Hot water, Milk foam
Coffee
Americano, Caffè crema, Cappuccino, Coffee pot, Espresso, Flat white, Latte, Latte Macchiato, Ristretto
Package contains
(*The manufacturer reserves the right to change the items included in the set without prior notice*), Milk system tube, User manual
Coffee Drinks
Americano
Cappuccino
Espresso
Flat white
Latte
Latte Macchiato
Ristretto
Caffè crema
Coffee pot
About product
"Minibar S1" is a new fully automatic masterpiece from "Dr. Coffee". The machine features a vertical 7.1″ LCD colour touch display and enables you to choose from as many as 24 different beverages.
TWO CONTAINERS, THREE OUTLETS
The professional "Minibar S1" comes with two containers: one for coffee beans (1.5 kg) and one for powder (1.2 kg for powdered milk and 2 kg for chocolate powder). There are three outlets too: one for coffee, one for milk and one for drinks made from powder. The appliance is also equipped with a hot water spout.
CERAMIC GRINDER
The particularly durable flat ceramic burrs are capable of producing 9 different grinds. Grinder productivity: 2.0–2.3 g/s.
TWO BOILERS, TWO PUMPS
The coffee machine boasts two boilers, as well as two pumps. The pump pressure measures 19 bar.
HOT, VELVETY MILK FOAM
The milk frothing system produces foam that is as smooth as silk. The frothed milk is hot and the system can be cleaned with ease thanks to the self-clean function.
PRODUCTIVITY OF DR. COFFEE "MINIBAR S1"
– Recommended output: 200 servings per day
– Hourly espresso (50 ml) output: 100 servings
– Hourly americano (240 ml) output: 80 servings
– Hourly cappuccino (200 ml) output: 80 servings
– Hourly hot water output: 30 l
– Water tank capacity: 4 l
– Capacity of the bean container: 1500 g
– Capacity of the powder container: milk powder 1200 g, chocolate powder 2000 g
– Capacity of the grounds container: approx. 70 servings (1 serving = 10 g of coffee)
– Capacity of the drip tray: 1.5 l
Frequently Asked Questions
Ask your question about the product