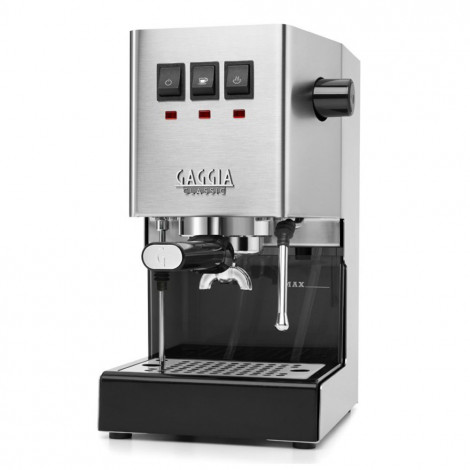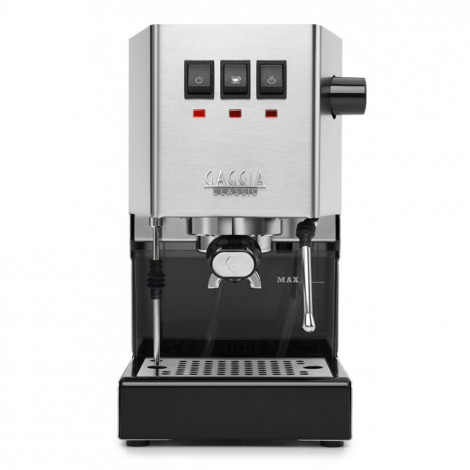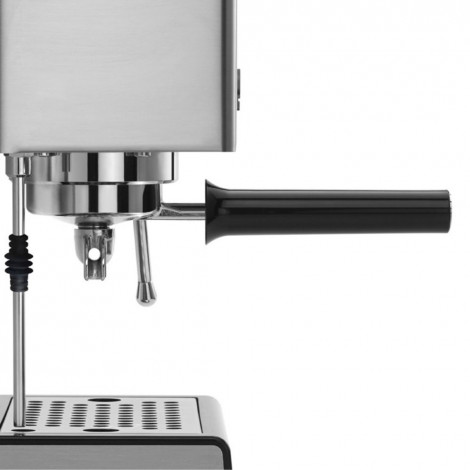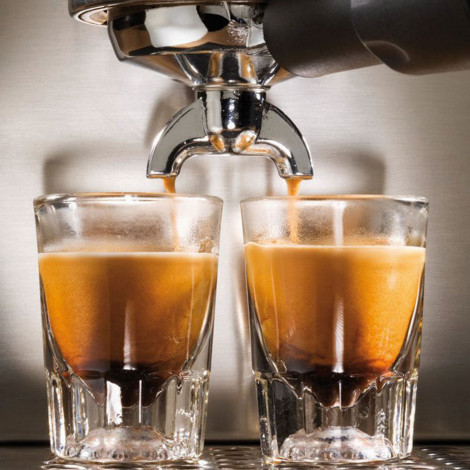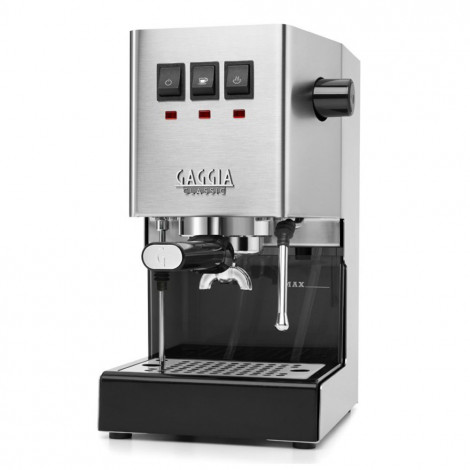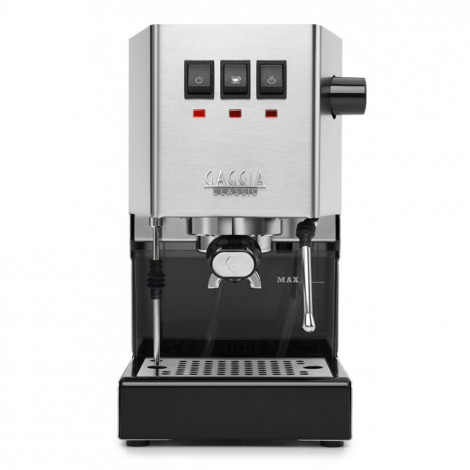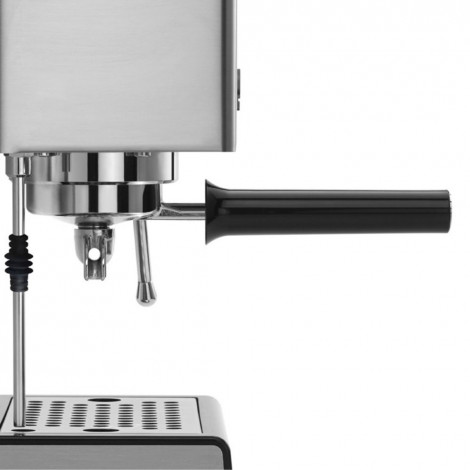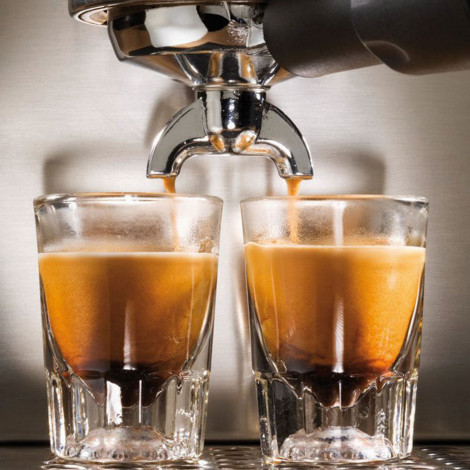 Coffee machine Gaggia New Classic Evo 2023 Inox
Delivery takes 3 – 5 working days * 85% of orders are delivered the next day
Become a member of COFFEE FRIEND'S VIP program and receive up to 5 vouchers of 10 € each for your upcoming purchases at COFFEE FRIEND'S online store. More information will be provided via your personal e-mail address once you've completed your purchase. The offer applies exclusively to natural persons.

Coffee machine Gaggia New Classic Evo 2023 Inox
In Stock
For coffee machine's maintenance
Universal espresso and coffee machine cleaning tablets Coffee Friend For Better Coffee, 8 pcs.
In order to fully take advantage of your coffee machine, you should clean it regularly.
SUITED FOR THESE TYPES OF MACHINES:
– Bean-to-cup(De'Longhi, Nivona, Philips etc.)
– Semi-automatic(Bezzera, Rocket Espresso, Lelit etc.)
– Filter(Moccamaster, Bosch, Ratio etc.)
– Built-in(Bosch, Siemens etc.)
– Lever(Flair, La Pavoni, Elektra etc.)
INSTRUCTION FOR AUTOMATIC COFFEE MACHINES:
If your coffee machine has an automatic cleaning program:
1. Put the tablet into the right place and follow the manufacturer's instructions.
If your coffee machine does not have an automatic cleaning program, but has ground coffee slot:
1. Put the tablet into the ground coffee slot and place a cup under the coffee spout.
2. Press the button, which prepares coffee from pre-ground beans.
3. When half of the cup is filled with water, turn the machine off and give some time for the cleaning tablet to do its magic.
4. Turn the machine on and finish coffee making process.
5. Repeat this process at least three times, but without the extra cleaning tablet. It's crucial to clean the system from chemicals properly.
6. Take out the coffee making mechanism and carefully rinse it with clean water.
7. Before using the machine, make two cups of coffee. Choose the preparation method from pre-ground beans, but don't use the actual pre-ground coffee.
8. When you want to clean the drip tray, put the tablet into the tray, fill two thirds of it with hot water, wait 30 minutes and carefully clean it.
If your machine does not make coffee from pre-ground beans:
1. Put cleaning tablet in the cup and fill it with hot water.
2. Take off coffee filter holder and with the mixture carefully wash the holder and its spouts as well as coffee filters.
3. Give some time or the mixture to do its magic –leave it on for at least 5 minutes. Later repeat the procedure at least 3 times.
4. Carefully rinse all washed mechanisms with clean water and put them all back into place.
5. When you want to clean the drip tray, put the tablet into the tray, fill two thirds of it with hot water, wait 30 minutes and carefully clean it.
Cleaning spray PulyBar® Igienic, 1000 ml
Use the PulyBar® "Igienic" cleaning spray each day to ensure hygienic conditions on all surfaces where food is prepared. It's suited great for cleaning stainless steel, marble, plastic, glass, mirrors, as well as various ceramic surfaces: simply spray the product onto the desired surface and clean it using a cloth or a paper towel. The spray does its job in as little as a few seconds, then evaporates completely without leaving no odour behind.
• Non-flammable.
• Non-foaming.
• Perfect for pubs, restaurants, coffee shops, offices, etc.
• Made of natural ingredients only.
• Leaves no odour or residue behind.
***
Established in Italy all the way back in 1961, "Puly" is now one of the leading manufacturers of coffee machine maintenance products in Europe. For the people working at "Puly", high quality and maximum convenience is always at the forefront of their minds.
Microfibre cloth for coffee machines Coffee Friend For Better Coffee
Coffee tastes even better when it's brewed in a clean, well-maintained coffee machine. Not every cloth is suited for coffee machines though, and some of them may end up scratching the surface of your appliance. That's why we've created a special microfibre cloth for coffee machines.
Created specially for coffee machines
Dimensions: 20 x 30 cm
Composition: polyester 85%, nylon 15%.
Washing: can be washed in the washing machine, at a temperature no higher than 40 °C.
Specifications
Coffee machine uses
Coffee pods, Ground coffee
Milk system type
Manual frother (professional)
Does coffee machine prepare hot water?
Yes
Diameter of filter handle basket
58 mm
Water pump pressure
15 BAR
Connection to the mains water supply
No
Coffee machine's screen
None
Number of black coffees prepared at once
2
Package contains
(*The manufacturer reserves the right to change the items included in the set without prior notice*)
About product
Made to perform. Made to last.
Unleash your inner barista at home with Gaggia New Classic Evo—the next generation of Gaggia Classic, one of the brand's best-selling coffee machines. Its timeless traditional design, stainless-steel body and professional brewing group are adored by countless coffee enthusiasts around the world, and now it boasts a renewed, more aware engineering in respect of products, people and processes too.
DESIGNED AND MADE IN ITALY
Made in Italy, this coffee machine guarantees premium quality and is inspired by centuries of passion for espresso.
PROFESSIONAL STAINLESS-STEEL FILTER HOLDER AND UPGRADED BRASS GROUP
Marked by size, style and weight identical to those found in professional appliances, the upgraded brass group and new premium stainless-steel filter holder are designed to ensure the optimal coffee temperature throughout the entire brewing process, as well as an improved in-cup quality. Discover the best home barista experience ever with Gaggia!
PROFESSIONAL STEAM WAND
The professional steam wand with two holes will help you whip up flawless milk foam for gorgeous cappuccinos in the comfort of your own home.
FILTER KIT INCLUDED
Gaggia Classic comes with three filters designed to suit each level of expertise: from complete beginners to experienced pros.
STAINLESS-STEEL CUP PLATE
Benefitting from the warmth produced by the machine, the cup plate is large enough for 5 cups and keeps them ready for use at all times.
NEW BODYWORK DETAILS
The updated model boasts an improved stainless-steel bodywork shape, a new drip tray to improve stability, and an iconic filter holder with Gaggia's signature "G".
15-BAR PUMP
Obtain the kind of pressure that's perfect for an Italian espresso topped with a layer of authentic crema!
WHAT'S NEW COMPARED TO THE PREVIOUS VERSION?
IMPROVED MATERIALS
The new premium stainless-steel filter holder, the upgraded brass group and the non-stick and anti-corrosion coating for the boiler guarantee a long-lasting product and an uplifted home barista experience.
SOLENOID VALVE
The 3-way solenoid valve ensures constant control over water pressure. Once brewing has finished, it guarantees a perfectly dry coffee puck too, making removal and cleaning a lot easier.
RESPONSIBLE APPROACH
The company adopts a conscious and responsible approach, embedding continuous improvement and regulations in all of its processes: from choosing materials to design, quality checks and after-sales support.
*****
Gaggia found fame in the trendy coffee bars of Rome, Milan and London all the way back in 1950. These coffee bars, along with Gaggia's appliances found in them, soon turned into true icons symbolising the decade's adventurous style. In 1977, the company began producing domestic espresso machines too, making excellent coffee available both outside and inside the home. Whether you're looking for the simplicity of a bean-to-cup appliance or craving the status of a distinguished home barista, Gaggia is here to meet all of your expectations.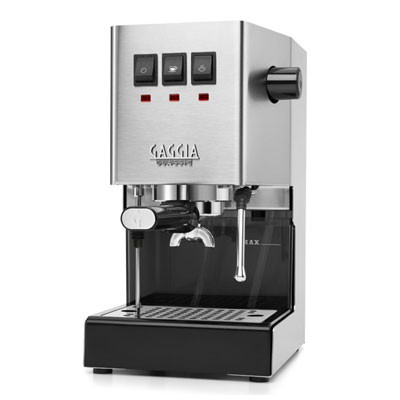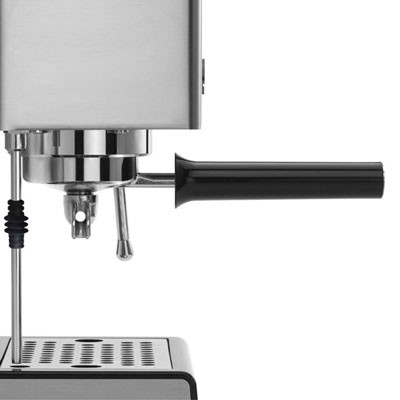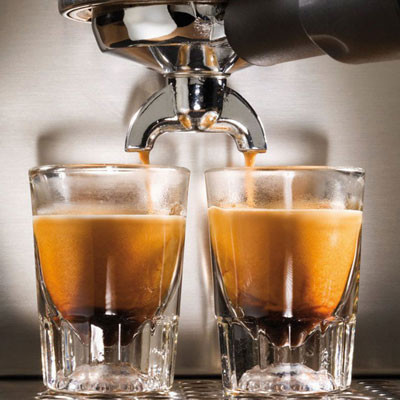 Frequently Asked Questions
Ask your question about the product