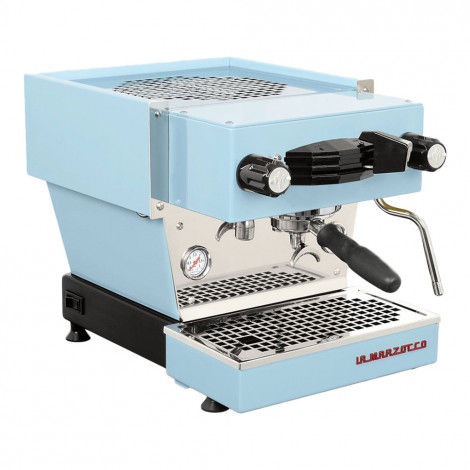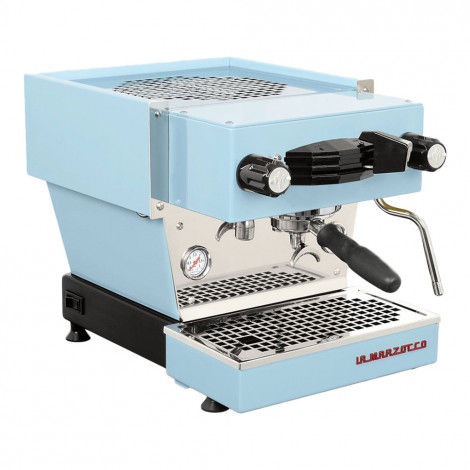 Coffee machine La Marzocco Linea Mini Blue
Once the parcel is ready for delivery, the gift voucher will be sent to the e-mail address provided by you (this may take a few days after payment). Promotions and discounts do not stack. The gift voucher cannot be used when buying a coffee machine. The offer is valid for natural persons only. If the total cost of the items in your cart is below 49 € once the gift voucher has been applied, the order is subject to a delivery fee. Promotion is valid until 25.04.2023.
By buying this coffee machine, you become eligible for the VIP membership program and discount vouchers with a total value of 50 €.
Become a member of COFFEE FRIEND'S VIP program and receive up to 5 vouchers of 10 € each for your upcoming purchases at COFFEE FRIEND'S online store. More information will be provided via your personal e-mail address once you've completed your purchase. The offer applies exclusively to natural persons.
Delivery takes 4 – 8 weeks * 85% of orders are delivered the next day

Coffee machine La Marzocco Linea Mini Blue
In Stock
Specifications
Coffee machine uses
Ground coffee
Milk system type
Manual frother (professional)
Coffee machine's screen
None
About La Marzocco Mini Line Blue
The Linea Mini boasts ease of use and a gorgeous linear design. It's dedicated to true coffee purists.
INSPIRED BY AN ESPRESSO ICON
This espresso machine is a kitchen-sized version of Linea Classic, a machine loved by thousands of professional baristas and found at the heart of some of your favorite cafés. Linea Mini is as beautiful as it is functional, ready to serve for years to come. Its features include dual boilers, an integrated group, a hot water spout, thermal stability system, an internal pump, PID control, a water reservoir, a dedicated smart app and barista lights.
SEMI-AUTOMATIC PADDLE
The semi-automatic paddle found on this model is inspired by those used in most La Marzocco machines ever since the 1970s. It's controlled with the help of La Marzocco's classic paddle interface, manually operated by the barista. The paddle of the Linea Mini is activated by the simple start-and-stop motion of the paddle on the grouphead, albeit with electronic pre-infusion.
BARISTA LIGHTS
LED lighting allows you to focus all of your attention on the brew.
INDICATOR LIGHTS
Indicator lights provide feedback on heating and water level.
WATER RESERVOIR
An integrated 2.5-litre water tank makes plumbing-in optional.
CONTROL VIA A DEDICATED APP
This coffee machine can be connected to your home Wi-Fi and controlled via the La Marzocco Home App.
***
All La Marzocco home coffee machines and grinders are the outcome of over 90 years of experience accumulated by the company while manufacturing professional brewing equipment.
Frequently Asked Questions
Ask your question about the product
La Marzocco Mini Line Blue reviews