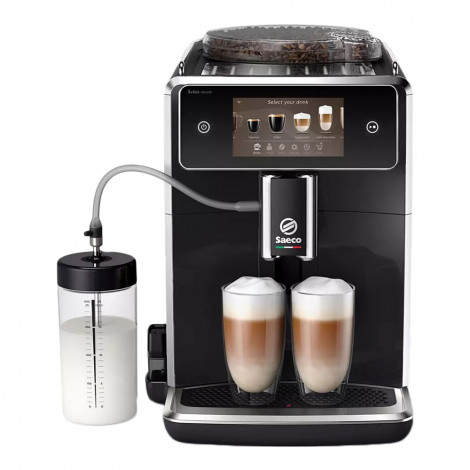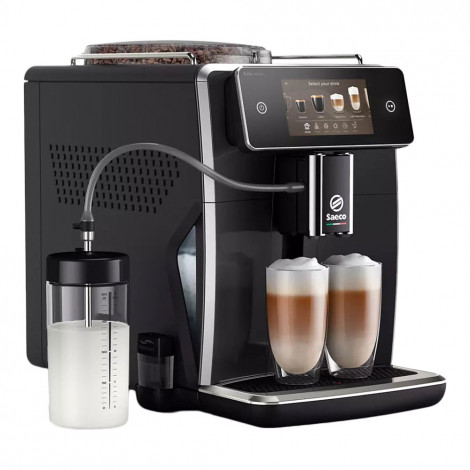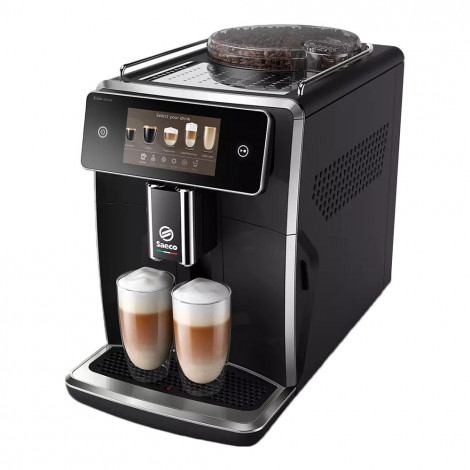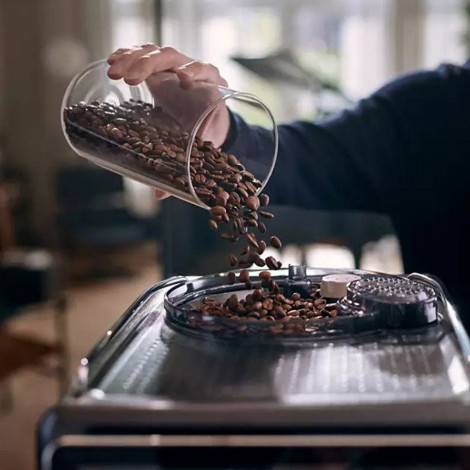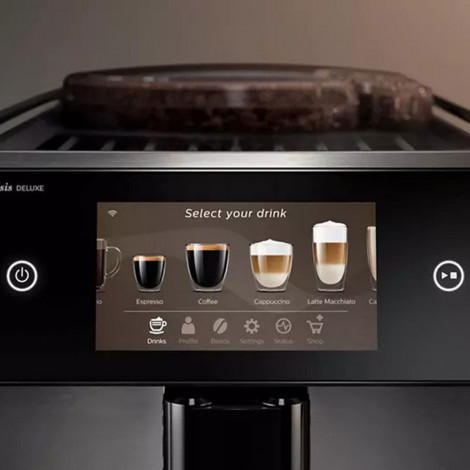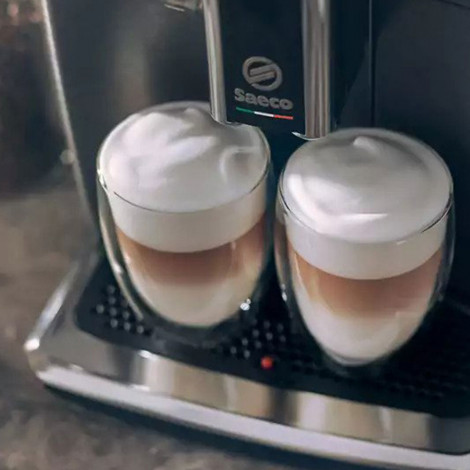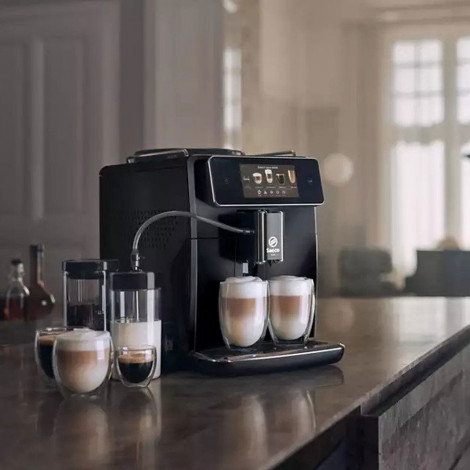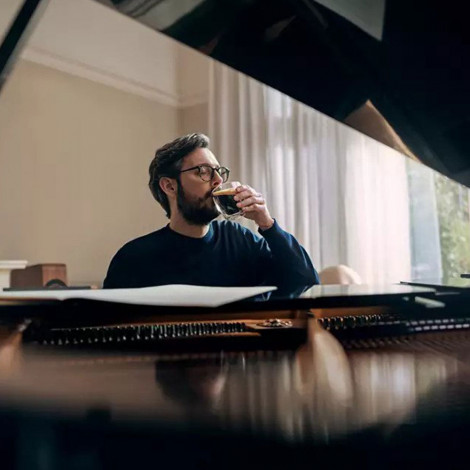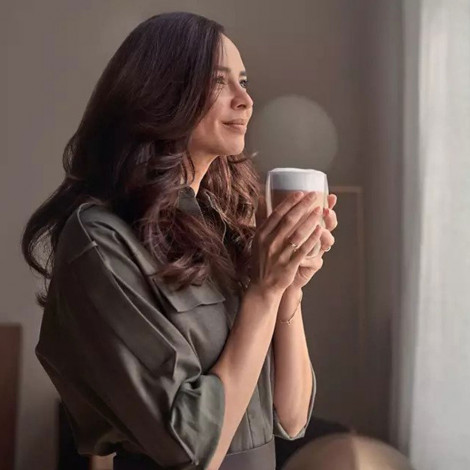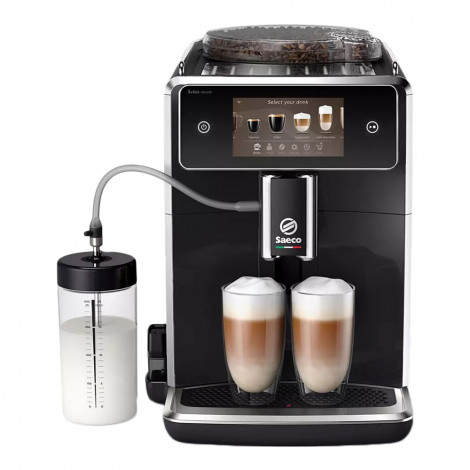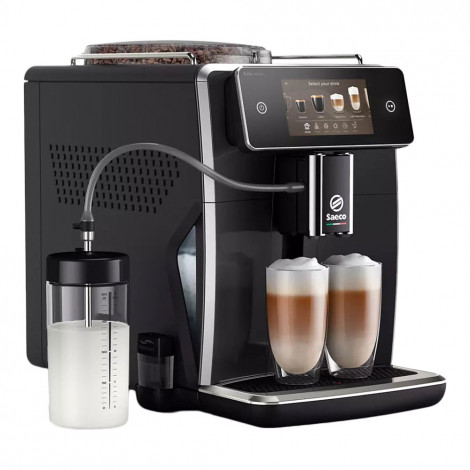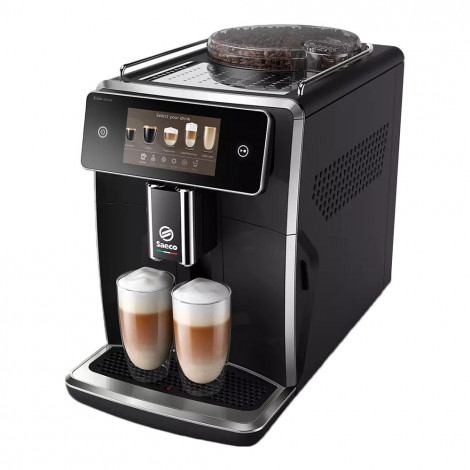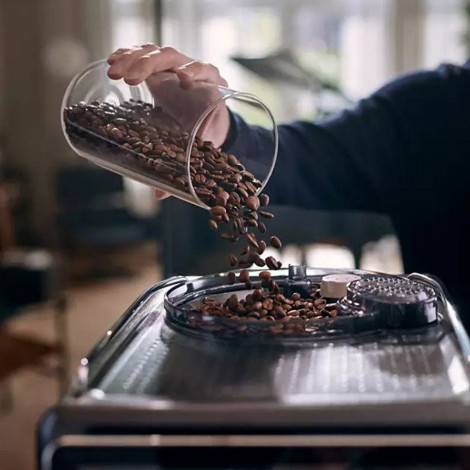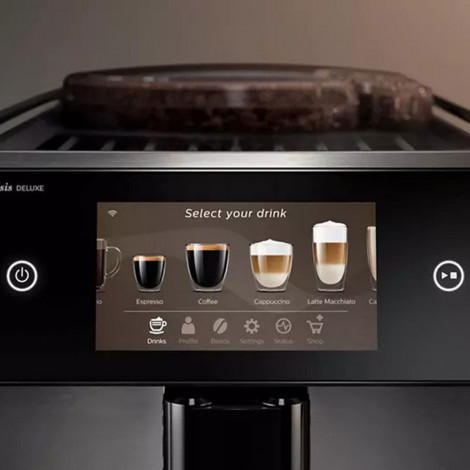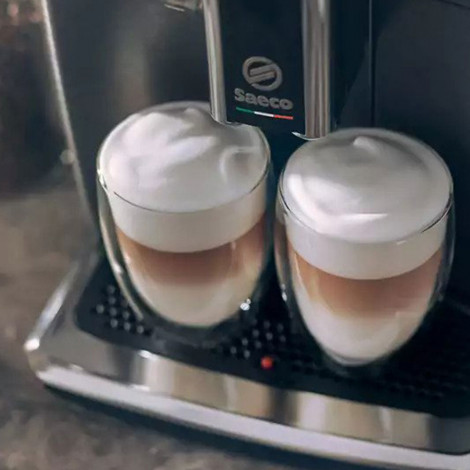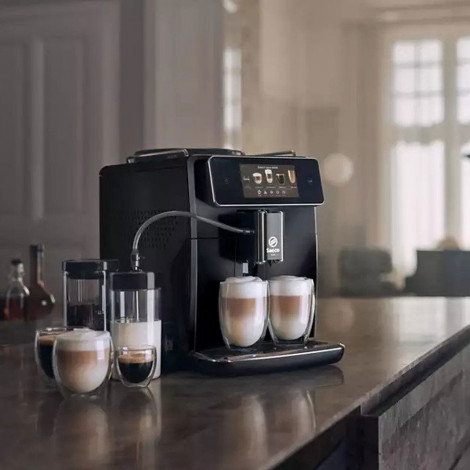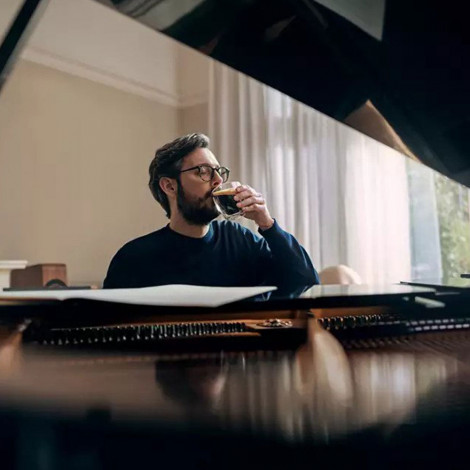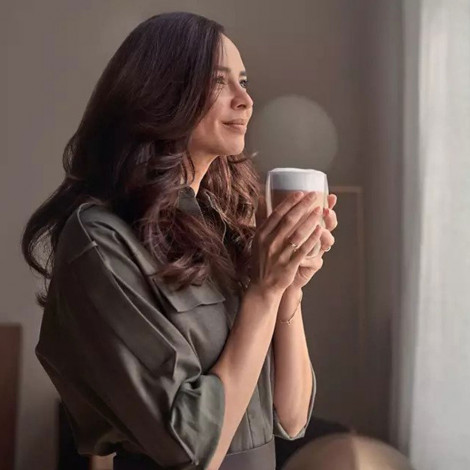 Coffee machine Saeco Xelsis Deluxe SM8780/00
Become a member of COFFEE FRIEND'S VIP program and receive up to 5 vouchers of 10 € each for your upcoming purchases at COFFEE FRIEND'S online store. More information will be provided via your personal e-mail address once you've completed your purchase. The offer applies exclusively to natural persons.

Coffee machine Saeco Xelsis Deluxe SM8780/00
In Stock
Specifications
Coffee machine uses
Coffee beans, Ground coffee
Milk system type
Automatic milk pipe system
Does coffee machine prepare hot water?
Yes
Does coffee machine prepare hot milk?
Yes
Height-adjustable coffee spout
15 cm
Water pump pressure
15 BAR
Coffee machine's screen
Colourful
Coffee machine's menu language
Bulgarian, Czech, Danish, Dutch, english, French, german, Hungarian, Italian, lithuanian, polish, Portuguese, Romanian, russian, Slovene, Spanish, Swedish
Control type
Touch screen
Coffee grounds capacity (portions)
12
Number of black coffees prepared at once
2
Number of coffee with milk recipes prepared at once
2
Adjustable grinding level
12
Portion size
Programmable
Adjustable milk foam volume
Yes
Coffee strength (levels)
5
Coffee temperature (levels)
3
Milk system cleaning program
Yes
Other
Hot milk, Hot water, Milk foam
Coffee
Americano, Black coffee, Café au lait, Caffè crema, Cappuccino, Cortado, Double espresso, Espreso Lungo, Espresso, Espresso Macchiato, Flat white, Italian cappuccino, Latte, Latte Macchiato, Melange, Ristretto, Travel mug
Package contains
(*The manufacturer reserves the right to change the items included in the set without prior notice*), Brew group grease, Ground coffee dosing spoon, Milk container, Milk lance, Water filter, Water hardness test strip
Coffee Drinks
Americano
Black coffee
Cappuccino
Double espresso
Espresso
Espresso Macchiato
Flat white
Latte
Latte Macchiato
Ristretto
Caffè crema
Melange
Cortado
Café au lait
Espreso Lungo
Italian cappuccino
Travel mug
About Saeco Xelsis Deluxe SM8780/00
Flavour customised to perfection in every cup you brew. This coffee machine offers the ideal combination of Italian design, latest technologies and innovative brewing processes. Enjoy masterful features that satisfy every requirement a bean-to-cup coffee machine can ever face, and drink coffee brewed just the way you like it.
ENJOY AS MANY AS 22 DELICIOUS COFFEE VARIETIES
Discover a world of coffee to delight every craving and match any mood, with 22 delicious varieties to choose from. From more familiar recipes such as espresso or cappuccino to specialty coffees like espresso macchiato and flat white, everyone's bound to find something they enjoy here.
ADJUST DRINKS TO YOUR INDIVIDUAL TASTE AND SAVE YOUR FAVOURITE RECIPES WITH 6 USER PROFILES
Everyone's custom coffee favourites can be saved in up to 6 user profiles instantly selected on the high-resolution touch display. Personalise each profile down to the finest detail with ease.
EXTRACT THE BEST EACH COFFEE BEAN HAS TO OFFER WITH "BEAN MAESTRO"
BeanMaestro automatically adjusts brewing settings to extract the very best flavour and aroma from your chosen coffee beans. Simply select the type and roast of your beans and let BeanMaestro do the rest.
"COFFEE EQUALIZER TOUCH+": EXPERIMENT WITH 7 COFFEE BREWING SETTINGS OR ADD AN EXTRA SHOT
Create your own favourite recipe with CoffeeEqualizer Touch+! You can personalise your coffee to match your precise taste preferences by customising the strength, amount of coffee and milk, temperature, taste, amount of milk foam and even the order in which coffee and milk are added. If desired, you can use the ExtraShot function to boost coffee intensity.
INNOVATIVE 5″ COLOUR TOUCH SCREEN
The innovative 5″ high-resolution colour display features an intuitive, touch-sensitive user interface that enables precise interaction and helps you master numerous different coffee varieties!
BUILT-IN WI-FI CONNECTIVITY FOR THOSE WHO WANT TO TAKE ADVANTAGE OF EVERY FEATURE
The machine includes built-in Wi-Fi connectivity to ensure that no part of the process is overlooked. Enhanced user features can be controlled seamlessly using the machine's display and there's even an option of checking the availability of necessary replenishments at local distributors. Regular updates are based on software enhancements and machine learning, always striving to improve and enrich your experience by helping you get the very best out of your machine.
DISCOVER NEW RECIPES AND TAKE ADVANTAGE OF PERSONALISED RECOMMENDATIONS
The machine will remember your preferences and provide you with exclusive, personalised recommendations to help you discover new coffee recipes, as well as different features and functions of your machine.
EFFORTLESS PERSONALISATION WITH "COFFEE MAESTRO"
Personalise your perfect cup with CoffeeMaestro! Simply select your desired taste profile from three available pre-sets: Delicato, Intenso and Forte. Once you do that, the machine will automatically adjust brewing settings, such as strength, coffee volume and pre-infusion time, to provide you with just the right taste.
"LATTE PERFETTO": PERFECTLY CREAMY, SILKY MILK FOAM
The external milk carafe with LattePerfetto technology creates a dense milk foam with a fine, silky texture.
"LATTE DUO": TWO PORTIONS OF YOUR FAVOURITE COFFEE AT THE TOUCH OF A BUTTON
Prepare and enjoy single or double servings of your favourite coffee recipe — including cappuccino and latte macchiato — with a single touch.
ENSURE CONSISTENLY HIGH QUALITY WITH THE HELP OF AN INTUITIVE MAINTENANCE DASHBOARD
Using the colour-coded intuitive dashboard available on the touch screen, you'll be able to check your machine and cleaning status with more ease than ever before. The dashboard will provide you with a helpful overview and notify you of relevant status changes, such as the water level running low or the water filter having to be replaced.
EXTREMELY DURABLE CERAMIC GRINDER: 20 000 CUPS OF GORGEOUS COFFEE GUARANTEED
The best flavours and aromas are extracted from your beans with the help of a particularly durable grinder. Designed to be exceptionally precise and last for at least 20,000 cups of delicious, freshly ground coffee, it can also be easily adjusted using 12 different grind levels.
USE YOUR COFFEE MACHINE FOR LONGER AND ENJOY COFFEE EVEN MORE WITH "AQUACLEAN"*
AquaClean is a patented water filter designed to increase the quality of your coffee by cleaning your water and preventing limescale deposits from forming inside the appliance. Brew up to 5000 cups of coffee with no need to perform the descaling program — instead, just regularly replace the filter.
EXTRAORDINARY COFFEE FLAVOURS WITH "AROMA EXTRACT"
Aroma Extract creates the perfect balance between the right brewing temperature and ideal aroma extraction so that you can enjoy truly extraordinary flavours.
*The machine will prompt you to run the descaling program once 8 filters have been replaced. The exact number of cups brewed before running the descaling program depends on the chosen coffee variety, as well as on the frequency with which the machine is rinsed and cleaned.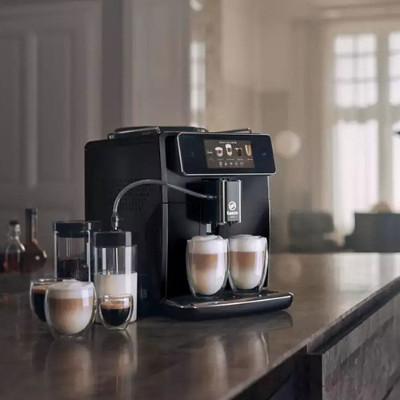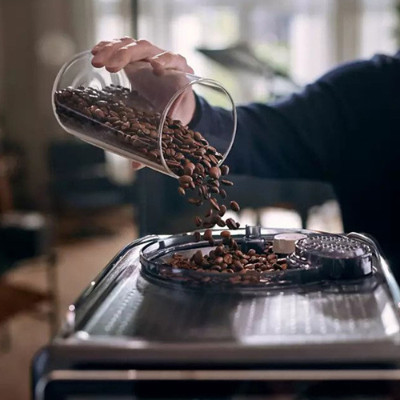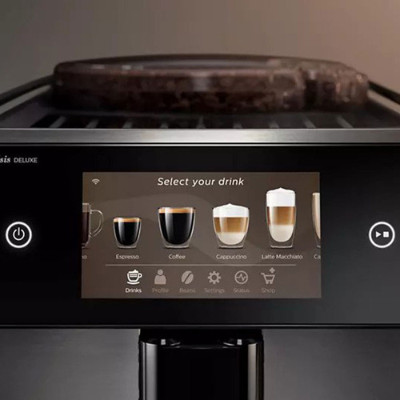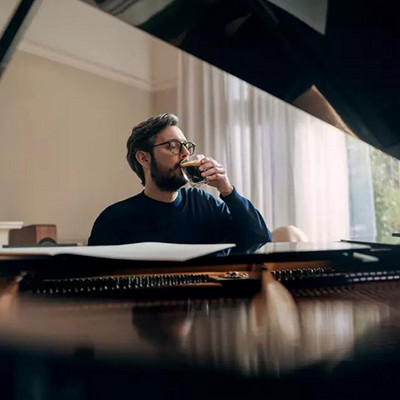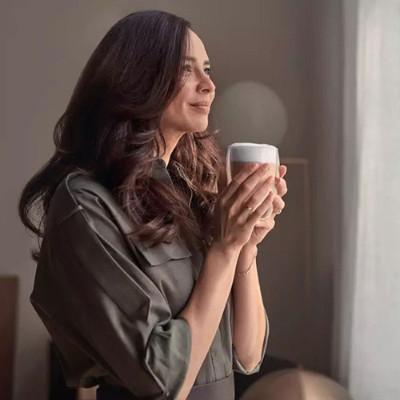 Frequently Asked Questions
Ask your question about the product
Saeco Xelsis Deluxe SM8780/00 reviews