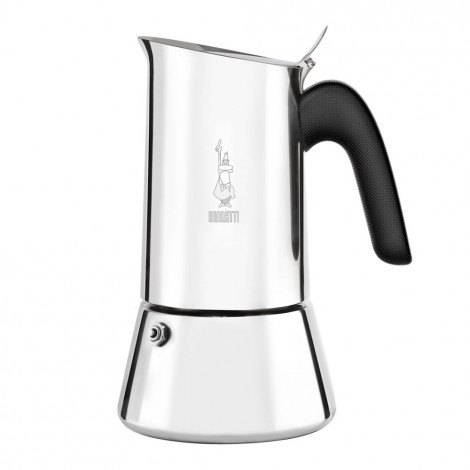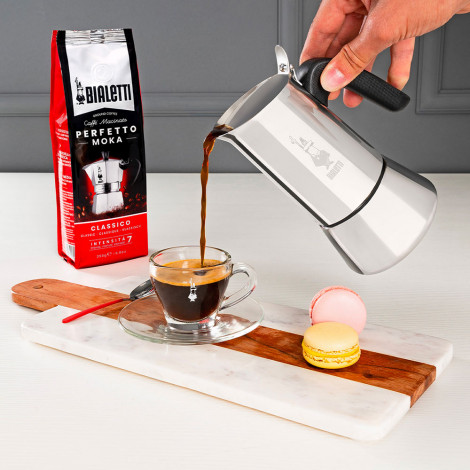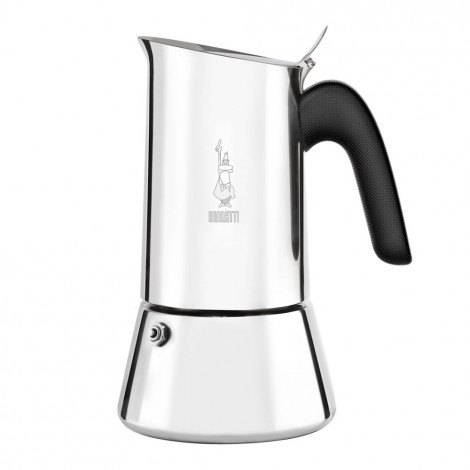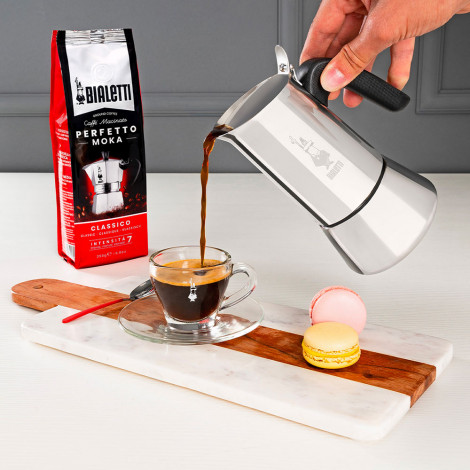 Moka pot Bialetti "Venus 6 cups"

Moka pot Bialetti "Venus 6 cups"
In Stock
Specifications
Coffee machine uses
Ground coffee
Extra features
Suitable for induction cooker
About product
The Bialetti "Venus" moka pot model boasts an unmistakeable and elegant design. Adorning the pot, the Bialetti man with the moustache, recognised now by pretty much everyone and featuring on all of the brand's products, represents Renato Bialetti himself, son of the inventor of the moka pot, Alfonso. This iconic logo was designed in 1953 by Paul Campani, an Italian artist.
Suited for the smartest, most elegant of environments, this pot guarantees high quality thanks to its patented safety valve, which makes it easy to clean too. Bialetti "Venus" offers maximum strength and is built to last: the wall of the bottom chamber is 20% thicker than usual, which results in high performance and unmatched robustness. Made from stainless steel and hence suited for induction hobs, it maintains its original characteristics even after years of use. The size of Bialetti moka pots is measured in cups: the capacity of this one is 6 cups, which corresponds to 235 ml coffee. "Venus" is a truly timeless classic, enabling you to enjoy Italian coffee brewed with exquisite style and elegance.
DURABILITY OVER TIME AND UNMISTAKEABLE STYLE
Bialetti "Venus" is made of sturdy, high-quality stainless steel, which guarantees durability over time, creates an unmistakeable look, and lets you use the pot on induction hobs too.
SUITED FOR 6 CUPS, OR 235 ML, OF DELICIOUS COFFEE
The size of Bialetti "Venus" is measured in cups: the capacity of this one is 6 cups, which corresponds to 235 ml of coffee.
HOW TO BREW COFFEE IN A MOKA POT?
To brew some delicious coffee, fill the bottom chamber with water all the way up to the safety valve, insert the metal filter and pour some ground coffee into the basket (without pressing), then put the upper chamber on top and place the pot on the hob. Wait for the coffee to start gurgling as it rises and reaches the collecting chamber: once that's done, take the pot off the heat and enjoy!
HOW TO CLEAN YOUR MOKA POT?
Rinse your "Venus" under running water after each use. Do not use detergents. The product should not be washed in the dishwasher as this could damage the pot and affect the flavour of your coffee.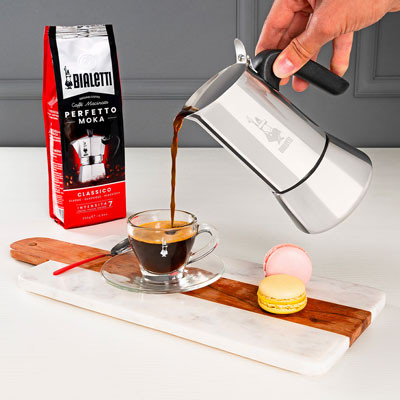 Frequently Asked Questions
Ask your question about the product