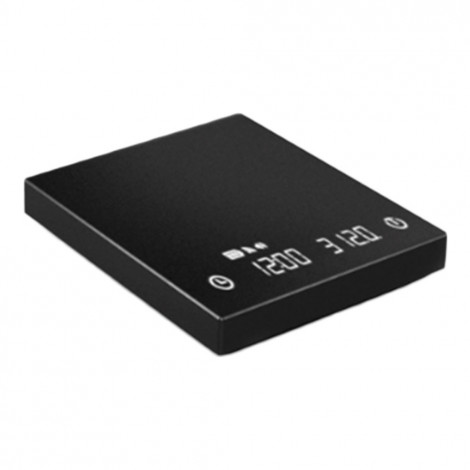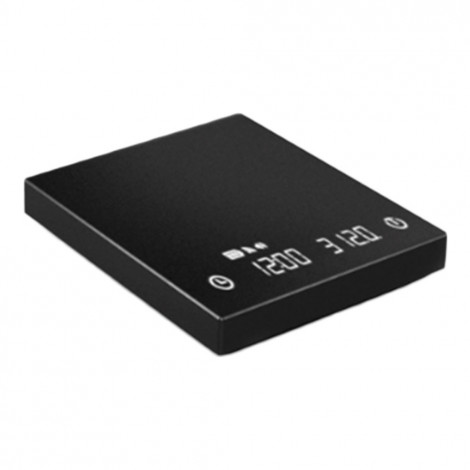 Coffee scale TIMEMORE Black Mirror Basic
Product is no longer in production.

Coffee scale TIMEMORE Black Mirror Basic
In Stock
About product
TIMEMORE has created the perfect scale for preparing espresso and pour-over coffee drinks! It's extremely light and compact, so you'll have no trouble finding enough space for it in your kitchen or taking your trusted scale with you when going on a trip. Before putting it on the market, the manufacturers have tested it numerous times, so they're able to guarantee that the high-capacity lithium battery that this device is equipped with will last for at least 10 hours before the scale needs to be charged again.
BUILT-IN TIMER
In addition to allowing you to weigh coffee beans, ground coffee and even other food products, this scale is equipped with a built-in timer that can definitely come in handy when you're trying to infuse your coffee for just the right amount of time.
MINIMALIST DESIGN COUPLED WITH HIGH PRECISION
With an accuracy of 0.1 g, this scale is sure to provide you with maximum precision. The minimum weight it's suited for is 0.5 g, while the maximum weight is 2 kg, so it's guaranteed to meet your coffee brewing needs with ease. Not only is the scale extremely functional, but it's also beautiful to look at: the elegant, minimalist cube shape and the shiny black surface turn it into a gorgeous interior accessory.
SCRATCH-RESISTANT TEXTURE
The delicate texture of the scale simply asks you to touch it. You can definitely go ahead and do that because the surface of the scale is scratch-resistant, as well as protected from unsightly fingerprint marks.
ADJUSTABLE LED DISPLAY
The scale is equipped with a convenient LED display that presents information in a clear, straightforward manner. The data is easy to read, while the brightness of the screen can be adjusted, making it brighter or dimmer according to your needs.
EASY-TO-CLEAN
Cleaning the scale couldn't be any simpler: its surface is waterproof, so all you have to do is wash it under running water and then dry it afterwards.
TIMEMORE: GIVING YOU MORE TIME TO ENJOY DELICIOUS COFFEE
Established in 2012 by several coffee lovers, TIMEMORE is a relatively young company based in China that has nevertheless already managed to make waves in the coffee industry. Their products are aimed at the fans of specialty coffee who enjoy brewing their drinks manually at home. From hand grinders and brewing scales to kettles and French presses, TIMEMORE combines careful design and thoughtful craftsmanship in every single coffee maker or accessory they produce. To TIMEMORE, this work is an art. Their products help coffee lovers all over the world to slow down for a moment and take some time to enjoy a delicious, expertly prepared drink.
Frequently Asked Questions
Ask your question about the product