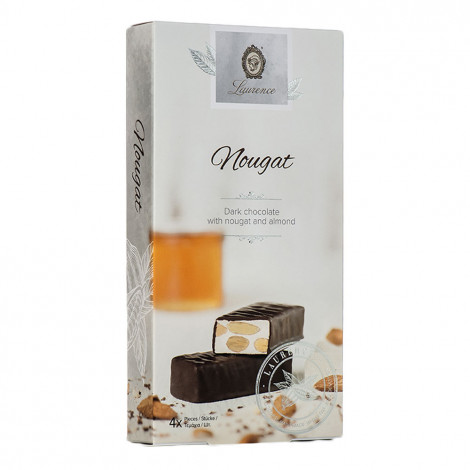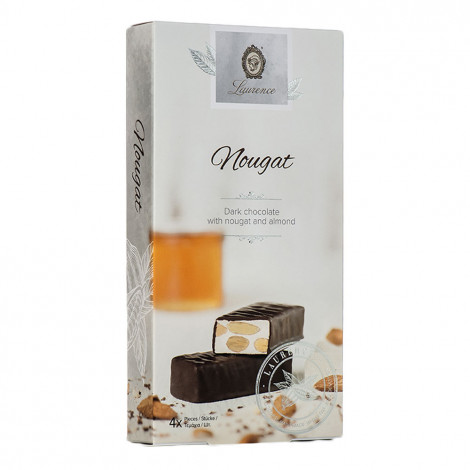 Dark chocolate with nougat and almonds Laurence "Classy White Nougat", 4 x 32.5 g
Delivery takes 3 – 5 days * 85% of orders are delivered the next day

Dark chocolate with nougat and almonds Laurence "Classy White Nougat", 4 x 32.5 g
In Stock
Specifications
Total fat, of which saturated fat
6.6 g
Carbohydrates, of which sugars
54.9 g
About product
Fans of exotic tastes will love these exceptional sweets created by the confectioners of Greece — soft white nougat is here sprinkled with crunchy almonds and coated with dark chocolate. Who could resist such a delicious treat? In a beautiful white package, you'll find 4 bars of pure pleasure.
The manufacturers of this chocolate — the Laurence family — established their business in 1922, in the Greek city of Thessaloniki. For three generations, they've been creating their sweet masterpieces there. By personally choosing every ingredient and spice used in their production, the Laurence family maintains the highest level of quality and taste.
Ingredients: glucose syrup, almonds, sugar, flower honey, egg albumen powder, cocoa mass, sugar, cocoa butter, emulsifier: soy lecithin, stabilizer: triethyl citrate, acidity regulator: lactic acid, bakery yeast, colours: titanium dioxide, flavourings: vanillin. May contain traces of: sulphites, gluten, milk, eggs, soybean, sesame, peanuts, nuts.
Storage conditions: store at a temperature not exceeding 18 °C.
Frequently Asked Questions
Ask your question about the product