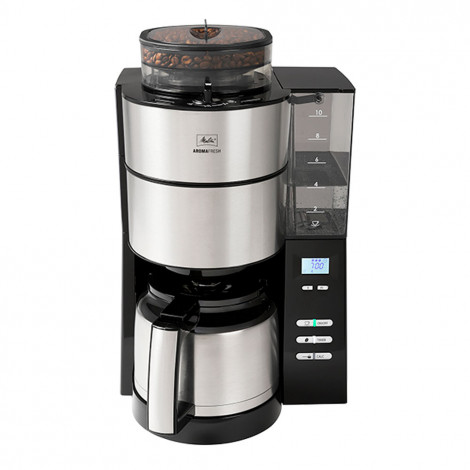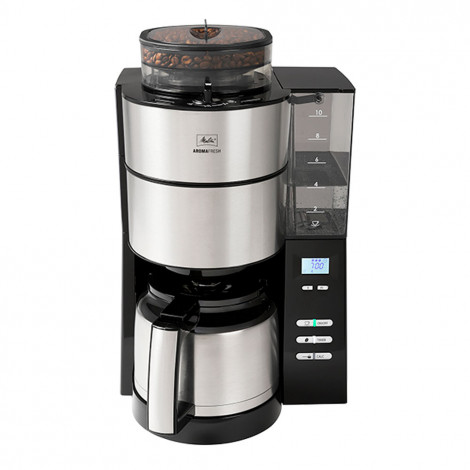 Filter coffee machine Melitta "AromaFresh Grind & Brew"

Filter coffee machine Melitta "AromaFresh Grind & Brew"
In Stock
Specifications
Type
Filter coffee makers
Coffee machine uses
Ground coffee
Extra features
Comes with stainless steel coffee pot, Integrated descaling indicator
Country of Origin
Germany
About product
Delicious coffee must be fresh coffee! Due to the integrated coffee grinder filter coffee maker Melitta "AromaFresh Grind & Brew Therm" prepares coffee from freshly grounded beans every time. It is also possible to prepare your coffee from ground coffee. You can adjust the coffee taste by changing the grindind level, coffee strength and number of portions. It is easy to use and maintain.
DELICIOUS COFFEE FROM FRESHLY GROUNDED BEANS OR GROUND COFFEE

Due to the integrated coffee grinder coffee is prepared from freshly grounded coffee beans. Using "Grind-off" function coffee grinder is disconnected and coffee can be prepared from already grounded coffee.
ADJUSTABLE GRINDING LEVEL, COFFEE STRENGTH AND NUMBER OF PORTIONS

Prepare coffee as you like – adjust the grinding level (from fine to coarse), choose from 3 different coffee strength levels and choose the number of portions to be prepared.
REMOVABLE WATER TANK

From now on it is easy to add water into coffee maker and clean the water tank because it can be easily removed.
UNBREAKABLE THERMAL COFFEE POT FROM STAINLESS STEEL

Forget all worries about breaking the coffee pot. This coffee pot is double-walled and made from stainless steel. The pot is convenient to handle and pour the coffee just with one hand. The pot lid can be easily removed.
INTEGRATED TIMER WITH PROGRAMMING FUNCTION

Due to the clearly comprehensible symbols and LCD screen the filter coffee maker is extremely easy to use. The integrated timer allows to programm the time for switch on and for preparation of coffee so that you can be waken up by wonderful aroma of freshly prepared coffee every morning.
INTEGRATED PROGRAMM FOR DESCALING

Filter coffee maker has integrated function for setting water hardness. According to the set water hardness the special symbol, inidicating the need for descaling programm, appears and you can start the integrated programm.
EASY DAILY MAINTENANCE

The container for beans and upper part of grinder are easily removable for convenient cleaning. Includes the special brush for cleaning.

Frequently Asked Questions
Ask your question about the product