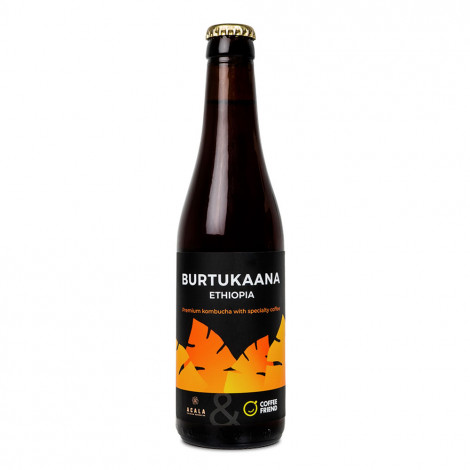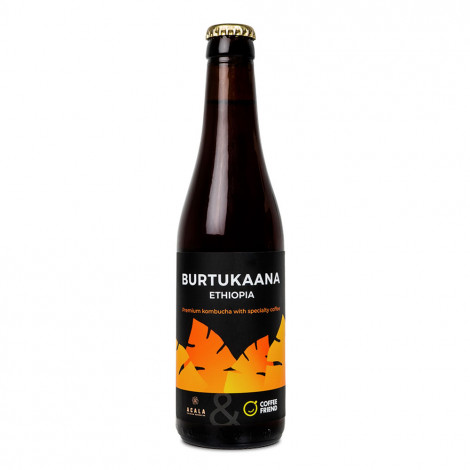 Fine sparkling fermented drink ACALA & Coffee Friend "Ethiopia Burtukaana", 330 ml
Delivery takes 3 – 5 days * 85% of orders are delivered the next day

Fine sparkling fermented drink ACALA & Coffee Friend "Ethiopia Burtukaana", 330 ml
In Stock
Specifications
Capacity (liquids)
330 ml
Country of Origin
Lithuania
About product
Coffee Friend and "ACALA Premium Kombucha" are proud to present the result of their collaboration: it's premium kombucha with specialty coffee, created for those truly special moments.
Coffee and tea are like yin and yang: these two drinks may seem very different at first, but they actually complement each other perfectly and make for an exquisite combination. In this premium kombucha, the delightfully rich specialty coffee "Ethiopia Burtukaana" and one of the finest white teas in the world—Bai Mudan from the famous Chinese province of Yunnan—unveil their most gorgeous colours. This unexpected pairing boasts elegant notes of coffee, salted caramel and milk chocolate, all underpinned by the subtle acidity of fresh blueberries.
– Created by the sommelier M. Žemavičius and Coffee Friend
– Premium ingredients: spring water, white tea and specialty coffee
– Non-alcoholic (up to 0.5% alcohol)
Flavour palate: salted caramel, milk chocolate, coffee, blueberries.
Pairs well with:
– Brownies
– Crème brûlée
– Hard aged cheeses
Ingredients: spring water, kombucha culture, specialty coffee, white tea, sugar.
Storage conditions: store at a temperature between +2 and +20 °C. Serve chilled. Open gently. Once opened, store in the fridge and enjoy within 3 days. May contain up to 0.5% alcohol.
*****
"ACALA Premium Kombucha" offers a combination of age-old traditions, latest technologies and knowledge obtained from the world's finest sommeliers. This ultimately results in an exquisitely refined beverage, full of vivid flavours and refreshing bubbles. The manufacture of these kombuchas is based on ancient practices involving fire, pristine spring water, natural juices, splendid teas and unique herbs. When fermenting the beverage for the second time, technologies used in champagne and wine production are utilised. Years of expertise end up creating unique aromas and flavours, unveiled gently in this elegant non-alcoholic drink.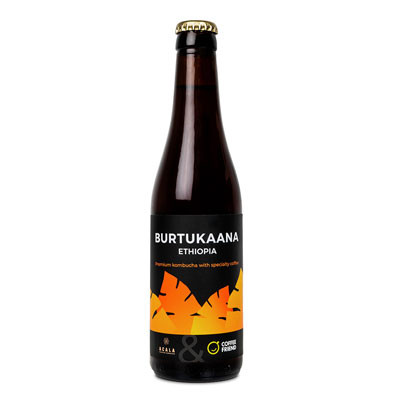 Frequently Asked Questions
Ask your question about the product