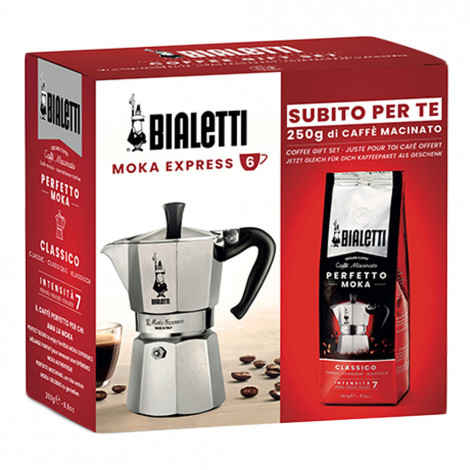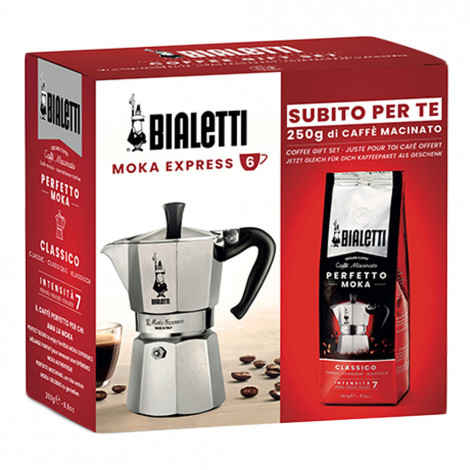 Gift set Bialetti Moka Express 6-cup + Perfetto Moka Classico 250 g
Product is no longer in production.

Gift set Bialetti Moka Express 6-cup + Perfetto Moka Classico 250 g
In Stock
Specifications
Coffee type
Ground coffee
About product
Moka pot Bialetti "Moka Express 6-cup Silver"
"Moka Express" – the classic and most popular Bialetti moka coffee maker. Bialetti produced the first "Moka Express" stove-top espresso maker in 1933. It's a very simple yet delicious way to prepare your coffee.
Stylish and charming "Moka Express" coffee maker from Bialetti retains the classic, decades old design elements. Coated with aluminium, this coffee maker has a knob and a handle made of plastic for ease of use and simple serving. The total capacity is 300 ml, it brews espresso for 6 cups in a couple of minutes.
This coffee maker is very simple to use: fill the bottom part with water, add you favourite ground coffee into the filter inside the coffee maker. Then place the moka coffee maker on the heat source and wait until your delicious coffee drink fills the top part!
Put the product on the hob so that the handle is beyond the reach of heat. Wash your coffee pot by hand, without any detergents. Not dishwasher safe.
Ground coffee Bialetti "Perfetto Moka Classico", 250 g
The medium roast ground coffee blend Bialetti "Perfetto Moka Classico" has been created for lovers of traditional coffee flavours. The Colombian Excelso variety dominates the blend. Sweet notes of dried fruit and flowers are unveiled in the prepared cup.
Variety: 50% Arabica / 50% Robusta
Predominant region: Colombia
Roast profile: Medium
Intensity level: 7/10
As far back as 1933, "Bialetti" created the world's first moka pot, which quickly turned into the central symbol of early Italian mornings and became extremely popular all over the world. Now "Bialetti" presents some exciting news — a ground coffee line created specially for the moka pot. To ensure that coffee prepared in a moka pot has the perfect flavour, it's important to choose beans that suit this coffee preparation method, as well as pick the right roast and grind levels. Who could do this better than the creators of moka pots? Give it a try and see for yourselves!
Ingredients: ground roasted coffee.
Storage conditions: store in a dry, cool place.
Frequently Asked Questions
Ask your question about the product