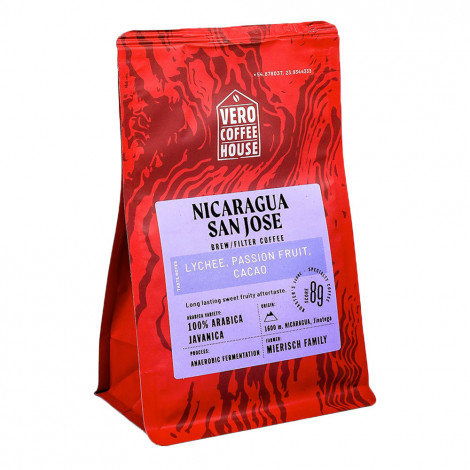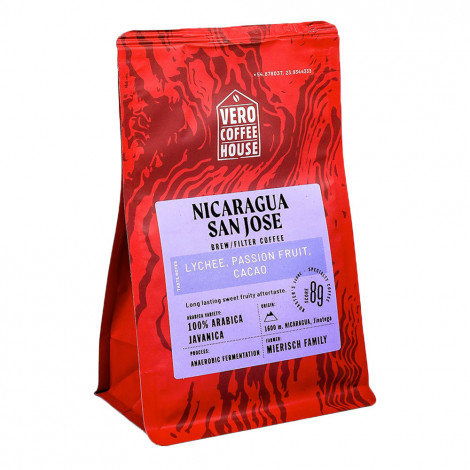 Ground coffee Vero Coffee House Nicaragua San Jose, 200 g
Nicaragua
Single-origin
Light
Product is no longer in production.

Ground coffee Vero Coffee House Nicaragua San Jose, 200 g
In Stock
Specifications
Coffee type
Ground coffee
Coffee kind
Single-origin
Manufacturer
Vero Coffee House
Coffee origin region
Nicaragua
Country of Origin
Lithuania
Coffee beans type
100% Arabica, Specialty coffee
About product
The flavour of this coffee is marked by notes of lychees, passion fruit and cacao.
This is a truly unique coffee originating from Nicaragua, the Mierisch family farm. The farm was established in 1908. Nowadays, modern coffee growing and processing methods are used there, resulting in several prestigious Cup of Excellence awards. Three generations of the Mierisch family are growing coffee in this farm.
The SCA has scored this coffee 89 points out of 100.
COUNTRY: Nicaragua
REGION: Jinotega
FARM: the Mierisch family farm
ALTITUDE: 1600 m
VARIETY: Javanica
PROCESS: Washed
ROAST LEVEL: Fit for infusion and filter coffee
TASTING NOTES: Lychees, Passion fruit, Cacao
Ingredients: ground roasted coffee.
Storage conditions: store in a dry, cool place.
Frequently Asked Questions
Ask your question about the product