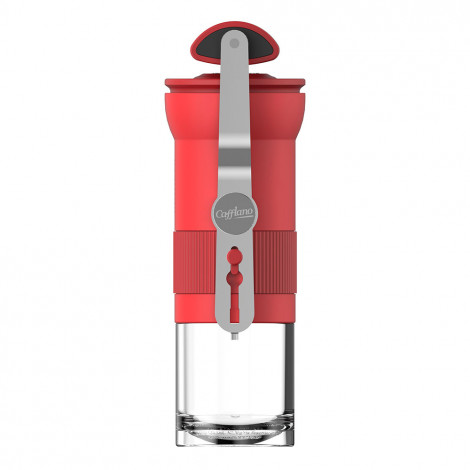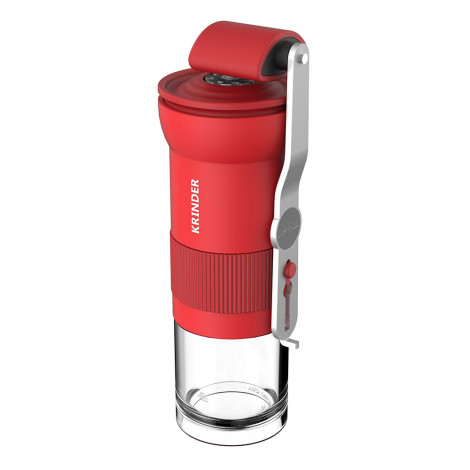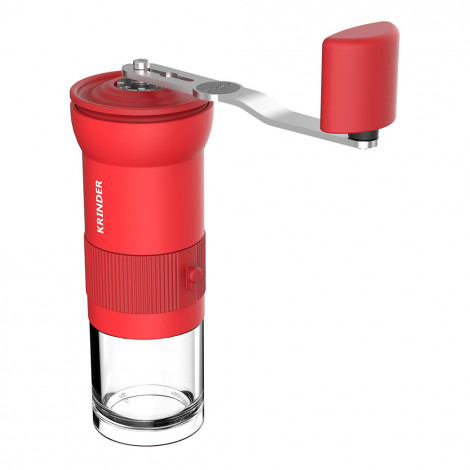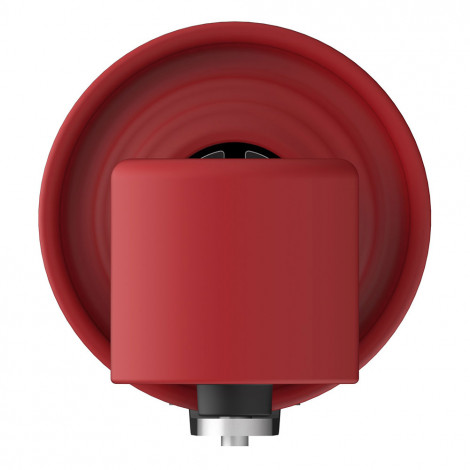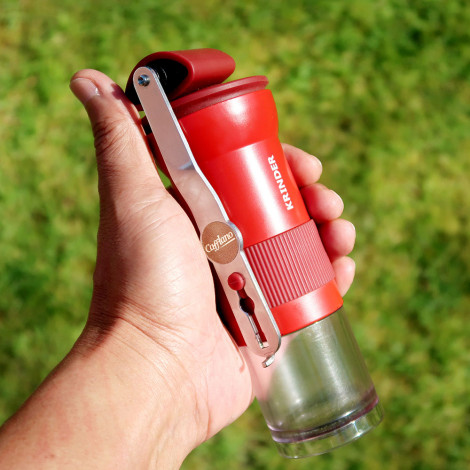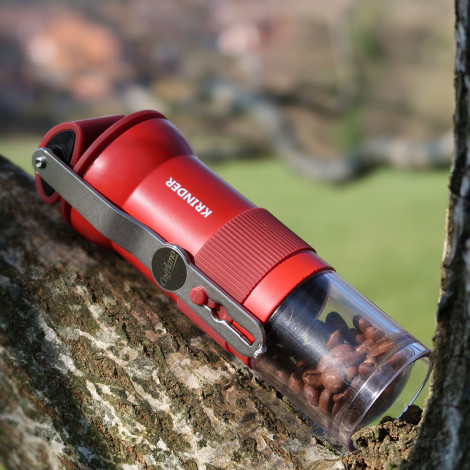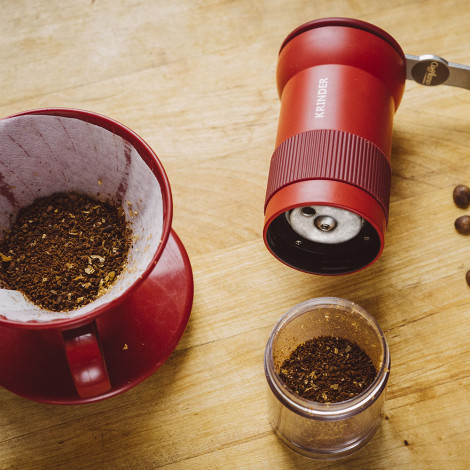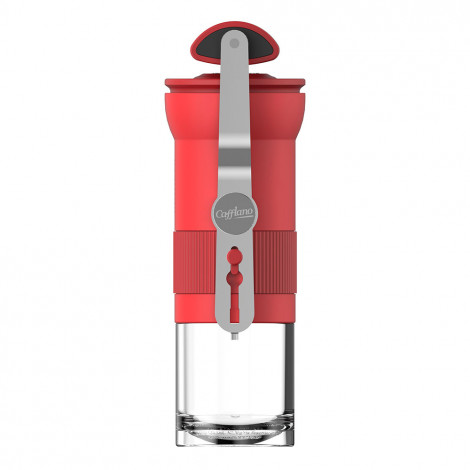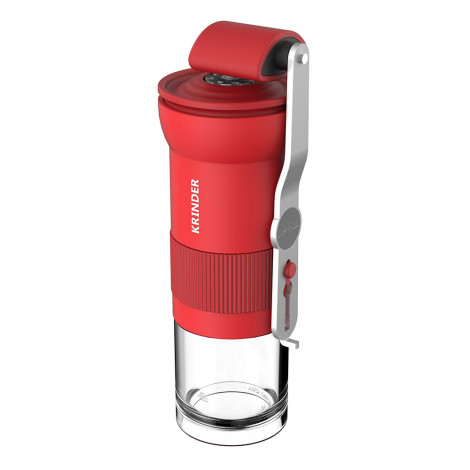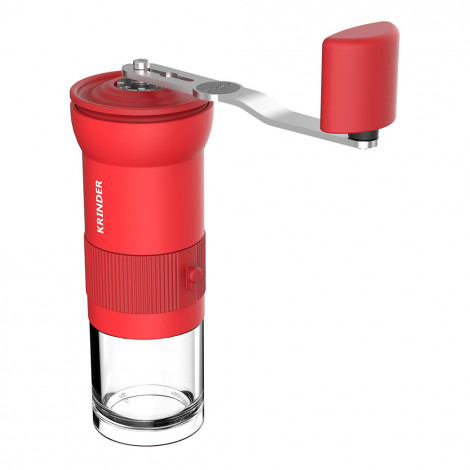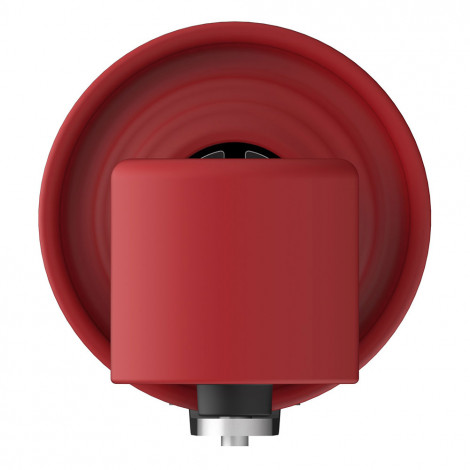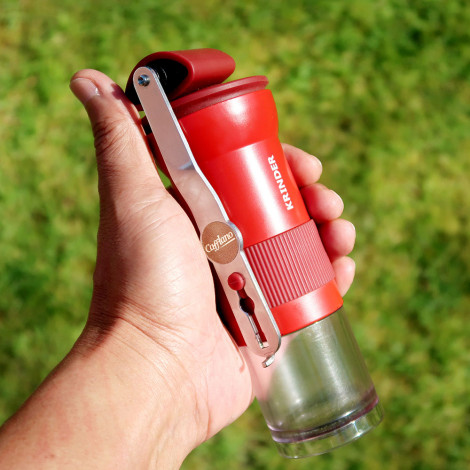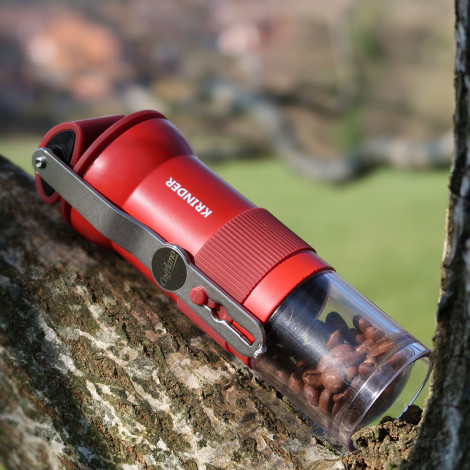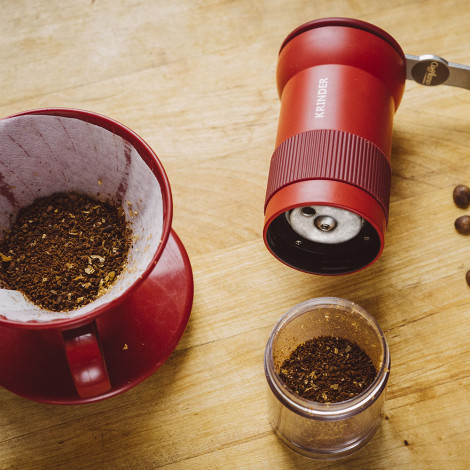 Manual coffee grinder Cafflano Krinder Red
Product is no longer in production.

Manual coffee grinder Cafflano Krinder Red
In Stock
Specifications
Country of Origin
South Korea
Type of coffee grinder
Manual
Burr construction
Conical
Suitable for
Filter/Pour-over
About product
After four successful Kickstarter campaigns, Cafflano® is back again with a new hand grinder – Krinder. It's the world's lightest metal burr grinder (only 295 g), which also has maximum portability: the handle can be attached and dismantled with ease.
EFFORTLESS GRINDING
The compact size and ergonomic design of Krinder make grinding any type of beans an amazingly easy task. The inner circular design of the jar lets you pour out all grounds with no residuals. The grinder has a 30-gram bean capacity, which is good enough for two coffee lovers.
FROM ESPRESSO TO POUR-OVER
Grind size and consistency are arguably the two most important aspects when brewing the perfect cup of coffee of any style, be it espresso, pour-over or French press / cold brew. A good hand grinder should produce consistent grind size and accommodate all coffee styles. Typical hand grinders attempt to achieve this by adding more components, but this usually results in higher costs, leading to highly marked pricing tags. Cafflano® Krinder, by contrast, has implemented a special maintenance-free grinding system to secure the grind consistency in all ranges.
METAL BURRS FROM ITALY
Krinder is equipped with a set of Italian conical metal burrs. The precision-cut hardened and tempered steel burrs have sharp edge holding capabilities (edge retention), so the beans are cut, not crushed.
INTUITIVE AND EASY GRIND SETTING
On the grinder, you'll find an easy-to-track, numbered adjusting wheel. Simply rotate it clockwise (finer) or counter-clockwise (coarser) to change the grind size.
***
Beanscorp Co., Ltd. was founded in 2013 by five coffee lovers. Ever since then, Beanscorp has been developing innovative, sustainable and portable coffee equipment under the brand Cafflano® and won over 13 international awards from coffee, outdoor and kitchenware industries, including four consecutive "Best New Product" awards from Specialty Coffee Association (SCA). Cafflano® is now available in 100 countries globally. Beanscorp designs and manufactures all Cafflano® products from Korea, and their mission is crystal clear: to develop, manufacture and provide coffee lovers with quality coffee gear that is simple, innovative, economic, convenient, sustainable, as well as portable.
Frequently Asked Questions
Ask your question about the product