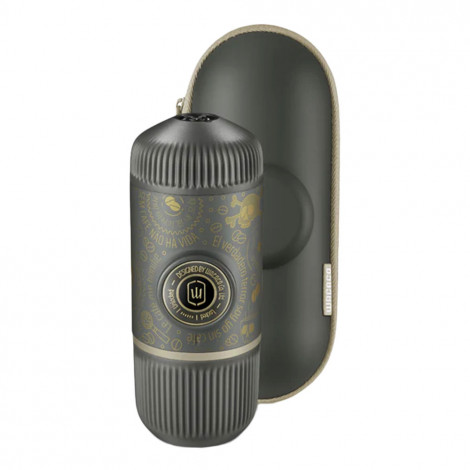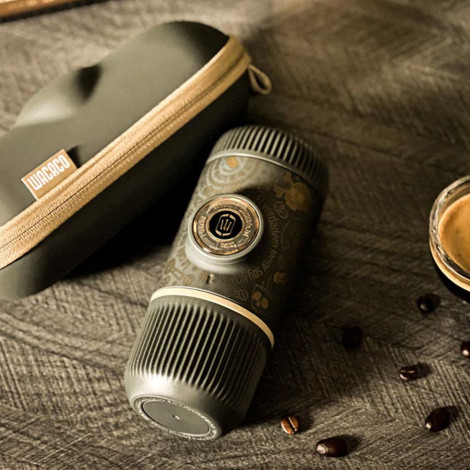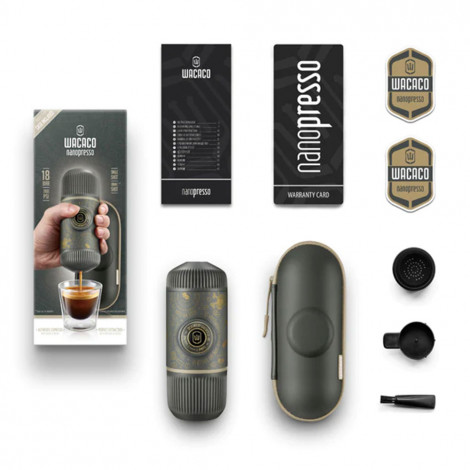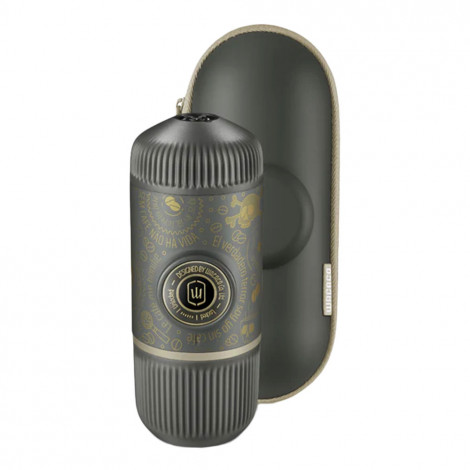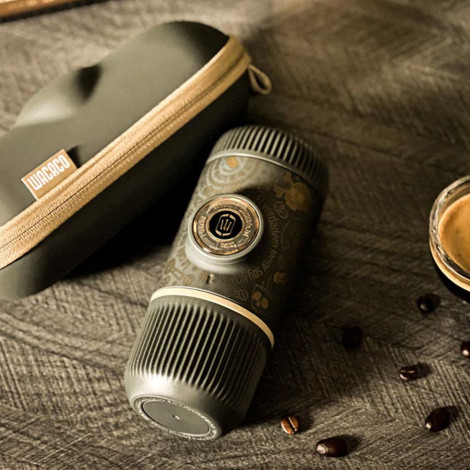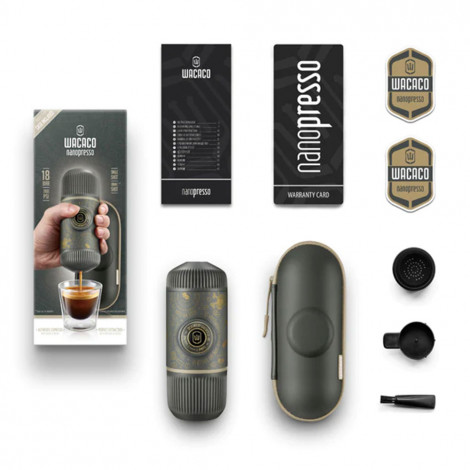 Portable espresso machine WACACO "Nanopresso Dark Souls Grey"

Portable espresso machine WACACO "Nanopresso Dark Souls Grey"
In Stock
Specifications
Type
Other coffee machines
Coffee machine uses
Ground coffee
Water pump pressure
18 BAR
About product
To the creative spirits, the rebels, those who are cut from a different cloth and tend to go against the grain, Wacaco presents their newest special-edition Nanopresso, the "Dark Souls". Beneath its rather intimidating appearance, the "Dark Souls" model knows how to charm. Decorated with an elegant enamel patch and embellished with fine gold-coloured lines all around its body, its luxurious finishing is bound to seduce. As fascinating as they are intriguing, the unique, edgy skull symbols emphasise the exceptional espresso quality delivered by Nanopresso. Enjoy killer flavours, as well as body and aroma that are out of this world! The "Dark Souls" illustration has been created by the Wacaco design team with the help of the French designer and artist SteF.
*****
Whether you plan on going hiking, camping, staying in a hotel or simply enjoying great coffee at home or in the office, the hand-powered portable espresso machine "Nanopresso" by WACACO will let you prepare barista-style espresso anytime, anywhere. With WACACO, the world is your café!
PERFECT ESPRESSO IS EASY TO PREPARE
Experience the pleasure of drinking high-quality espresso, from the first sip to the very last drop, wherever you are. All you need for your next shot is ground coffee, hot water and your "Nanopresso".
MASSIVE POWER WITH MAXIMUM PRESSURE OF 18 BARS
Built around a newly patented pumping system, "Nanopresso" is capable of reaching, with the help of your hands, the maximum pressure of 18 bars during extraction, resulting in unparalleled coffee quality. It's certainly more than what most home espresso machines can deliver!
GROUND COFFEE TRANSFORMED INTO DIVINE NECTAR
Obtaining the perfect espresso is often far from easy: numerous parameters come into play during the brewing process. However, being consistent may turn out to be even harder. Thanks to its innovative construction and easy operation, "Nanopresso" will help you brew perfect coffee covered with a nice, dense layer of crema every time.
EASIER THAN EVER: USE 15% LESS FORCE
"Nanopresso" works best when using finely ground coffee that's been tamped hard. It's delightfully easy to operate and simple to use. The pumping of this coffee maker requires 15% less force compared to previous models. With "Nanopresso", the power lies in the machine.
ONLY 15.6-CM-TALL
The ergonomic design and compactness of "Nanopresso" is guaranteed to turn it into your travel companion of choice. It's easy to hold and simple to pack!
EVEN LIGHTER: AS LITTLE AS 336 GRAMS
At just 336 grams, "Nanopresso" is engineered to be extremely light. Designed to go wherever you go, its construction delivers a reassuringly solid feel at the same time.
LARGER WATER TANK
The "Nanopresso" water tank can hold up to 80 ml of water. It's lined and protected by a detachable cup. Both components feature a heat sink pattern to absorb the heat and protect your hands from it.
NEW PORTAFILTER DESIGN FOR EASY CLEANING
After each shot, it'll only take you a few seconds to clean your "Nanopresso". All portafilter components can be easily disassembled for deep cleaning if needed.
WHAT'S IN THE PACKAGE?
The full set includes "Nanopresso", a built-in espresso cup, a filter basket, a scoop, a brush, a multilingual user manual, a warranty card, two stickers and a protective case.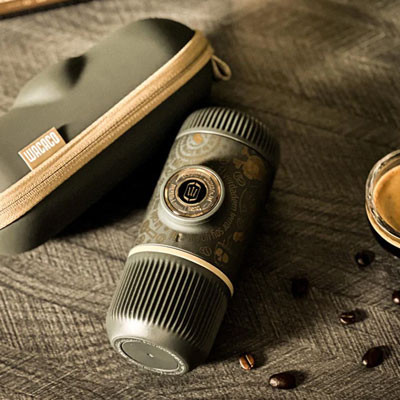 Frequently Asked Questions
Ask your question about the product