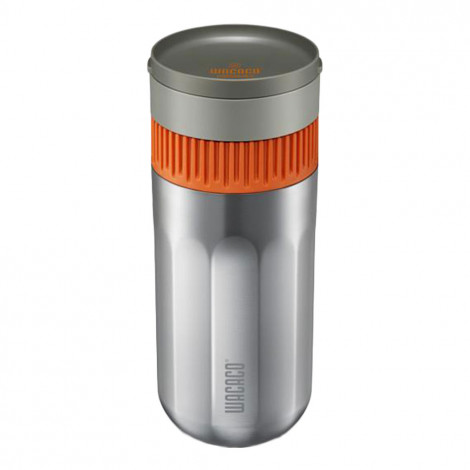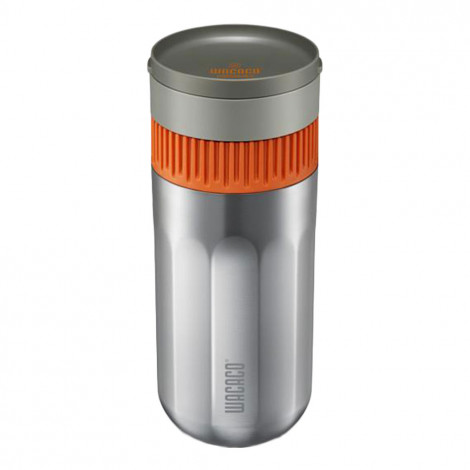 Portable coffee machine Wacaco "Pipamoka"

Portable coffee machine Wacaco "Pipamoka"
In Stock
Specifications
Type
Other coffee machines
Coffee machine uses
Ground coffee
About product
This all-in-one nomadic coffee maker is simple, sturdy and perfect for fueling busy days. Enjoy hours of hot, freshly-brewed coffee during your commutes, working hours or exciting adventures. Designed and engineered by Wacaco, "Pipamoka" offers every tool you need to prepare and enjoy a perfectly balanced cup of coffee.
Paired with an innovative twisting mechanism, the patented construction of "Pipamoka" generates vacuum pressure inside the mug. This negative pressure results in a suction force that draws hot water downwards through the coffee grounds. The drink is then poured directly into the insulated thermal mug, where it stays hot for hours. Using this brewing method, you'll brew a clean, full-flavoured cup of coffee in around two minutes!
The required coffee-to-water ratio is similar to standard drip or infusion methods: aim for a proportion of 1:15 (1 g of ground coffee for 15 ml of water). We suggest choosing a medium to medium-coarse grind for the optimal brewing performance.
YOUR COFFEE, YOUR JOURNEY
Take your favourite ground coffee with you wherever you go and always be ready to refuel! "Pipamoka" can brew and hold up to 236 ml of coffee. It features a basket with a capacity of 3.5 teaspoons/16 grams.
TASTE THE DIFFERENCE
Short brewing duration allows for a full-flavoured cup with balanced acidity. The extraction time amounts to as little as 80 seconds.
DRINK AT YOUR OWN PACE
The stainless-steel vacuum-insulated mug keeps your coffee hot for 3–4 hours.
LEAVE NO WASTE BEHIND
With the help of a permanent micro-filter mesh, "Pipamoka" lets precious natural oils seep into the cup and contribute to richer flavour. This also means that there's no need for paper filters, so you can save money and avoid unnecessary waste.
READY FOR ANY CHALLENGE
Designed from sturdy, yet lightweight, materials, "Pipamoka" weighs in at 425 grams and is guaranteed to serve you for years to come.
WHAT'S IN THE SET?
The full set includes the "Pipamoka" itself with a 300-ml isothermal stainless-steel mug, a funnel, a scoop, a brush, a multilingual user manual, a warranty card, a sticker and a carrying bag. THE SET DOES NOT INCLUDE A PROTECTIVE CASE.
Frequently Asked Questions
Ask your question about the product