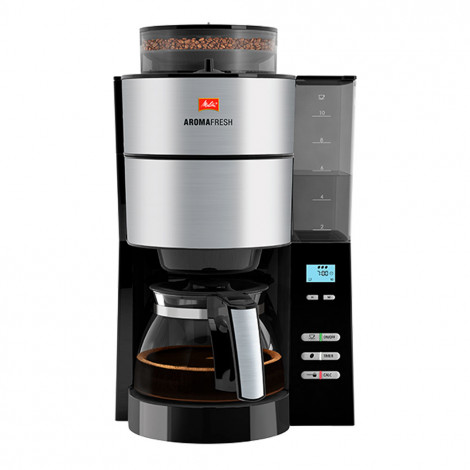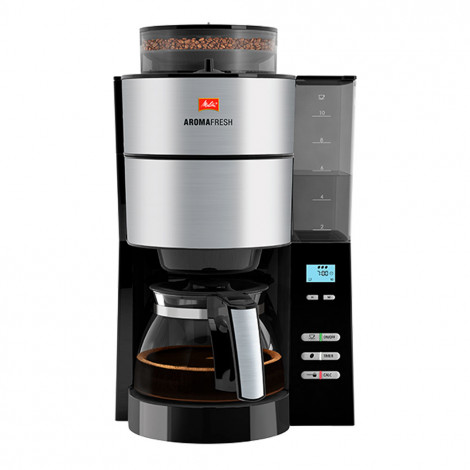 Refurbished filter coffee machine Melitta AromaFresh

Refurbished filter coffee machine Melitta AromaFresh
In Stock
Specifications
Type
Filter coffee makers
Coffee machine uses
Ground coffee
Extra features
Integrated descaling indicator, Keep warm function
Country of Origin
Germany
About Melitta AromaFresh EXPO
FRESHLY GROUND COFFEE FOR PERFECT TASTE
Melitta "Aroma Fresh" filter coffee maker has integrated grinder that allows you to enjoy the flavor of freshly ground coffee. The grinder also has control function that will ensure that the coffee would be grinded according to every coffee lover preferences. Thanks to the transparent water tank, you can easily fill the required amount of water.
INTEGRATED COFFEE CONTAINER WITH ADJUSTABLE GRINDING LEVEL
This coffee maker has an integrated coffee grinder, which can be adjusted to the desired taste.
ADJUSTABLE COFFEE STRENGHT
Coffee strength is easy to adjust, so you can choose the intensity according to your needs.
REMOVABLE COFFEE CONTAINER AND TOP GRINDER HEAD
The removable bean container and top grinder head will not complicate maintenance and make it easier to clean and maintain the coffee maker.
3 in 1 CALC PROTECTION AND DESCALING INDICATOR
In order to ensure the perfect functioning of the coffee maker and perfect taste, it is necessary to regularly descale it. The coffee maker Melitta "Aroma Fresh" has a lime indicator and semi automatic descaling program.
PROGRAMMABLE HEATING TIME
The programmable heating pad allows you to choose how long you want to keep the drink warm.
Frequently Asked Questions
Ask your question about the product
Melitta AromaFresh EXPO reviews