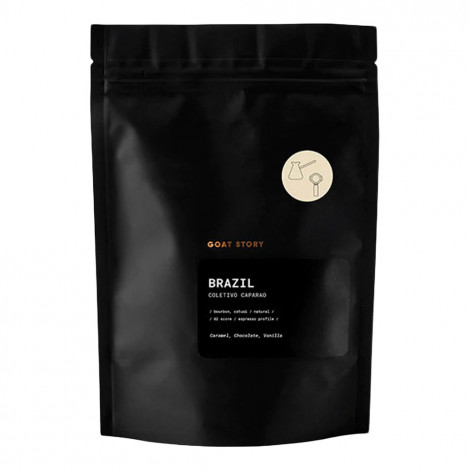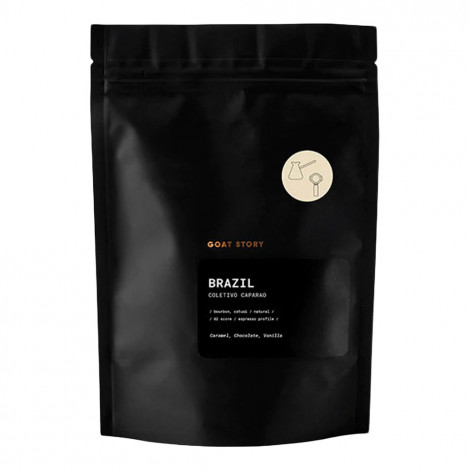 Specialty coffee beans Goat Story Brazil Coletivo Caparaó, 500 g
Brazil
Single-origin
Medium
Product is no longer in production.

Specialty coffee beans Goat Story Brazil Coletivo Caparaó, 500 g
In Stock
Specifications
Coffee kind
Single-origin
Coffee origin region
Brazil
Country of Origin
Slovenia
Arabica variety
Bourbon, Catuai
Coffee beans type
100% Arabica, Specialty coffee
About product
Crafted to brew the perfect espresso without any bitterness or produce a bold French-pressed drink, this variety is part of the carefully selected coffees grown by farmers in the Caparaó National Park. Here, coffee grows at high altitudes, which isn't all that typical of Brazilian beans.
The indigenous people of Brazil—Indians from the Tupi tribe—were amazed by the area full of crystal-clear springs and rocky peaks when they first discovered it. They named this area Caparaó: Magic Mountain. Far from the bustle of the urban centres of Brazil, the Caparaó region is now a national park with an established history of organic coffee farming. Thanks to an eventual shift of focus towards specialty coffee, coffees from Caparaó are today amongst the best of Brazil, proven to be such again and again by several awards of Coffee of the Year.
Perfect for: espresso
Also great for: Turkish coffee, moka pot, French press
Due to its exceptional quality and taste, this coffee is marked as Specialty. The SCA score amounts to 82 points out of 100.
COUNTRY: Brazil
REGION: Caparaó
ALTITUDE: 900–2000 m
VARIETY: Bourbon, Catuai
PROCESS: Natural
ROAST PROFILE: Medium
TASTING NOTES: Vanilla, Caramel, Chocolate
Ingredients: roasted coffee beans.
Storage conditions: store in a dry, cool place.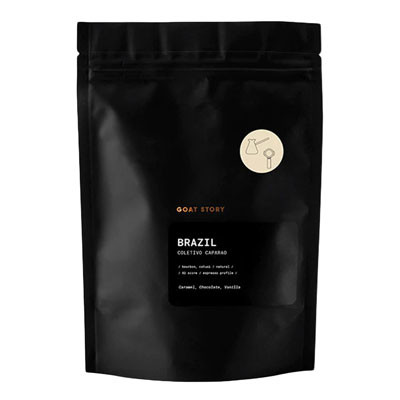 Taste guide
Caramel
Chocolate
Vanilla
Coffee passport
Coffee origin region
Brazil
Coffee kind
Single-origin
Frequently Asked Questions
Ask your question about the product