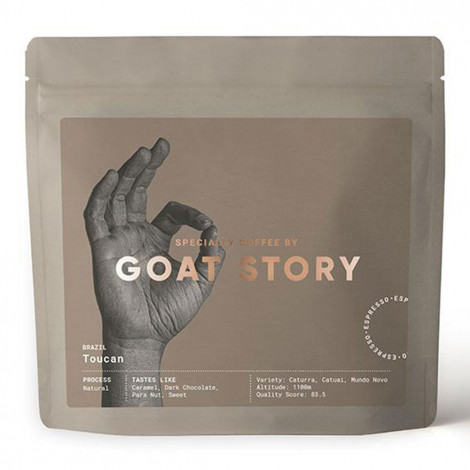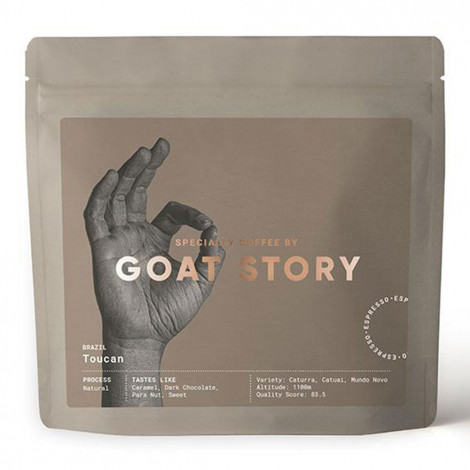 Specialty coffee beans Goat Story Brazil Toucan, 250 g
Brazil, South America
Single-origin
Medium
Product is no longer in production.

Specialty coffee beans Goat Story Brazil Toucan, 250 g
In Stock
Specifications
Coffee kind
Single-origin
Coffee origin region
Brazil, South America
Arabica variety
Catuai, Caturra
Coffee beans type
Specialty coffee
About product
For those who miss the classic taste of good coffee. The prepared coffee reveals notes of caramel, dark chocolate and para nuts, you will enjoy the natural sweetness of it. The prepared espresso is covered with a thick crema. Just perfect with milk.
This coffee came from the Cerrado Mineiro area in the Minas Gerais region of Brazil, well known for its intense aroma, nutty, sweet-tasting coffees.
While this coffee is perfect for Espresso, it is also great for Turkish coffee, Moka pot, French Press and Aeropress preparation methods.
Due to the exceptional quality and taste, this coffee is marked as Specialty. According to the SCA it scores 83,5 out of 100.
COUNTRY: Brazil
REGION: Minas Gerais, Cerrado Mineiro
ALTITUDE: 1100 m
VARIETY: Catuai, Caturra, Mundo Novo
PROCESS: Natural
ROAST PROFILE: Medium
TASTE PALATE: Caramel, Dark Chocolate, Para Nut, Sweet
Ingredients: roasted coffee beans.
Storage conditions: keep in a dry, cool place.
Taste guide
Caramel
Dark Chocolate
Sweet Sugary
Coffee passport
Coffee origin region
Brazil, South America
Coffee kind
Single-origin
Frequently Asked Questions
Ask your question about the product