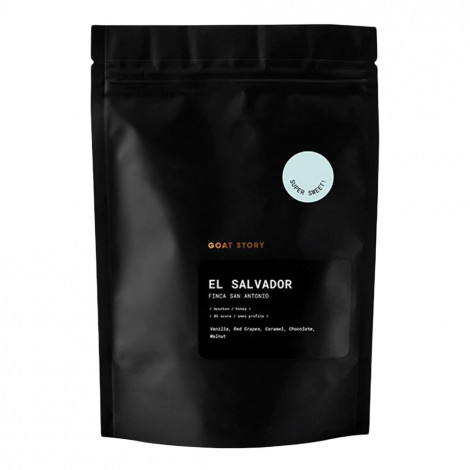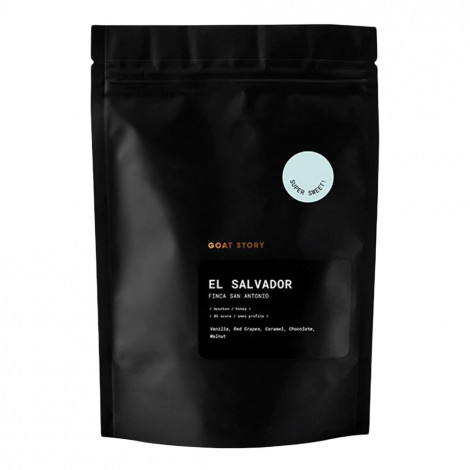 Specialty coffee beans Goat Story El Salvador Finca San Antonio, 500 g
El Salvador
Single-origin
Medium light
Product is no longer in production.

Specialty coffee beans Goat Story El Salvador Finca San Antonio, 500 g
In Stock
Specifications
Coffee kind
Single-origin
Coffee origin region
El Salvador
Roasting level
Medium light
Country of Origin
Slovenia
Coffee beans type
100% Arabica, Specialty coffee
About product
When it comes to honey-processed coffees, Goat Story is sometimes rather sceptical. Every now and then, however, the company stumbles upon a true honey gem—and this shade-grown variety from Finca San Antonio is definitely one of them. It's super sweet and offers an extremely balanced cup of coffee, no matter how you brew it.
Give the espresso brewing method a try and delight in a super sweet, vibrant beverage, or brew it using a filter tool of some sort to produce a particularly smooth drink. Another tip though: tighten the ratio! We recommend aiming for 1:13.
By the way, if you find yourself craving these flavours in the summer, remember that cold brew is the name of the game for these beans!!!
Perfect for: espresso
Also great for: filter, moka pot, French press, cold brew
Due to its exceptional quality and taste, this coffee is marked as Specialty. The SCA score amounts to 85 points out of 100.
COUNTRY: El Salvador
ALTITUDE: 1300 m
VARIETY: Bourbon
PROCESS: Honey
ROAST PROFILE: Light to medium
TASTING NOTES: Red grapes, Caramel, Chocolate, Walnuts
Ingredients: roasted coffee beans.
Storage conditions: store in a dry, cool place.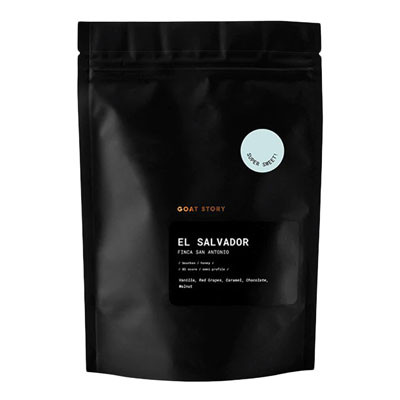 Taste guide
Caramel
Chocolate
Red Grape
Walnut
Coffee passport
Coffee origin region
El Salvador
Coffee kind
Single-origin
Roasting level
Medium light
Frequently Asked Questions
Ask your question about the product