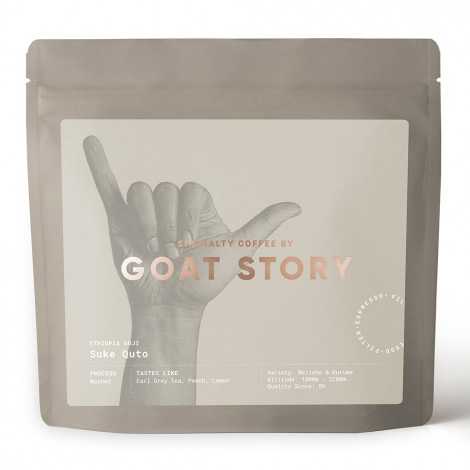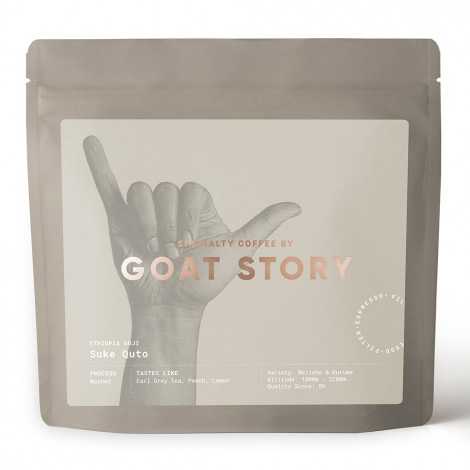 Specialty coffee beans Goat Story Ethiopia Suke Quto, 250 g
Ethiopia
Single-origin
Medium light
Product is no longer in production.

Specialty coffee beans Goat Story Ethiopia Suke Quto, 250 g
In Stock
Specifications
Coffee kind
Single-origin
Coffee origin region
Ethiopia
Roasting level
Medium light
Coffee beans type
100% Arabica, Specialty coffee
About product
For African coffee lovers – fabulously mild and sweet coffee from Ethiopian Guji region. The prepared coffee reveals notes of Earl Grey tea, peaches and lemon.
Goat Story roasters tell, that this coffee made them lose their mind – such a great it is! Very delicious prepared with various methods. We especially recommend trying it as cold brew.
Due to the exceptional quality and taste, this coffee is marked as Specialty. According to the SCA it scores 86 out of 100.
COUNTRY: Ethiopia
REGION: Guji
ALTITUDE: 1800 – 2200 m
VARIETY: Welicho, Kurume
PROCESS: Washed
ROAST PROFILE: Light medium
TASTE PALATE: Earl Grey Tea, Peach, Lemon
Taste guide
Earl Grey
Lemon
Peach
Coffee passport
Coffee origin region
Ethiopia
Coffee kind
Single-origin
Roasting level
Medium light
Frequently Asked Questions
Ask your question about the product