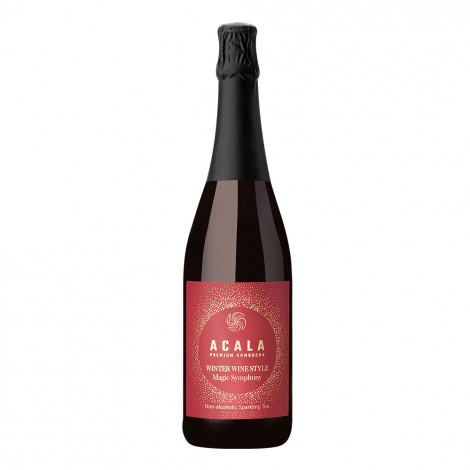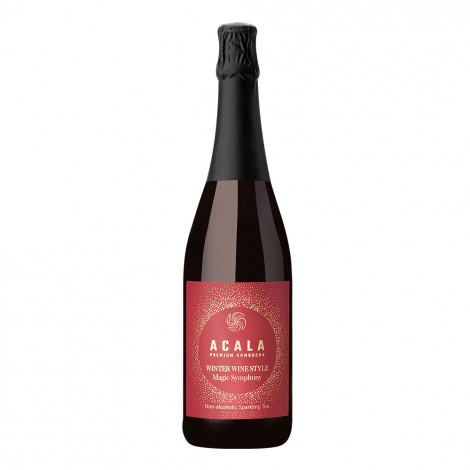 Fine sparkling fermented tea drink ACALA Premium Kombucha Magic Symphony, 750 ml

Fine sparkling fermented tea drink ACALA Premium Kombucha Magic Symphony, 750 ml
In Stock
Specifications
Total fat, of which saturated fat
0 g
Carbohydrates, of which sugars
2.2 g
Country of Origin
Lithuania
About product
An excellent alternative to the subtles spices of mulled wine.
When you think of Christmas, what sounds do you hear? We bet your ears fill with endless laughter, warm conversations and the clinking of dishes as your family sits down to enjoy a delicious evening meal. The coming holidays will hopefully endow you with more wonderful melodies like these—but while you're waiting, we invite you to give ACALA's magical Christmas symphony a listen.
– Allegro (quick tempo): always rushing forward, the purest of spring waters is humming a lively tune. Its natural powers endow us with amazing benefits.
– Lento (slow, lyrical tempo): as the music mellows out a bit, the leaves of Keemun tea start to unfold. Slowly, like smoke rising up from a smouldering fire, subtle notes of flowers and wood appear, then morph gradually into delicate flavours of cocoa and marzipan.
– Scherzo (lively, playful tempo): the melody livens up again and your palate is presented with a burst of papaya and festive spices. Playful notes like these give the drink warmth and vividness, much needed during the cold months of winter.
– Allegro (quick tempo again): to finish it all off, a triumphant march of fresh red berries rings out, bringing with it an astouding complexity of flavour.
Tasting notes:
Mixed with a bunch of fragrant spices, this wintery drink is suited perfectly for those dark, yet warm and cosy, evenings spent curled up at home. The rich, luscious flavour will remind you of mulled wine. Serve in a red wine glass, chilled or at room temperature.
Ingredients: spring water, kombucha culture, juice (blueberry, orange, blackcurrant, chokeberry), sugar, tea (Assam, pu-erh, hibiscus, Ivan Chai), spices (cinnamon, ginger, cardamom, cloves, pepper).
Storage conditions: store at a temperature between 2 and 24 °C. Enjoy chilled. Open carefully. Once opened, consume within 3 days. Some natural sediment may occur. Alcohol content: 0.0%.
*****
"ACALA Premium Kombucha" offers a combination of age-old traditions, latest technologies and knowledge obtained from the world's finest sommeliers. This ultimately results in an exquisitely refined beverage, full of vivid flavours and refreshing bubbles. The manufacture of these kombuchas is based on ancient practices involving fire, pristine spring water, natural juices, splendid teas and unique herbs. When fermenting the beverage for the second time, technologies used in champagne and wine production are utilised. Years of expertise end up creating unique aromas and flavours, unveiled gently in this elegant non-alcoholic drink.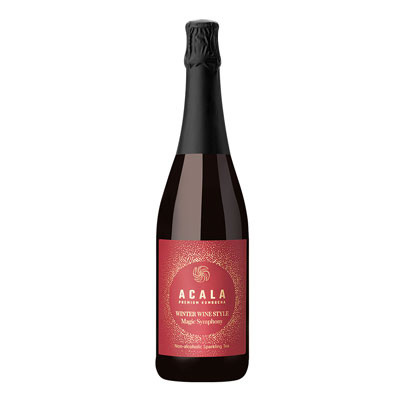 Frequently Asked Questions
Ask your question about the product