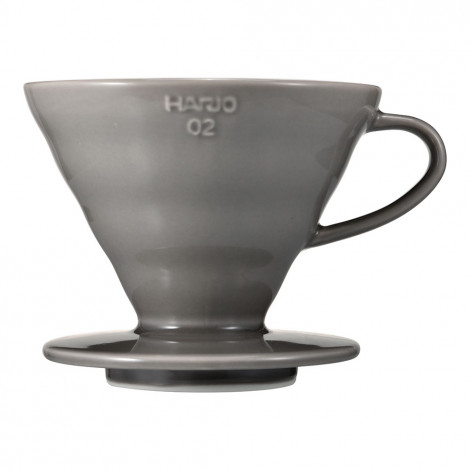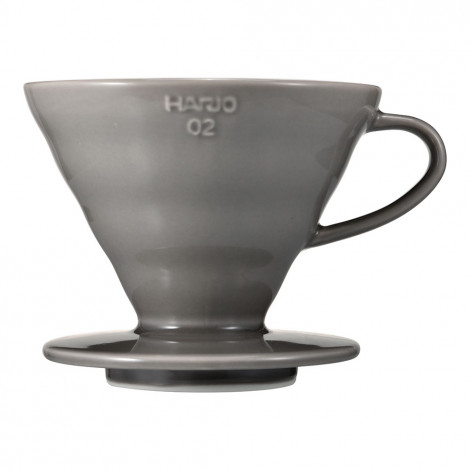 Ceramic coffee dripper Hario "V60-02 Grey"

Ceramic coffee dripper Hario "V60-02 Grey"
In Stock
Specifications
Extra features
Placed on a cup
About product
Ceramic Coffee Dripper Hario V60-02 is a cone-style filter with a vortex radial drain pattern and an open end.
The cone shaped paper filters help extend water and coffee contact time, because the water flows towards the centre. You can prepare two cups of coffee at once.
This manual brewing method gives you the complete control over brewing time and temperature, so your coffee is brewed just the way you like it. A large hole at the bottom of the cone allows coffee to flow freely, so you can customize flavour and strength simply by adjusting the speed at which you pour hot water (pour rather quickly for lighter coffee or slowly for a darker brew).
Use of ceramic Coffee Dripper "Hario V60-02". To prepare 320 ml of coffee:
1. Pre-heat both paper and ceramic filters with hot water.
2. Pour out water. This will help minimize that paper-like aftertaste.
3. Add freshly ground coffee (20 g) into the paper filter (generally, a medium-fine grind should be used).
4. Pre-infuse the grounds with 50 ml of water — the entire surface should be wet. Wait for around 10 seconds.
5. Start by pouring the rest of water into the centre and then continue in a circular motion going upwards, follow the conical shape.This should be a slow pour.
6. After pouring the remaining water, wait until there is no water on the coffee surface and enjoy well prepared coffee.
Frequently Asked Questions
Ask your question about the product