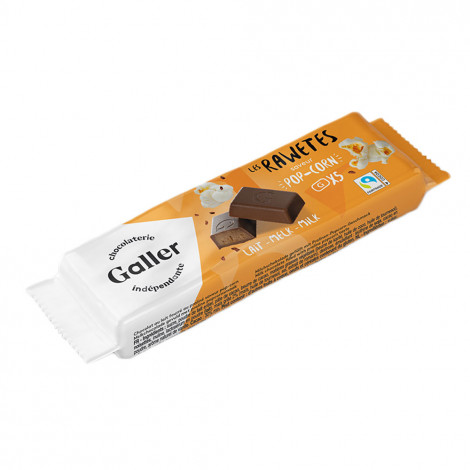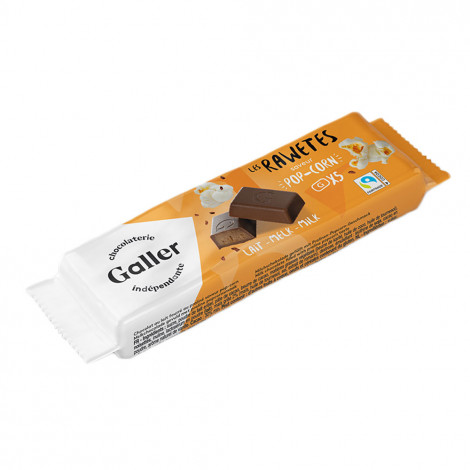 Chocolate candies Galler Les Rawetes – Pop-Corn, 5 pcs. (25 g)
Product is no longer in production.

Chocolate candies Galler Les Rawetes – Pop-Corn, 5 pcs. (25 g)
In Stock
Specifications
Country of Origin
Belgium
Feature
Chocolate with additives
About product
This candy set produced by the famous Belgian chocolate manufacturer will make you think of evenings spent at the cinema: in a conveniently sized box that will fit into your purse with ease, you'll discover 5 milk chocolate rawetes with popcorn pieces. Enjoy them on your own or share them with your friends!
In Walloon dialect, the word rawete means "a small, pretty, lovely addition". The region of Wallonia is where the Chocolaterie Galler was established in 1976. Ever since then, thousands of chocolate lovers all over the world have fallen in love with this brand.
Like the rest of the brand's assortment, the candies "Les Rawetes – Pop-Corn" are made from natural ingredients. They're free of artificial flavourings, colouring agents and preservatives.
Ingredients: sugar, whole milk powder, cocoa paste, cocoa butter, vegetable fat (shea butter, coconut oil, sunflower oil), hazelnuts (6.5%), inulin, whey powder (milk), roasted corn (corn, sunflower oil, salt, rosemary extract), dextrose, emulsifier: soy lecithin, cocoa powder, natural vanilla flavouring. Cocoa solids: milk chocolate: no less than 30%. May contain traces of other nuts, eggs and cereals containing gluten.
Storage conditions: store at a temperature below +21 °C.
Frequently Asked Questions
Ask your question about the product