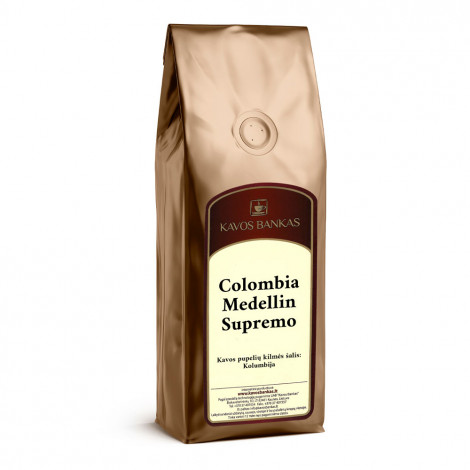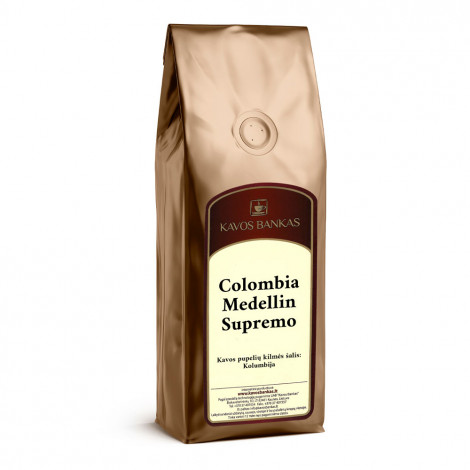 Coffee beans Kavos Bankas "Colombia Medellin Supremo", 500 g
South America
Single-origin
Medium

Coffee beans Kavos Bankas "Colombia Medellin Supremo", 500 g
In Stock
Specifications
Coffee kind
Single-origin
Manufacturer
Kavos Bankas
Coffee origin region
South America
Country of Origin
Lithuania
About product
Notes of fruit and chocolate are unveiled in the prepared cup. The coffee has an extremely rich taste. Mild, fruity acidity can be felt.
This coffee originates from the region of Antioquia (Medellín is its capital), which is renowned for being one of the best coffee regions in Colombia. The coffee grown there is valued all over the world.
Suitable for all preparation methods.
COUNTRY: Colombia
REGION: Medellín
ALTITUDE: 1100–1500 m
VARIETY: Typica, Bourbon
PROCESS: Washed
ROAST PROFILE: Medium
TASTE PALATE: Fruit, Chocolate
Taste guide
Chocolate
Fruit
Coffee passport
Coffee origin region
South America
Coffee kind
Single-origin
Frequently Asked Questions
Ask your question about the product