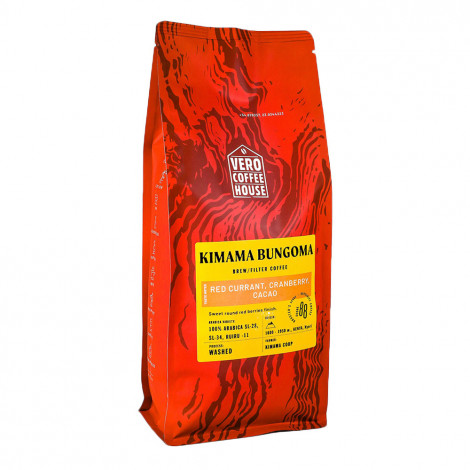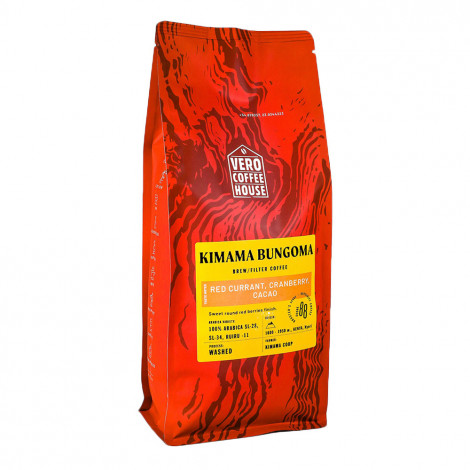 Coffee beans Vero Coffee House Kenya Kimama Bungoma, 1 kg
Kenya
Single-origin
Medium light
Product is no longer in production.

Coffee beans Vero Coffee House Kenya Kimama Bungoma, 1 kg
In Stock
Specifications
Coffee kind
Single-origin
Manufacturer
Vero Coffee House
Coffee origin region
Kenya
Roasting level
Medium light
Country of Origin
Lithuania
Coffee beans type
100% Arabica, Specialty coffee
About product
Notes of redcurrants, cranberries and cacao can be felt in the flavour of this coffee.
This is a perfectly balanced and subtle coffee from Kenya, the region of Nyeri, which is one of the most well-known Kenyan coffee growing regions. It's grown at an altitude of 1800–1950 m above sea level, then picked by hand and sun-dried. Thanks to Nyeri's volcanic soil, perfect weather conditions and consistent, tireless efforts of coffee growers, this coffee is labelled AA according to the Kenyan coffee grading system.
The SCA has scored this coffee 88 points out of 100.
COUNTRY: Kenya
REGION: Nyeri
FARM: the Kimama cooperative
ALTITUDE: 1800–1950 m
VARIETY: SL-34, Ruiru-11
PROCESS: Washed
ROAST LEVEL: Fit for infusion and filter coffee
TASTING NOTES: Redcurrants, Cranberries, Cacao
Ingredients: roasted coffee beans.
Storage conditions: store in a dry, cool place.
Taste guide
Cacoa
Cranberry
Currant
Coffee passport
Coffee origin region
Kenya
Coffee kind
Single-origin
Roasting level
Medium light
Frequently Asked Questions
Ask your question about the product