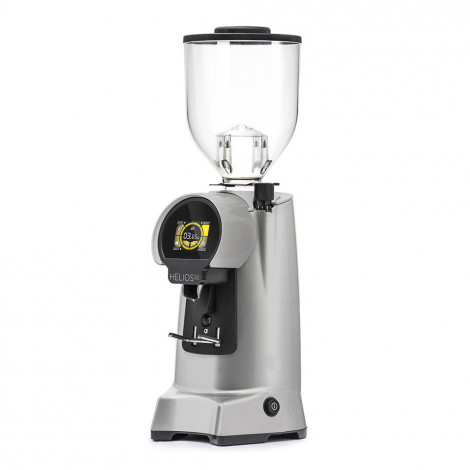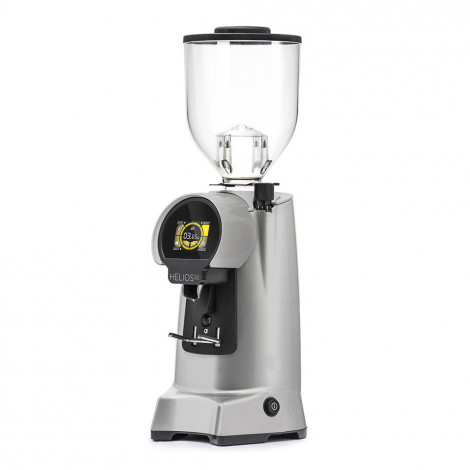 Coffee grinder Eureka Helios 65 Grey
In stock at our central warehouse (available for online purchase).
Delivery takes 4 – 8 weeks * 85% of orders are delivered the next day

Coffee grinder Eureka Helios 65 Grey
In Stock
Specifications
Rotations per minute
1370
Type of coffee grinder
Electric
About Eureka Helios 65 Grey
"Helios 65" is a commercial automatic grinder from Eureka, which combines the latest technologies with great design and exceptional convenience. With its new 65-mm burrs and a user-friendly touch screen, it's perfect for demanding baristas working in busy cafés and bars.
MAIN FEATURES:
–"High Speed" grind dispersion: combined with a special burr design, the new high-performance engine results in an extremely high level of productivity
–Stepless micrometric regulation system (patented by Eureka)
–ACE (Anti-Clump & Electrostaticity) system conceived to prevent the presence of clumps and eliminate the electrostatic charge of ground coffee
–"High Speed" maintenance of burrs (without losing the current grind setting) and outlet chute
–All-purpose adjustable "Hands-Free" fork
–Touch screen (3 doses + continuous grinding)
–Maintenance alert customised for the type of burrs
–Option of activating or deactivating dose pre-selection
–Three different grinding activation modes: only microswitch, only touch screen, both microswitch and touch screen
–Total control system available, allowing the user to set a password to manage and protect advanced settings
–Adjustable and removable outlet chute
–Bean hopper security system
***
"Eureka" has been designing and manufacturing modern and elegant coffee grinders since 1920. Founded in Florence by Aurelio Conti, the company started its activities as a manufacturer of espresso grinders and quickly turned into a symbol of excellence. Nowadays, encouraged by its international and dynamic attitude, "Eureka" aims to become the most innovative player in the coffee grinder industry—the state-of-the-art in grinding techniques for any brewing method.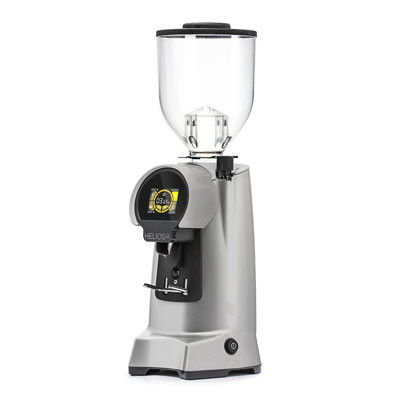 Frequently Asked Questions
Ask your question about the product
Eureka Helios 65 Grey reviews