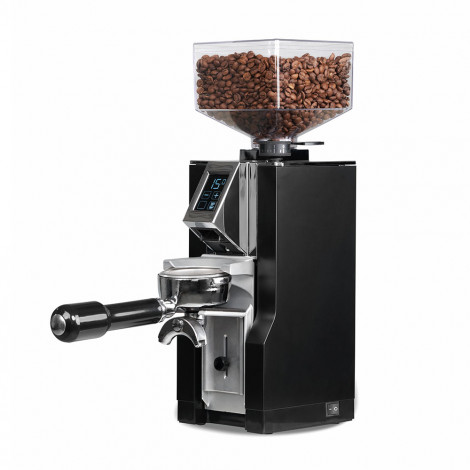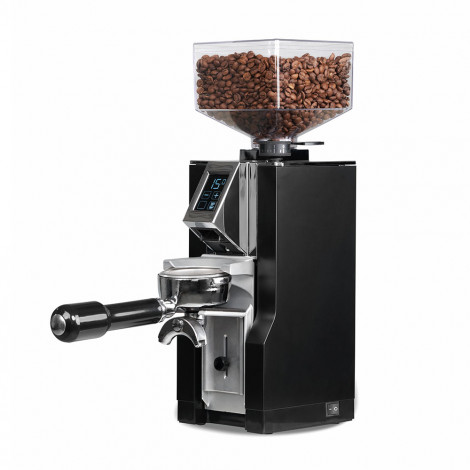 Coffee grinder Eureka Mignon Libra Matt Black
Once the parcel is ready for delivery, the gift voucher will be sent to the e-mail address provided by you (this may take a few days after payment). Promotions and discounts do not stack. The gift voucher cannot be used when buying a coffee machine. The offer is valid for natural persons only. If the total cost of the items in your cart is below 49 € once the gift voucher has been applied, the order is subject to a delivery fee. Promotion is valid until 25.04.2023.

Coffee grinder Eureka Mignon Libra Matt Black
In Stock
Specifications
Extra features
Easy Setting System, Silent Technology
Rotations per minute
1350
Efficiency
1.2-1.8g/s (Espresso) / 1.9-2.5g/s (Brew)
Type of coffee grinder
Electric
Suitable for
Espresso, Filter/Pour-over, Universal
About Eureka Mignon Libra Matt Black
Take Eureka's most popular coffee grinder and equip it with grind-by-weight technology. What will you get? Eureka "Mignon Libra", of course! Filled to the brim with innovative solutions, this state-of-the-art coffee grinder is here to redefine what it means to grind coffee at home. The unique grind-by-weight technology eliminates any variables and enables you to achieve exceptional consistency by providing you with the exact required quantity of ground coffee. The high-precision scale of this model weighs the portafilter first and then moves on to weighing the ground coffee, ensuring that the precise number of grams set by the user is obtained. Enjoy unmatched performance with Eureka "Mignon Libra"!
EXTREMELY PRECISE
With a dose consistency of 0.1–0.15 grams, this grinder always achieves the expected results and minimises coffee waste at the same time.
SUPER QUICK
"Mignon Libra" is super quick, able to weigh and grind coffee straight into the portafilter.
EASY TO USE
The intuitive touch display allows you to easily set the quantity for both single and double shots, grind by weight even in continuous mode, and switch from a single to double dose (or vice versa) during the grinding process without any coffee waste.
HANDS-FREE METALLIC FORK
The hands-free metallic fork can be adjusted manually without any additional tools and allows you to use the weighing technology with any type of portafilter.
55-MM FLAT BURRS
55-mm flat burrs ensure extremely high productivity (1.4–1.8 g/s for espresso).
STEPLESS MICROMETRIC ADJUSTMENT SYSTEM
Eureka's patented stepless micrometric adjustment system with infinite adjustment points grants incomparable setting precision.
"EXTRA COMFORT" ADJUSTMENT KNOB
The "Extra Comfort" adjustment knob guarantees a particularly comfortable experience.
ANTI-CLUMP & ELECTROSTATICITY SYSTEM
The "Anti-Clump & Electrostaticity" system ensure high dose consistency and keeps your kitchen counters clean.
SILENT TECHNOLOGY
Eureka's silent technology provides a pleasant and quiet (around 64 dB) grinding experience suited for any time of day.
EXTRA-LARGE SHOT WITH A DEDICATED DOSING FUNNEL (OPTIONAL)
Using a dedicated dosing funnel (optional), "Mignon Libra" can be made suitable for extra-large shots of up to 16 grams.
Frequently Asked Questions
Ask your question about the product
Eureka Mignon Libra Matt Black reviews