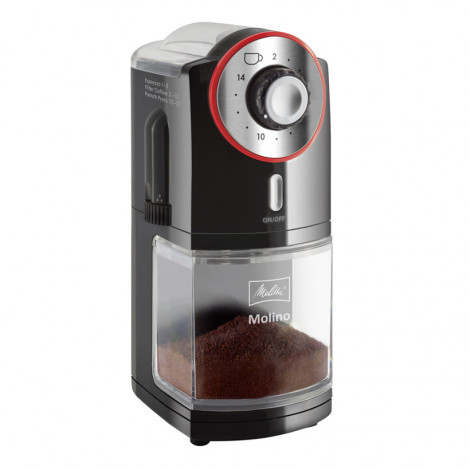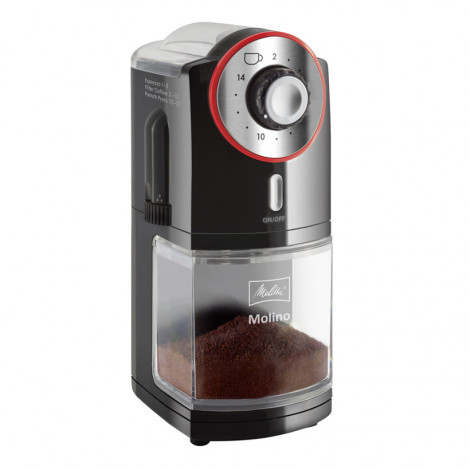 Coffee grinder Melitta "Molino Red"

Coffee grinder Melitta "Molino Red"
In Stock
Specifications
Country of Origin
Germany
Type of coffee grinder
Electric
Suitable for
Espresso, Filter/Pour-over, Universal
About product
Do you want very fine coffee for strong, aromatic espresso or more coarsely ground beans for filtered coffee? With Melitta "Molino" electric grinder you will able to grind your beans anyway you like. Fully automatic grinder can grind the exact amount of coffee as you need. The bean container fits up to 200 g of beans.
INDIVIDUAL GRINDING LEVELS
Melitta "Molino" allows setting individual grinding level (total 17 levels) from 1 – very fine grinding to 17 – very coarse grinding. This grinder can grind the beans for any occasion, from the fines espresso to filtered coffee for preparation in the coffee maker.
SET THE AMOUNT FOR 2-14 CUPS
With the rotating handle you can easily set the number of cups (2 to 14) you want the coffee for. The grinder will grind exactly that amount of beans.
AUTOMATIC TURN OFF
The grinding starts with a click of a button. When the process is over, the grinder will automatically turn off.
Frequently Asked Questions
Ask your question about the product