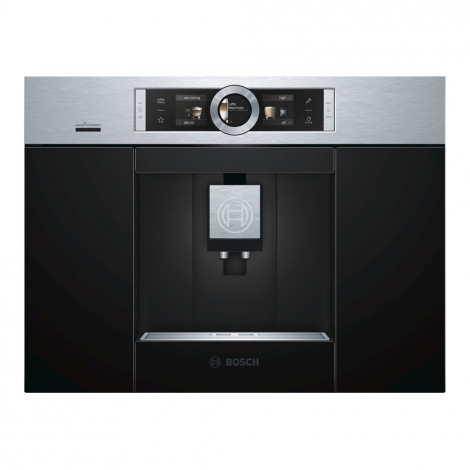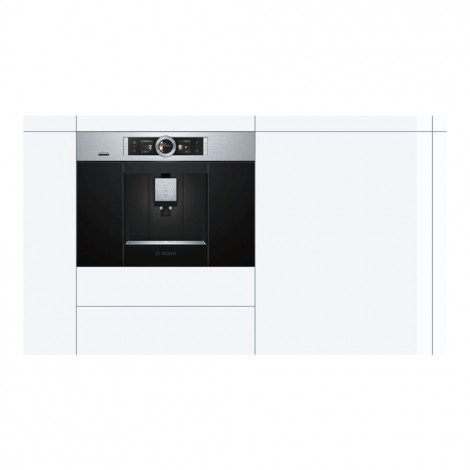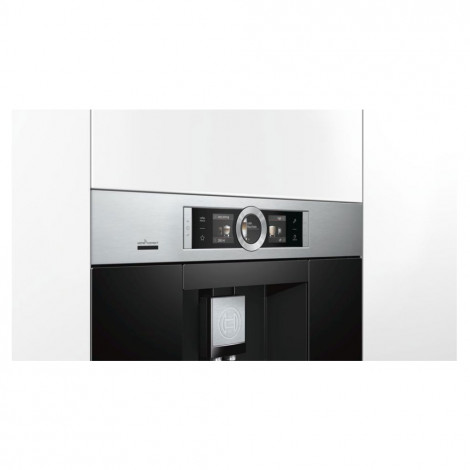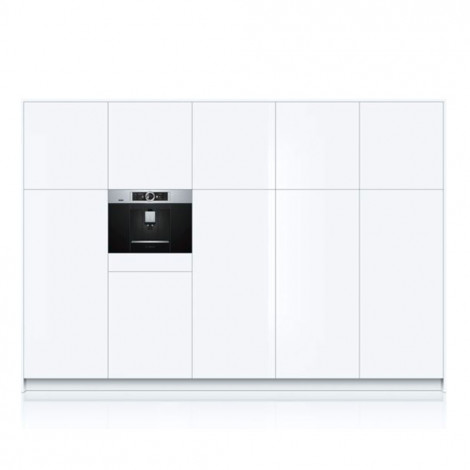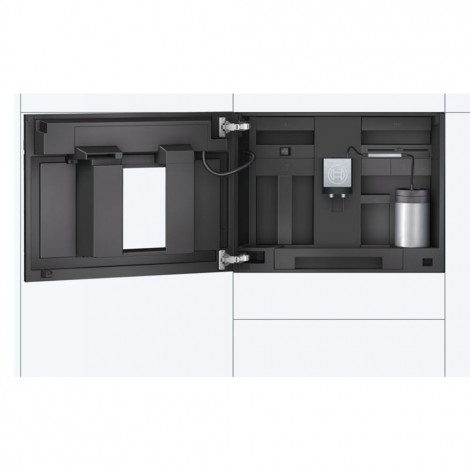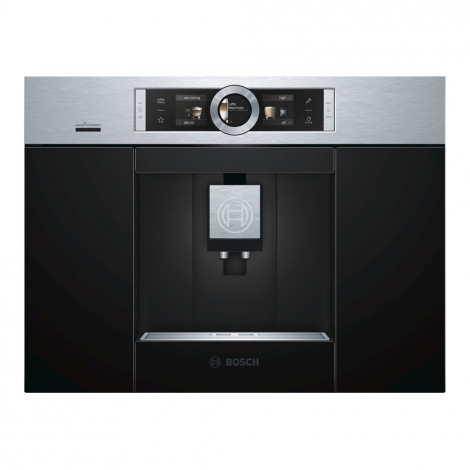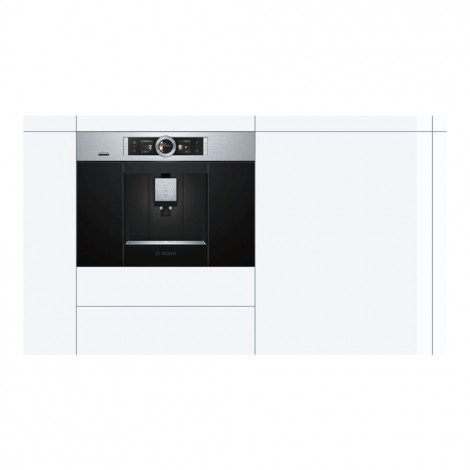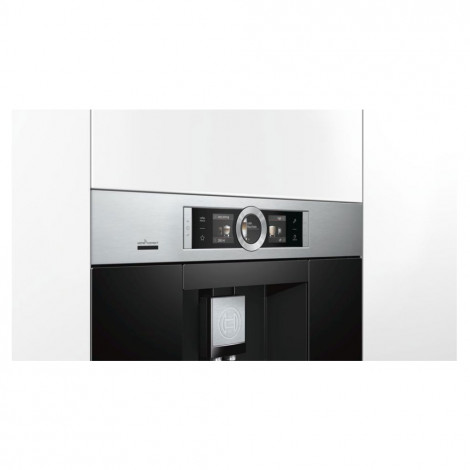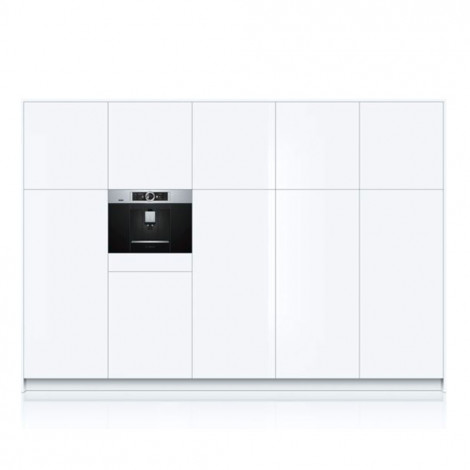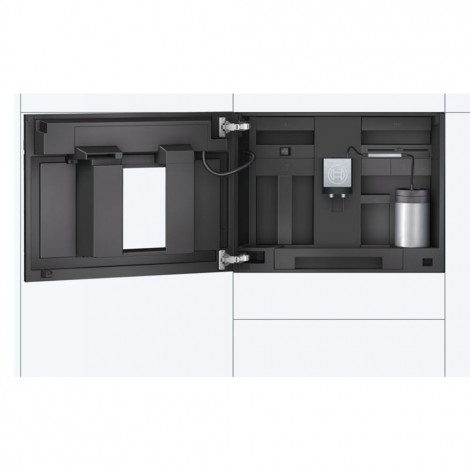 Coffee machine Bosch "CTL636ES6"
After payment, the gift voucher will be sent to the e-mail address provided by you. Promotions and discounts do not stack. Promotions are valid till 08.11.2022. The discount applies to all products except coffee machines.
By buying this coffee machine, you become eligible for the VIP membership program and discount vouchers with a total value of 50 €.
Become a member of COFFEE FRIEND'S VIP program and receive up to 5 vouchers of 10 € each for your upcoming purchases at COFFEE FRIEND'S online store. More information will be provided via your personal e-mail address once you've completed your purchase. The offer applies exclusively to natural persons.
Specifications
Coffee machine uses
Coffee beans, Ground coffee
Milk system type
Integrated milk tank
Height-adjustable coffee spout
15 cm
Water pump pressure
19 BAR
Country of Origin
European Union
Coffee machine's screen
Colourful
Coffee machine's menu language
Danish, Dutch, english, finnish, French, Italian, polish, russian, Spanish, Swedish
Control type
Touch screen
Coffee grounds capacity (portions)
15
Number of black coffees prepared at once
2
Number of coffee with milk recipes prepared at once
2
Adjustable grinding level
6
Portion size
Programmable
Coffee strength (levels)
8
Coffee temperature (levels)
3
Milk system cleaning program
Yes
Other
Hot milk, Hot water, Milk foam
Coffee
Black coffee, Caffè latte, Cappuccino, Espresso, Espresso Macchiato, Latte Macchiato, Ristretto
Package contains
(*The manufacturer reserves the right to change the items included in the set without prior notice*), Ground coffee dosing spoon, Milk container, Milk system tube, Water hardness test strip
Coffee Drinks
Black coffee
Cappuccino
Espresso
Espresso Macchiato
Latte Macchiato
Ristretto
Caffè latte
About product
This high-end built-in fully automatic coffee machine not only looks great, but it also prepares all of the most popular coffee drinks with a single touch. The integrated state-of-the-art coffee preparation technologies ensure the highest coffee quality, while a convenient display and an intuitive control menu make the machine extremely easy to use. In addition, you can control the machine via the smart Home Connect app, which provides 17 extra coffee drink recipes, as well as useful tips for making coffee and maintaining your coffee machine. The integrated fully automatic milk system rinsing program will allow you to forget all of your maintenance worries.
AN INFINITY OF VARIOUS COFFEE RECIPES
Prepare ristretto, espresso, black coffee, espresso macchiato, cappuccino, latte macchiato and latte with a single touch. You will find 17 additional coffee recipes in the smart app — they can be prepared directly from your smart device.
ONE TOUCH DOUBLE CUP FUNCTION
Prepare two servings at once, even if you're making milk-based drinks — latte macchiato or cappuccino!
HOME CONNECT SMART APP
Discover the world of coffee using the Home Connect app. Prepare coffee drinks straight from your smart device. Use the coffeeWorld function to discover 17 additional coffee drink recipes. In the app, you will also find numerous other recipes that contain coffee (such as crème brûlée). The Coffee Playlist feature will allow you to select several beverages in a row and prepare one drink after another automatically. The app contains a lot of useful information about coffee, as well as a user manual for the coffee machine. During maintenance programs, you can follow the entire process on your smart device and get a notification when you need to go to the machine. If any issues arise, you can receive a remote consultation immediately.
8 PERSONAL RECIPES
Create and save up to 8 personal recipes.
COLOUR TFT DISPLAY
Due to the colour TFT display and conveniently arranged menu, operating the coffee machine is a real pleasure.
AROMADOUBLE SHOT FUNCTION
Thanks to the "AromaDouble Shot" function, you can enjoy a cup of strong coffee that is not at all bitter. Your coffee will be prepared in two stages – the double coffee grinding and the double coffee preparation will give the drink the optimal flavour. This automatic process ensures that there's no unpleasant bitterness in the beverage.
INNOVATIVE SENSOFLOW HEATING SYSTEM
The smart "SensoFlow" heating system ensures an optimal and even coffee brewing temperature. In order for coffee aroma to unfold, water of the right temperature must be used for coffee brewing: 90°C to 95°C. If temperature is lower, some of the aromas are not revealed, and if it's higher, coffee quickly acquires a burnt taste. The "SensoFlow" system ensures the right temperature and maintains it throughout the whole coffee preparation process.
19-BAR PRESSURE
When preparing coffee, this coffee machine uses increased pressure, so the prepared drink is even more aromatic and thick.
QUIET AND LONG-LASTING CERAMIC GRINDER
The exceptionally quiet grinder is made of high-quality ceramic and grinds beans with much less noise.
SELF-CLEANING MILK SYSTEM
The coffee machine has a very convenient milk system with an integrated milk tube that can be inserted directly into the milk package (or into the milk container included in the set). The automatic milk system rinsing program autoMilk Clean efficiently flushes the milk system after each preparation of a milk-based beverage. This means that you no longer need to do it manually every day.
SIMPLE MAINTENANCE
The integrated automatic maintenance programs for descaling, cleaning and rinsing allow you to simply enjoy your coffee. The removable coffee brewing unit ensures perfect cleanliness inside the coffee machine.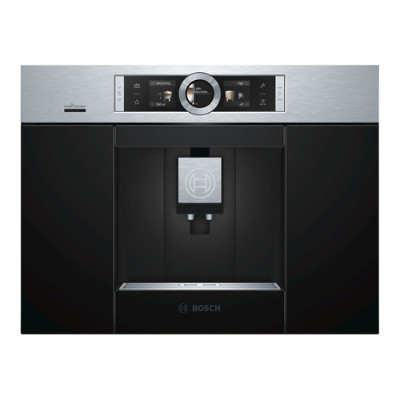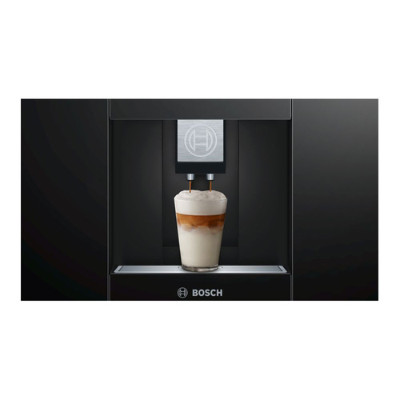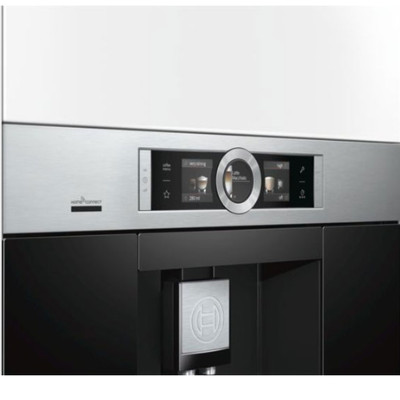 Frequently Asked Questions
Ask your question about the product