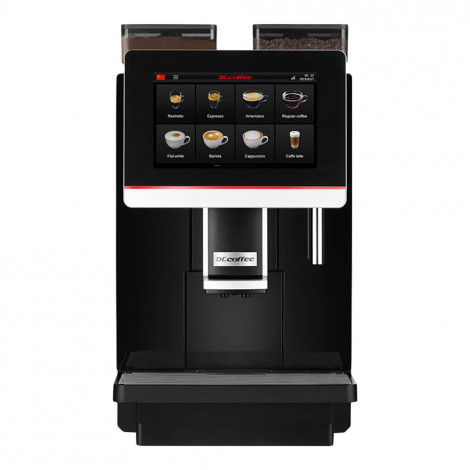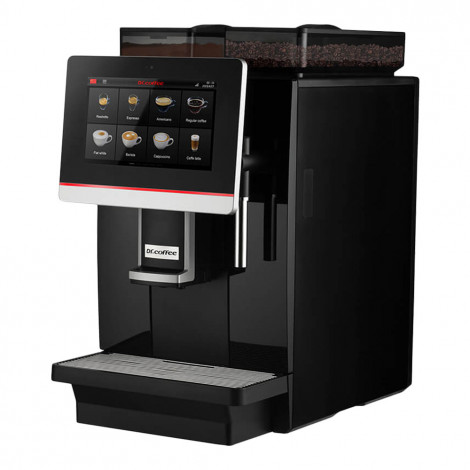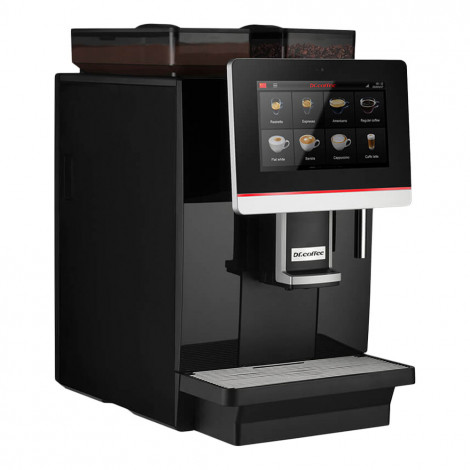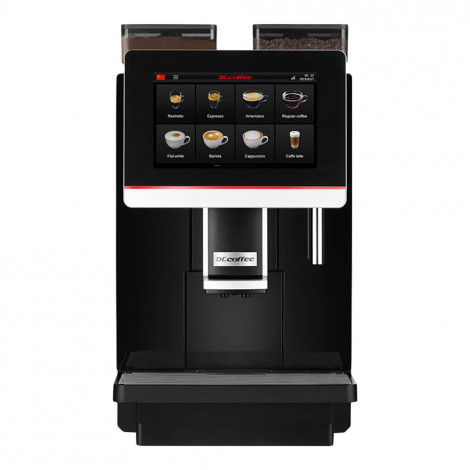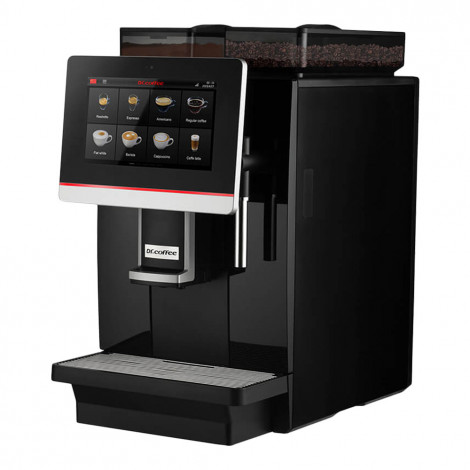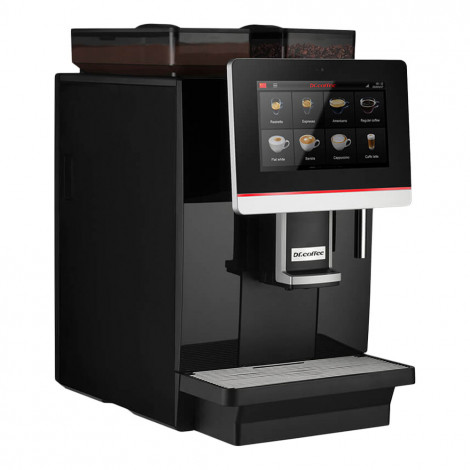 Coffee machine Dr. Coffee Coffeebar Plus
Become a member of COFFEE FRIEND'S VIP program and receive up to 5 vouchers of 10 € each for your upcoming purchases at COFFEE FRIEND'S online store. More information will be provided via your personal e-mail address once you've completed your purchase. The offer applies exclusively to natural persons.
Product is no longer in production.

Coffee machine Dr. Coffee Coffeebar Plus
In Stock
Specifications
Coffee machine uses
Coffee beans, Powdered chocolate, Powdered milk
Milk system type
Automatic milk pipe system
Does coffee machine prepare hot water?
Yes
Height-adjustable coffee spout
18 cm
Water pump pressure
19 BAR
Connection to the mains water supply
Yes
Recommended num. of cups per day
200
Coffee machine's screen
Colourful
Coffee machine's menu language
Hebrew, Japanese
Control type
Touch screen
Coffee grounds capacity (portions)
70
Number of black coffees prepared at once
2
Number of coffee with milk recipes prepared at once
1
Adjustable grinding level
9
Portion size
Programmable
Adjustable milk foam volume
Yes
Milk system cleaning program
Yes
Coffee
Americano, Black coffee, Caffè latte, Cappuccino, Espresso, Flat white, Ristretto
Package contains
(*The manufacturer reserves the right to change the items included in the set without prior notice*), Brew group grease, Milk system tube, User manual
Coffee Drinks
Americano
Black coffee
Cappuccino
Espresso
Flat white
Ristretto
Caffè latte
About Dr. Coffee Coffeebar Plus
Maximum efficiency, exquisite design and flawless functionality — this is exactly what the "Coffeebar Plus" model offers. In addition to brewing delicious coffee, tea or hot chocolate, this coffee machine is capable of advertising your business or products on a large built-in display. Equipped with larger containers for beans and powder, a separate water spout, two water pumps and a dual instantaneous heating element system, this coffee machine is bound to impress you with its productivity and reliability. The compact, elegant appliance will enable you to brew up to 200 servings per day, while the wide range of available options will surprise even the most discerning coffee connoisseurs. "Coffeebar Plus" is guaranteed to serve for a long time and is suited perfectly for offices, cafés, restaurants, hotels, coffee kiosks and other commercial venues.
EXCEPTIONAL BREWING SYSTEM
With two instantaneous heating elements and a dosing range of 7 to 21 grams, the unique brewing system guarantees perfectly rich flavours and aromas, while the metal body ensures durability and unmatched reliability.
VELVETY MILK FOAM FOR YOUR MILK-BASED DRINKS
Offering the option of adjustable temperature, the milk frothing system produces velvety milk foam from both real milk and milk powder. The automatic rinsing function, in its turn, results in simple maintenance and ease of use.
10.1″ TOUCH DISPLAY FOR CONVENIENT OPERATION
Thanks to a particularly convenient, wide 10.1″ touch display, operating this coffee machine is no more complex than using your smartphone! Brew your favourite drinks quickly and easily, all while adjusting settings and experimenting as much as you wish.
CERAMIC GRINDER TO ACCENTUATE UNIQUE FLAVOURS
The flat ceramic burrs operate silently, last for a number of years and ensure a flawlessly consistent grind every time. Choose from 9 different grind levels and obtain the perfect flavour! The burrs boast a lifespan of as many as 500 kg.
MAKE THE MOST OF YOUR COFFEE MACHINE
Take advantage of everything your coffee machine has to offer: display ads or notices on the interactive screen and adapt the menu to your individual or seasonal needs. Using the separate hot water spout, you'll be able to brew tea or warm your coffee cups with extreme ease.
PRODUCTIVITY OF DR. COFFEE "COFFEEBAR PLUS"
– Recommended output: 200 servings per day
– Capacity of the bean container: 1500 g
– Capacity of the powder container: 1200 g for milk powder, 2000 g for chocolate powder
– Capacity of the grounds container: 70 servings (1 serving = 10 g of coffee)
– Capacity of the drip tray: 1.5 l
– Capacity of the water tank: 4 l
– Hourly espresso (50 ml) output: 100 servings
– Hourly americano (210 ml) output: 80 servings
– Hourly cappuccino (220 ml) output: 80 servings
– Hourly hot water output: 30 l
CONFIGURATION OF DR. COFFEE "COFFEEBAR PLUS"
– Option of connecting the machine directly to the mains water supply
– Water system with two heating elements
– Double water pump system
– Ceramic coffee grinder with flat burrs
– Powder container
– Separate hot water spout
– 10.1″ colour touch panel with an option of ad display
– Coffee based on individual settings
– 24 beverages to choose from
– Programmable recipes
– Patented brewing system
– Possibility of removing the brewing system
– Automatic milk system rinsing function
Frequently Asked Questions
Ask your question about the product
Dr. Coffee Coffeebar Plus reviews