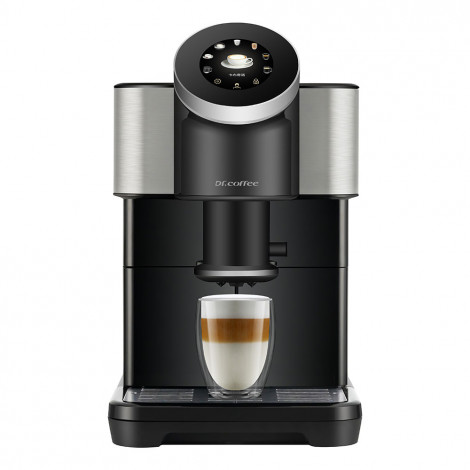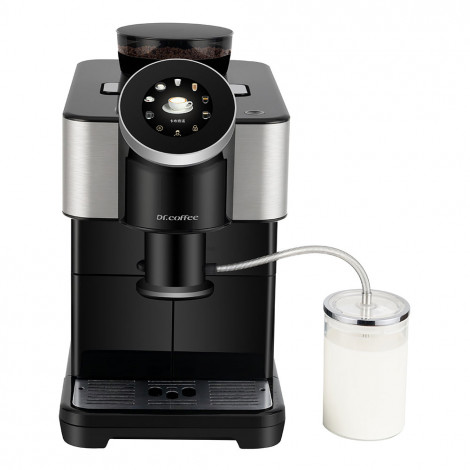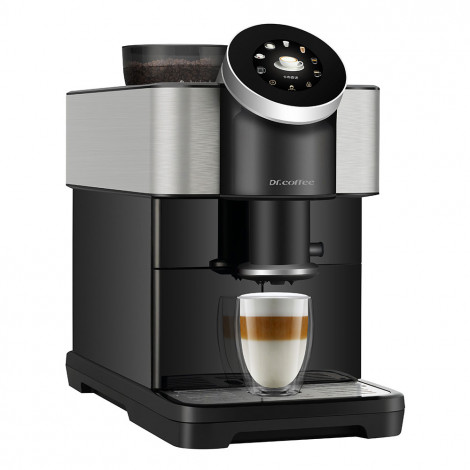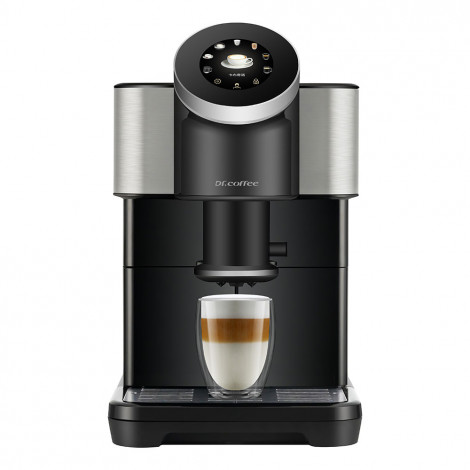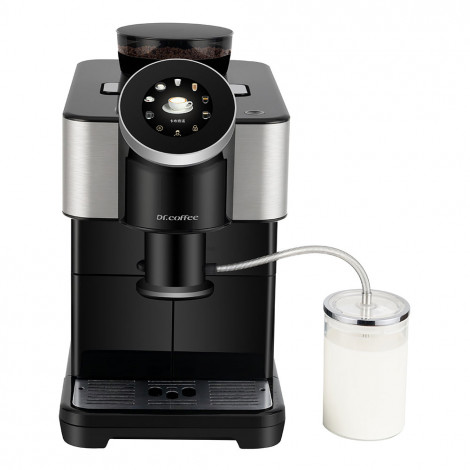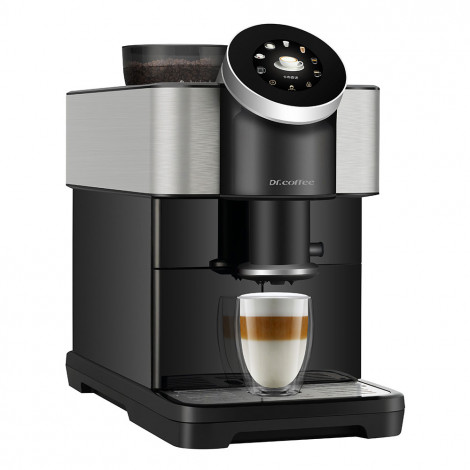 Coffee machine Dr. Coffee H2
Become a member of COFFEE FRIEND'S VIP program and receive up to 5 vouchers of 10 € each for your upcoming purchases at COFFEE FRIEND'S online store. More information will be provided via your personal e-mail address once you've completed your purchase. The offer applies exclusively to natural persons.
In Stock
Delivery takes 3 – 5 days * 85% of orders are delivered the next day

Coffee machine Dr. Coffee H2
In Stock
Specifications
Coffee machine uses
Coffee beans
Milk system type
Automatic milk pipe system
Does coffee machine prepare hot water?
Yes
Connection to the mains water supply
No
Recommended num. of cups per day
20
Coffee brew unit
Unremovable
Brewing unit cleaning program
Yes
Number of bean containers
1
Coffee machine's screen
Colourful
Coffee machine's menu language
Chinese, Danish, Dutch, english, finnish, Japanese, Norwegian, polish, russian, Swedish
Control type
Touch screen
Coffee grounds capacity (portions)
10
Number of black coffees prepared at once
1
Number of coffee with milk recipes prepared at once
1
Adjustable grinding level
9
Portion size
Programmable
Milk system cleaning program
Yes
Other
Hot water, Milk foam
Coffee
Americano, Caffè latte, Cappuccino, Espresso
Package contains
(*The manufacturer reserves the right to change the items included in the set without prior notice*), Milk container, User manual
Coffee Drinks
Americano
Cappuccino
Espresso
Caffè latte
About product
Here's a coffee machine that's perfect for your family! Not only will it serve you with coffee brewed just the way you like it, but it'll also cater to the taste of each family member. The trendiest recipes—from espresso to latte—brewed at the touch of a button, drinks as tasty as the ones made by professional baristas, lots of options to adjust the flavour of your coffee to your exact taste, 6 user profiles, a uniquely designed circular control panel, silent operation and simple maintenance—the compact, modern and stylish Dr. Coffee H2 is ready to become your personal barista!
FROM ESPRESSO TO LATTE: TRENDIEST DRINKS WITH A SINGLE TOUCH
All you have to do is touch the desired drink icon and watch the machine brew it in seconds! Choose espresso, americano, cappuccino, caffe latte, milk foam or hot water for a cup of tea.
UNIQUELY DESIGNED, INTUITIVE 4″ CONTROL PANEL
The intuitive 4″ control panel makes using this appliance a real pleasure. Clear touch-sensitive icons let you select the desired drink with ease, while the possibility of scrolling through the menu by simply rotating the panel gives the coffee machine a unique edge.
COFFEE BREWED JUST THE WAY YOU LIKE IT
Adjust the recipes to your personal taste: you can change the amount of ground coffee, the duration of pre-infusion, serving size. Experiment and enjoy coffee made just the way you like it!
6 USER PROFILES
The six built-in user profiles enable each member of the family to create their own personal drink menu. Adjust the recipe settings, have them saved, and forget all about the need to make the same changes over and over again.
EXTREMELY CONVENIENT AUTOMATIC MILK SYSTEM
The coffee machine boasts a fully automatic milk system with a tube built into the coffee spout. Simply insert the tube into a milk container (included in the set) and watch as your appliance brews a drink topped with milk foam as smooth as silk. There's no need to worry about hygiene either: the automatic milk system rinsing program has it all taken care of.
FLAT BURRS OF THE HIGHEST QUALITY
Flat burrs turn coffee beans into uniform granules, unveiling their unique flavour and ensuring drinks of the highest quality in the process. You can adjust the grind to match your taste: choose from 9 different grind levels.
SILENT OPERATION
The ingenious construction of both the burrs and the machine in general guarantees whisper-silent operation.
COMPACT SIZE AND METALLISED BODY
The compact size of this coffee machine makes it perfect for home use. Its modern design is bound to suit any interior, while the shiny metallised body is guaranteed to add a touch of luxury to any kitchen.
SIMPLE MAINTENANCE
Put all of your maintenance worries aside: the automatic programs for rinsing the machine, cleaning the brew unit, descaling the appliance and rinsing/cleaning the milk system will take care of it all for you.
PERFECT FOR HOME USE
The dimensions of this coffee machine and its internal containers are suited great for home use:
– Recommended daily output: 20 cups
– Capacity of the bean container: 200 g
– Capacity of the water tank: 1.5 l
– Capacity of the grounds container: 10 servings (1 serving = 10 g of coffee)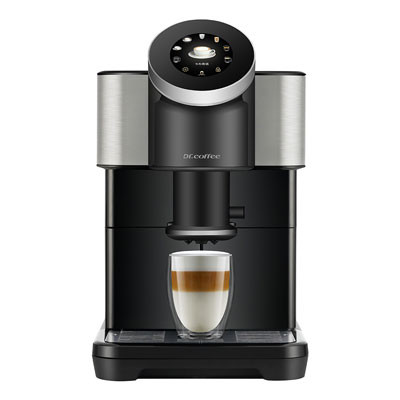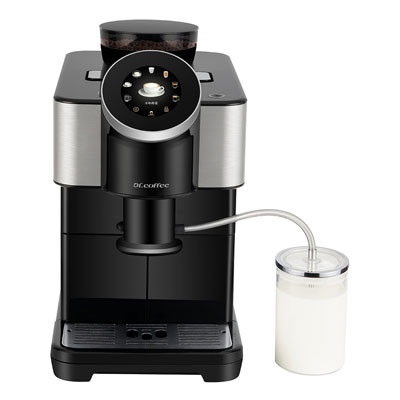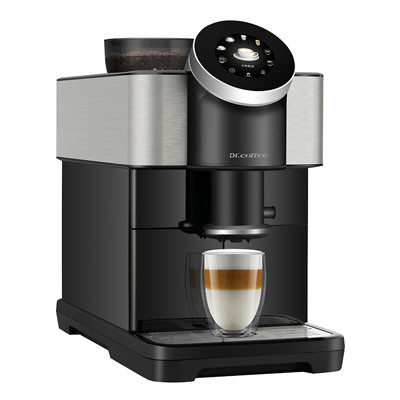 Frequently Asked Questions
Does this coffee machine come with a milk container or do I need to buy one separately?
The milk container is included.
Is this answer useful?
0
0
What sort of milk should I use to make my milk foam stiffer?
– Make sure the milk you're using contains enough fat (3.2–3.5%).
– Use cool milk only (straight from the fridge).
– Make sure that the milk system is clean and not blocked.
Is this answer useful?
0
0
Will this coffee machine let me brew drinks using pre-ground coffee?
Yes, this coffee machine does offer the option of using pre-ground coffee instead of beans.
Is this answer useful?
0
0
What maintenance products should I use for this coffee machine?
Is this answer useful?
0
0
I haven't heard of Dr. Coffee before. Are the coffee machines manufactured by this brand reliable?
Dr. Coffee is a company based in Asia, which is arguably the fastest-growing market for coffee consumption. The brand specialises exclusively in manufacturing high-quality bean-to-cup coffee machines for both home and office use.
Dr. Coffee's high-performance coffee machines feature state-of-the-art grinding, brewing and milk frothing systems that ensure you get the perfect cup of coffee every time.
Is this answer useful?
0
0
Ask your question about the product