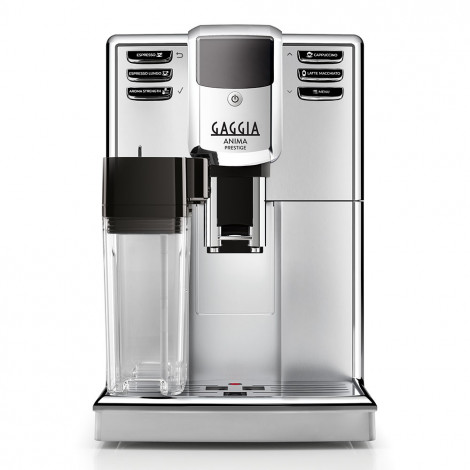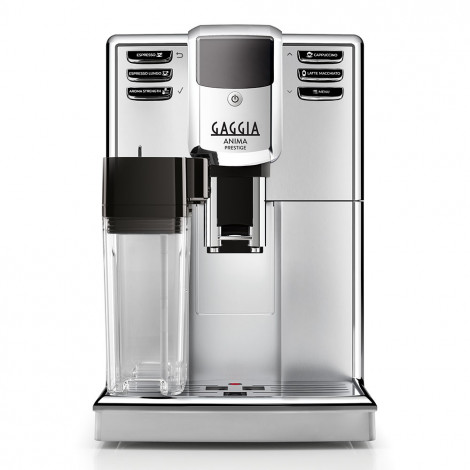 Coffee machine Gaggia Anima Prestige
Become a member of COFFEE FRIEND'S VIP program and receive up to 5 vouchers of 10 € each for your upcoming purchases at COFFEE FRIEND'S online store. More information will be provided via your personal e-mail address once you've completed your purchase. The offer applies exclusively to natural persons.
In stock at our central warehouse (available for online purchase).
Delivery takes 1 – 2 weeks * 85% of orders are delivered the next day

Coffee machine Gaggia Anima Prestige
In Stock
Specifications
Coffee machine uses
Coffee beans, Ground coffee
Milk system type
Integrated milk tank
Does coffee machine prepare hot water?
Yes
Height-adjustable coffee spout
150 mm
Water pump pressure
15 BAR
Coffee brew unit
Removable
Coffee machine's screen
Black/White
Coffee grounds capacity (portions)
15
Number of black coffees prepared at once
2
Number of coffee with milk recipes prepared at once
1
Adjustable grinding level
5
Portion size
Programmable
Coffee temperature (levels)
3
Milk system cleaning program
Yes
Other
Hot water, Milk foam
Coffee
Cappuccino, Espreso Lungo, Espresso, Latte Macchiato
Package contains
(*The manufacturer reserves the right to change the items included in the set without prior notice*), Brew group grease
Coffee Drinks
Cappuccino
Espresso
Latte Macchiato
Espreso Lungo
About product
It was in the 1950s that Gaggia found fame in the trendy coffee bars of Rome, Milan and London. Later, in 1977, the company began producing domestic espresso machines, bringing excellent drinks to the kitchens of coffee lovers all over the world. Today, Gaggia is here to meet all of your expectations, regardless of whether you're looking for the simplicity of a bean-to-cup appliance or chasing after the status of a true home barista.
Gaggia "Anima Prestige" is made in Italy. It's born out of deep passion for espresso and a sincere desire to make high-quality coffee available to everyone.
VARIOUS SPECIALTIES AT YOUR FINGERTIPS
"Anima Prestige" delivers the perfect in-cup result in a few seconds. Enjoy five black coffee and milk-based drinks, four of which are brewed with a single touch. From traditional espresso to foamy cappuccino, you'll be able to personalise the length and strength of every beverage. The machine boasts a hot water function, so fans of tea won't be disappointed either.
MEMO FUNCTION
Customise and save the length of your beverages by simply keeping the button pressed for a few seconds.
INTEGRATED MILK CONTAINER
Thanks to the integrated double-chamber milk container, you can brew silky cappuccinos at the touch of a button. The automatic cleaning cycle and the possibility of storing the container conveniently in the fridge makes the frothing process that much more hygienic and efficient.
"OPTIAROMA"
This feature gives you the unique possibility to personalise the intensity and flavour of your espresso, creating a tailor-made result by choosing the quantity of ground coffee used per cup.
AROMA LID
Thanks to its special lid, the coffee bean container of "Anima Prestige" preserves the aroma of your coffee.
100% CERAMIC, ADJUSTABLE GRINDER
The 100% ceramic grinder extracts the best from your coffee beans, preventing them from overheating and burning. High-quality ceramic guarantees long-lasting performance, silent operation and the best in-cup result. Choose from five different options to customise your espresso, from the finest grind for a strong taste to the coarsest grind for a lighter coffee.
PRE-BREWING
Enjoy unique body and taste in every cup thanks to the pre-brewing function. When it's activated, there's a pause of a few seconds between the first shower of hot water and the actual brewing.
GROUND COFFEE OPTION
In addition to coffee beans, you can brew drinks using ground coffee blends—even decaffeinated ones.
REMOVABLE BREW GROUP
Easy cleaning and maintenance are an absolute guarantee thanks to the removable brew group that can be washed under a tap and reinserted. This allows for particularly thorough cleaning and the best flavour.
MILK CIRCUIT QUICK CLEAN
Right after preparing a milk-based drink, the special system this machine is equipped with allows you to thorougly clean the milk circuit in as little as a few seconds.
AUTOMATIC CLEANING AND GUIDED DESCALING
The coffee circuit is cleaned automatically each time you switch the machine on or off, ensuring the perfect aroma. The machine notifies you when it's time to descale it and guides you through the process step by step, using messages shown on the display.
STAINLESS-STEEL DETAILS
Inspired by Italian design and craftsmanship, the stainless-steel front of "Anima Prestige" suits both traditional and modern kitchens.
DESIGNED AND MADE IN ITALY
Made in Italy, this premium appliance guarantees the highest quality and tastiest espressos year after year.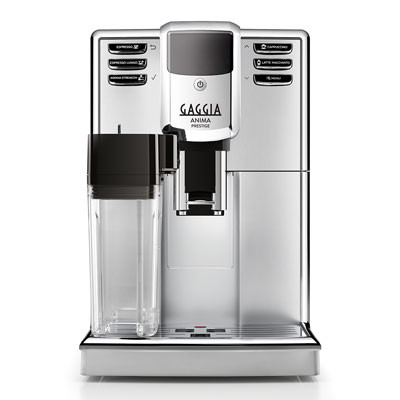 Frequently Asked Questions
Ask your question about the product