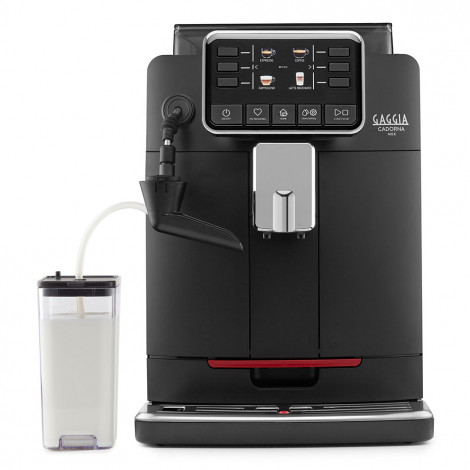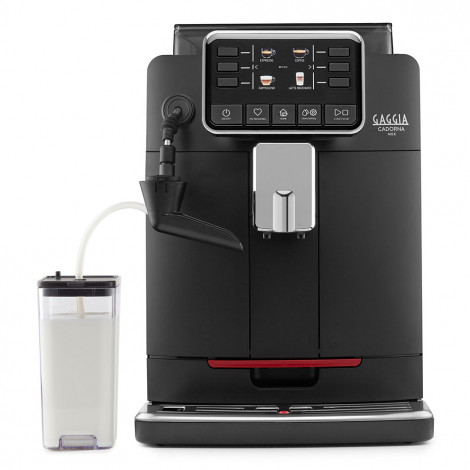 Coffee machine Gaggia "Cadorna Milk"
Once the parcel is ready for delivery, the gift voucher will be sent to the e-mail address provided by you (this may take a few days after payment). Promotions and discounts do not stack. he discount applies to all products except coffee machines. The offer is valid for natural persons only. Promotions are valid till 28.02.2023.
By buying this coffee machine, you become eligible for the VIP membership program and discount vouchers with a total value of 50 €.
Become a member of COFFEE FRIEND'S VIP program and receive up to 5 vouchers of 10 € each for your upcoming purchases at COFFEE FRIEND'S online store. More information will be provided via your personal e-mail address once you've completed your purchase. The offer applies exclusively to natural persons.

Coffee machine Gaggia "Cadorna Milk"
In Stock
Specifications
Coffee machine uses
Coffee beans, Ground coffee
Milk system type
Automatic milk pipe system
Does coffee machine prepare hot water?
Yes
Height-adjustable coffee spout
145 mm
Water pump pressure
15 BAR
Coffee machine's screen
Colourful
Coffee grounds capacity (portions)
10
Number of black coffees prepared at once
2
Number of coffee with milk recipes prepared at once
1
Adjustable grinding level
10
Portion size
Programmable
Coffee temperature (levels)
3
Milk system cleaning program
Yes
Other
Hot water, Milk foam
Coffee
Americano, Café au lait, Caffè crema, Cappuccino, Espreso Lungo, Espresso, Latte Macchiato, Ristretto
Package contains
(*The manufacturer reserves the right to change the items included in the set without prior notice*), Brew group grease, Ground coffee dosing spoon, Water filter
Coffee Drinks
Americano
Cappuccino
Espresso
Latte Macchiato
Ristretto
Caffè crema
Café au lait
Espreso Lungo
About product
It was in the 1950s that Gaggia found fame in the trendy coffee bars of Rome, Milan and London. Later, in 1977, the company began producing domestic espresso machines, bringing excellent drinks to the kitchens of coffee lovers all over the world. Today, Gaggia is here to meet all of your expectations, regardless of whether you're looking for the simplicity of a bean-to-cup appliance or chasing after the status of a true home barista.
Gaggia "Cadorna Milk" is made in Italy. It's born out of deep passion for espresso and a sincere desire to make high-quality coffee available to everyone.
UP TO 10 BEVERAGES
Discover the ten beverages available and enjoy the ultimate barista experience at home: choose from ristretto, espresso, espresso lungo, black coffee, americano, cappuccino, café au lait, latte macchiato, frothed milk and hot water.
BRAND NEW USER INTERFACE
The latest technologies are made simple in this machine thanks to a wide screen that presents the user with all of the available settings. Tailored to each coffee lover's individual needs, easy, intuitive and detailed, it guides the user through personalisation, brewing and cleaning functions.
4 USER PROFILES
Separate profiles let four different users save their favourite beverages, personalised to their taste.
INNOVATIVE MILK SYSTEM
"Cadorna Milk" offers a one-touch solution for your milk-based beverages. Just one click, and this innovative system draws milk from the container, froths it and serves it automatically, with no need for you to move your cup or glass from under the coffee spout. No splashes and impeccable results each time!
QUICK HEAT BOILER
The powerful boiler guarantees hot beverages from the very first cup, without any waiting. Its secret lies in its body, made from light aluminium and stainless steel, both of which allow the boiler to reach hot temperatures fast.
100% CERAMIC, ADJUSTABLE GRINDER
The 100% ceramic grinder extracts the best from your coffee beans, preventing them from overheating and burning. High-quality ceramic guarantees long-lasting performance, silent operation and the best in-cup result. Choose from ten different options to customise your espresso, from the finest grind for a strong taste to the coarsest grind for a lighter coffee.
"OPTIAROMA"
This feature gives you the unique possibility to personalise the intensity and flavour of your espresso, creating a tailor-made result by choosing the quantity of ground coffee used per cup.
PRE-BREWING
Enjoy unique body and taste in every cup thanks to the pre-brewing function. When it's activated, there's a pause of a few seconds between the first shower of hot water and the actual brewing.
GROUND COFFEE OPTION
In addition to coffee beans, you can brew drinks using ground coffee blends—even decaffeinated ones.
ESPRESSO TRAY
Eighty years of experience and tradition are enclosed in the built-in espresso tray, meant to ensure flawless espressos with an impeccable layer of crema and no splashes while brewing.
REMOVABLE BREW GROUP
Located at the very heart of the machine, the brew group doses and tamps the exact required amount of ground coffee for your espressos. Easy cleaning and maintenance are an absolute guarantee thanks to the brew group being removable, capable of being washed under a tap and then reinserted. This allows for particularly thorough cleaning and the best flavour.
100% ITALIAN EXCELLENCE
Made in Italy, this premium appliance guarantees the highest quality and tastiest espressos year after year.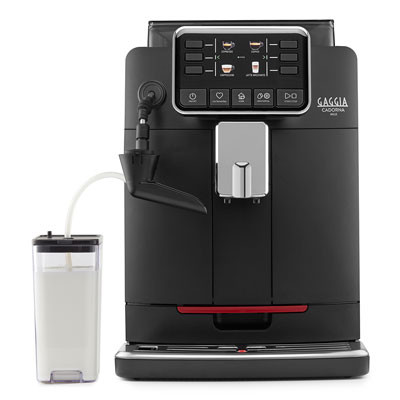 Frequently Asked Questions
Ask your question about the product