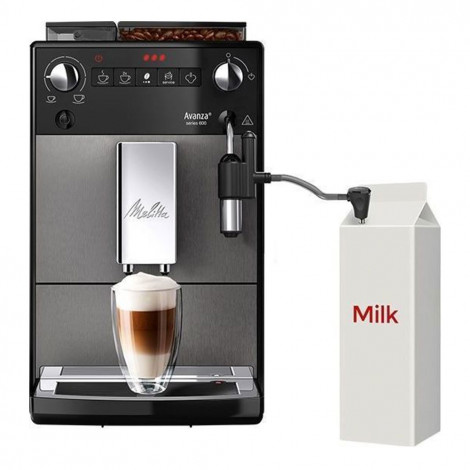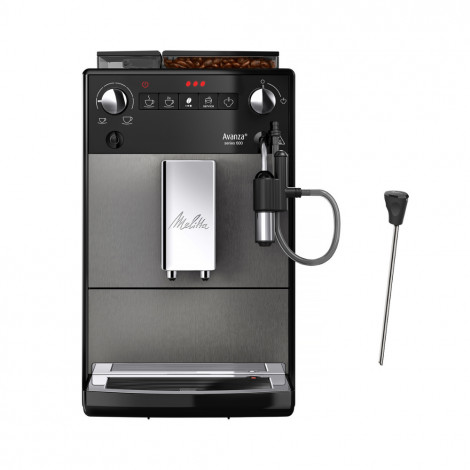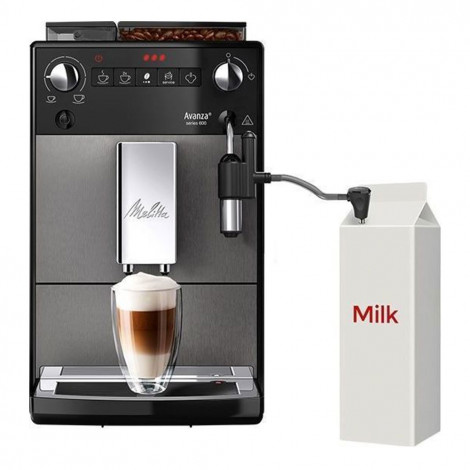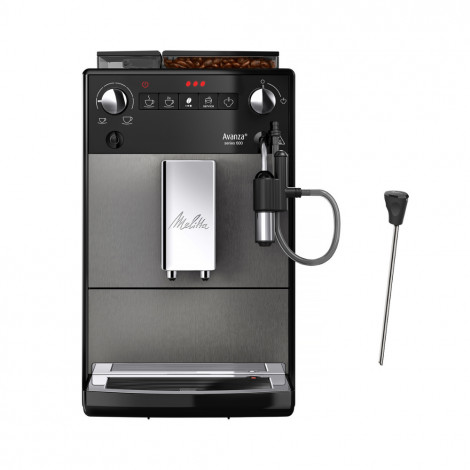 Coffee machine Melitta "F27/0-103 Avanza Plus"
By buying this coffee machine, you become eligible for the VIP membership program and discount vouchers with a total value of 50 €.
Become a member of COFFEE FRIEND'S VIP program and receive up to 5 vouchers of 10 € each for your upcoming purchases at COFFEE FRIEND'S online store. More information will be provided via your personal e-mail address once you've completed your purchase. The offer applies exclusively to natural persons.

Coffee machine Melitta "F27/0-103 Avanza Plus"
In Stock
Specifications
Coffee machine uses
Coffee beans
Milk system type
Automatic frother
Does coffee machine prepare hot water?
Yes
Height-adjustable coffee spout
135 mm
Water pump pressure
15 BAR
Country of Origin
Germany
Coffee machine's screen
None
Coffee grounds capacity (portions)
16
Number of black coffees prepared at once
2
Adjustable grinding level
5
Coffee strength (levels)
3
Coffee temperature (levels)
3
Other
Hot water, Milk foam
Coffee
Black coffee, Espresso
Package contains
(*The manufacturer reserves the right to change the items included in the set without prior notice*), Milk lance, Water hardness test strip
Coffee Drinks
Black coffee
Espresso
About product
This extremely compact, yet capacious, bean-to-cup coffee machine characterised by a minimalist design makes truly great espresso and black coffee from freshly ground beans. The automatic steam wand with a tube will enable you to froth milk foam for delicious milk-based drinks. The preparation of milk-based beverages is now even easier thanks to the new Melitta milk lance, which can be immersed straight in a milk carton and left there for future use. Once you take the milk out of the fridge, all that's left for you to do is connecting the tube to the lance. There's no need to worry about maintaining the milk container anymore! The machine itself is also extremely easy to operate and maintain.
ESPRESSO, BLACK COFFEE AND MILK FOAM WITH A SINGLE TOUCH
One push of a button and you'll be enjoying a cup of aromatic coffee made from freshly ground beans. Delicious milk foam can be prepared just as easily.
EASY-TO-PREPARE MILK-BASED BEVERAGES
Simply immerse the milk tube in the milk and press the steam button: delicious milk foam will appear in your cup in an instant. Afterwards, place a cup under the coffee spout and press the coffee button. All of your favourite milk-based drinks can be prepared in this way.
WHISPER-QUIET GRINDER
You'll be able to brew coffee both early in the morning and late in the evening — the extremely silent steel grinder grinds the beans quickly and quietly.
TWO PORTIONS AT ONCE
The integrated double-cup function allows you to prepare two servings of coffee at once — one for yourself and one for a friend.
COFFEE JUST THE WAY YOU LIKE IT
Adjust coffee strength, amount of coffee (30–220 ml) and drink temperature according to your individual taste.
COMPACT AND CAPACIOUS
With a width of only 20 cm, this is one of the narrowest coffee machine models on the market. Nevertheless, it's also capacious: the coffee machine is equipped with a 250-gram bean container and a 1.5-litre water tank.
MELITTA MILK LANCE FOR MORE CONVENIENT PREPARATION OF MILK-BASED DRINKS
Using the new Melitta milk lance, you'll be able to prepare the perfect milk foam of an ideal temperature with even more ease. Immerse the lance in a milk carton, connect the milk tube and prepare the desired drink. This tool is extremely practical: you can leave the lance inside the carton and use the milk for other purposes without even being aware of the lance hidden inside the packet! Once you're ready to make drinks, you can connect the lance to the tube and start frothing milk foam in mere seconds. Not only is this extremely convenient (there won't be any additional dishes for you to wash), but it also improves the quality of your milk foam.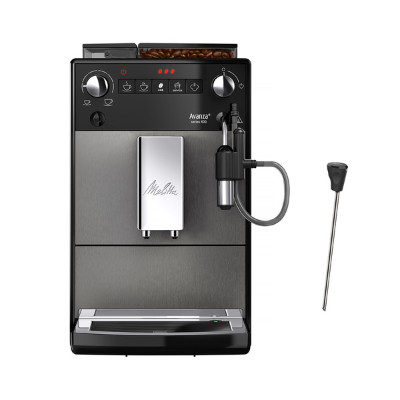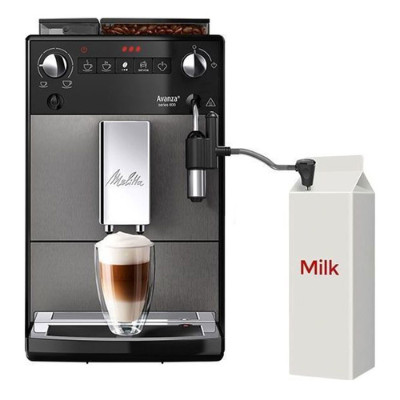 Frequently Asked Questions
Ask your question about the product