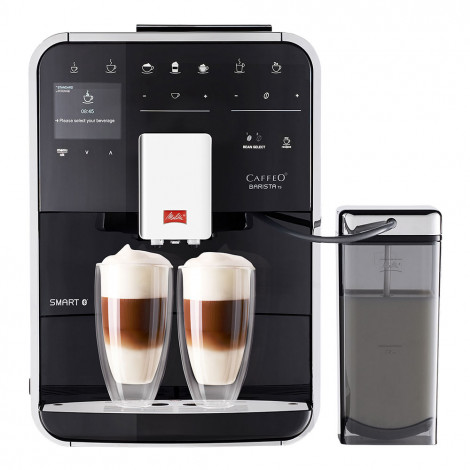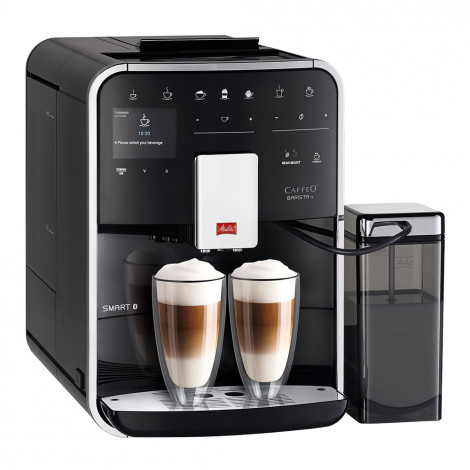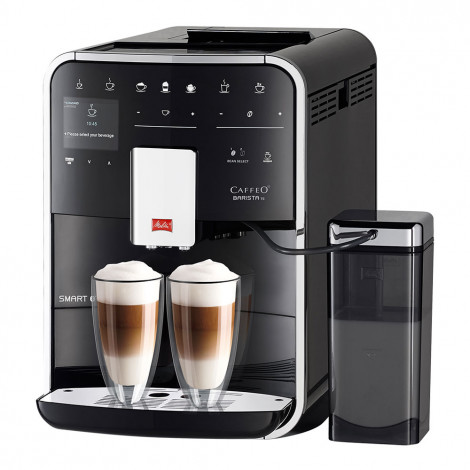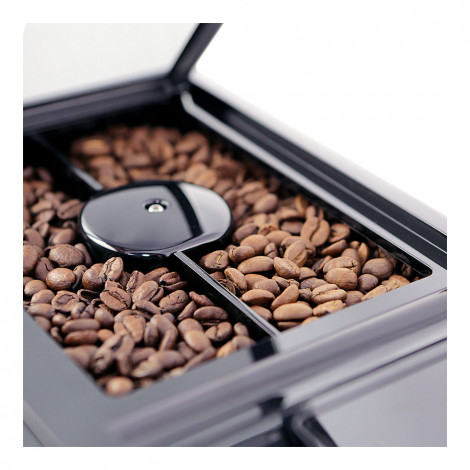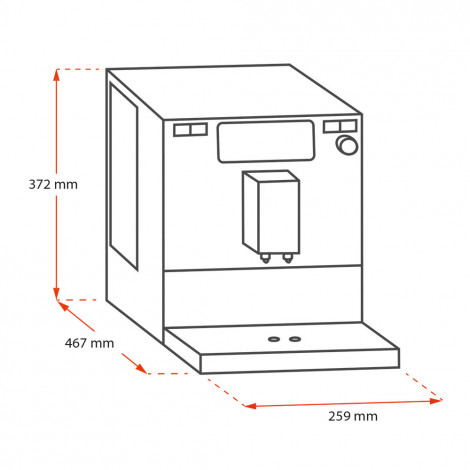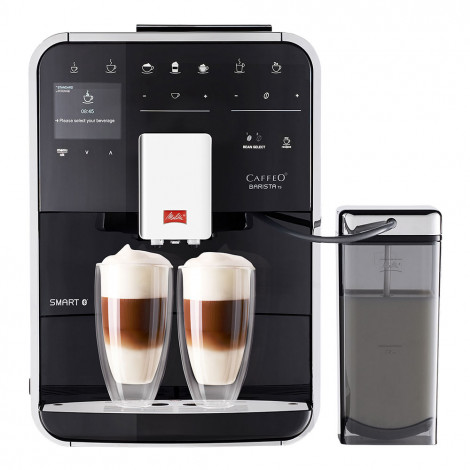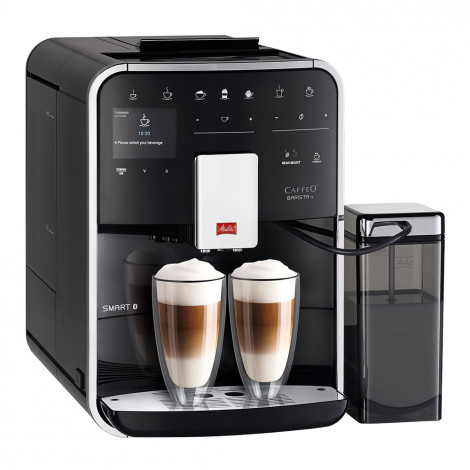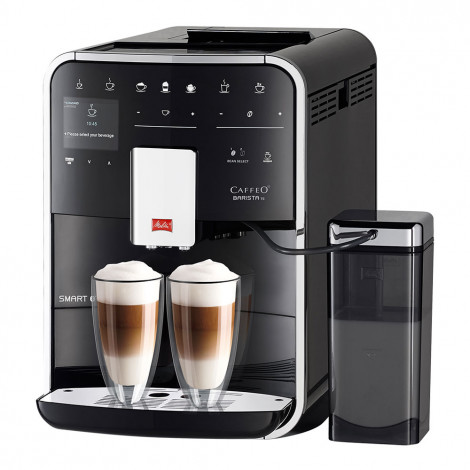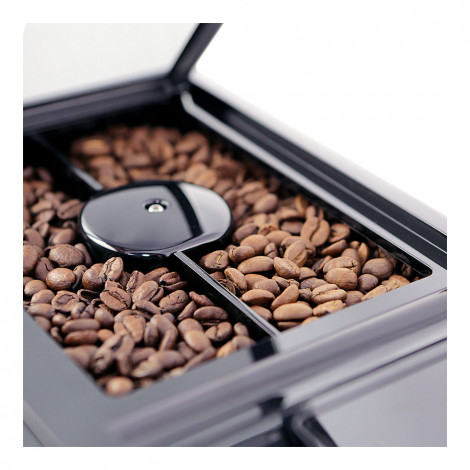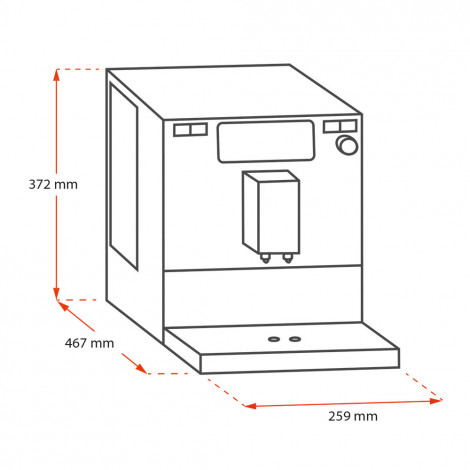 Coffee machine Melitta F85/0-102 Barista TS Smart
Become a member of COFFEE FRIEND'S VIP program and receive up to 5 vouchers of 10 € each for your upcoming purchases at COFFEE FRIEND'S online store. More information will be provided via your personal e-mail address once you've completed your purchase. The offer applies exclusively to natural persons.
Product is no longer in production.

Coffee machine Melitta F85/0-102 Barista TS Smart
In Stock
Specifications
Coffee machine uses
Coffee beans, Ground coffee
Milk system type
Automatic milk pipe system
Height-adjustable coffee spout
140 mm
Water pump pressure
15 BAR
Country of Origin
Germany
Number of bean containers
2
Second coffee bean tank
135 g
Coffee machine's screen
Colourful
Coffee machine's menu language
Danish, Dutch, english, estonian, finnish, French, german, Italian, Korean, latvian, lithuanian, Norwegian, polish, russian, Spanish, Swedish, Turkish, Ukrainian
Control type
Touch buttons
Coffee grounds capacity (portions)
16
Number of black coffees prepared at once
2
Number of coffee with milk recipes prepared at once
2
Adjustable grinding level
5
Portion size
Programmable
Adjustable milk foam volume
Yes
Coffee strength (levels)
5
Milk system cleaning program
Yes
Other
Hot milk, Hot water, Milk foam
Coffee
Americano, Americano extra shot, Black Eye, Café au lait, Caffè crema, Cappuccino, Dead Eye, Double caffè crema, Double espresso, Double ristretto, Espresso, Espresso Macchiato, Flat white, Latte, Latte Macchiato, Latte macchiato extra shot, Latte Macchiato triple shot, Long black, Lungo, Red Eye, Ristretto
Package contains
(*The manufacturer reserves the right to change the items included in the set without prior notice*), Cleaning tablets, Ground coffee dosing spoon, Milk container, Milk system cleaning liquid, Water filter, Water hardness test strip
Coffee Drinks
Americano
Cappuccino
Double espresso
Espresso
Espresso Macchiato
Flat white
Latte
Latte Macchiato
Long black
Lungo
Ristretto
Caffè crema
Americano extra shot
Café au lait
Double caffè crema
Double ristretto
Latte Macchiato triple shot
Dead Eye
Red Eye
Black Eye
About Melitta F85/0-102 Barista TS Smart
Bean-to-cup coffee machine Melitta "Barista TS Smart" is extremely smart, functional and prepares up to 21 different coffee drinks. You can enjoy 2 milk-based drinks at the same time. 2 separate bean containers make it possible to use 2 types of coffee beans (you can even program for what coffee drink what coffee beans will be used). 8 user profiles allow you to create 8 individual menus. Convenient control screen, the ability to control the coffee machine via a smart app and automated maintenance programs make using this coffee machine a real pleasure.
21 COFFEE RECIPES JUST AT ONE TOUCH
Prepare 4 classic coffee drinks: espresso, black coffee, cappuccino and latte macchiato. The additional drink menu includes 17 more trendy drinks: from americano to flat white or espresso doppio and even such exclusives like red eye, black eye or dead eye. Every coffee drink can be prepared just at your fingertips.
CONTROL VIA SMART APP MELITTA® CONNECT
Control the coffee machine directly from your smart device using the Melitta® Connect smart app. Program and save your individual settings, change coffee drink recipes. Training programs will assist with maintenance.
8 USER PROFILES
Even eight different users could create their own separate menu and program and save coffee drink recipes to their liking.
2 BEAN CONTAINERS FOR DIFFERENT TYPES OF BEANS
The coffee bean container is divided into two parts, so 2 different types of beans can be used. Choose and program for which coffee recipe which beans will be used.
2 PORTIONS OF MILK-BASED DRINKS SIMULTANEOSLY
The coffee machine not only prepares 2 servings of black coffee at a time, but also produces 2 servings of beverages with milk at once.
AUTHENTIC COFFEE PREPARATION PROCESS
Coffee drinks are prepared according to authentic coffee recipes, adding ingredients in a certain order. In the preparation of latte macchiato, espresso is added after milk and milk foam, for cappuccino – vice versa.
THE INTENSE AROMA FEATURE
Before brewing, turn on the IntenseAroma function and the body of the brewed coffee will be much thicker and the taste – much stronger (without changing the amount of coffee or water).
COLOURFUL DISPLAY
Due to the colourfl screen and clear touch icons the coffee machine is very easy to operate.
SUPER SILENT COFFEE GRINDER
Whether it's an early morning or late evening, use the coffee machine without being afraid to wake up your household. One of the first coffee machines on the market that was awarded with the Quiet Mark.
EASY MAINTENANCE
Automatic rinsing, cleaning and descaling programs help ensure perfect hygiene. It is possible to use a water filter (changing it regularly, it is necessary to descale the coffee machine only once or twice a year).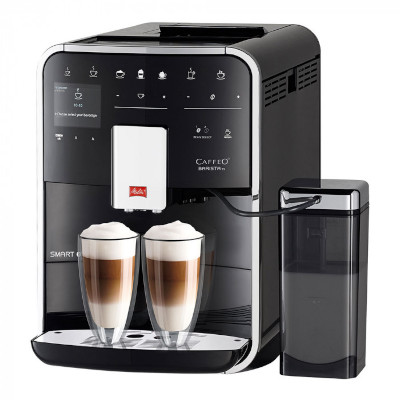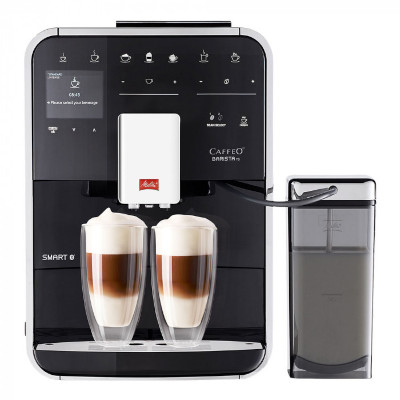 Frequently Asked Questions
Ask your question about the product
Melitta F85/0-102 Barista TS Smart reviews