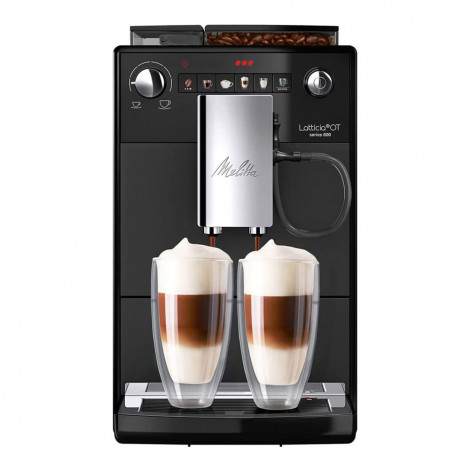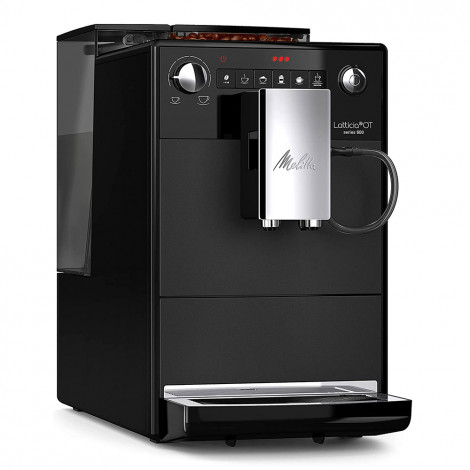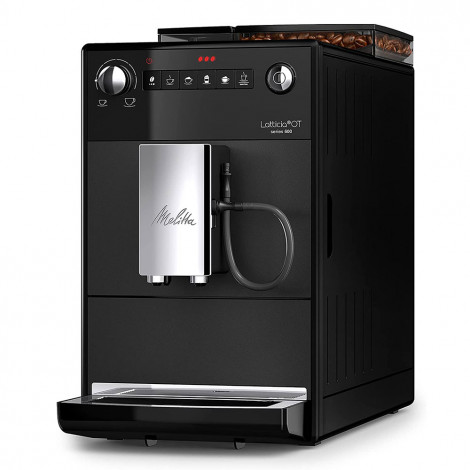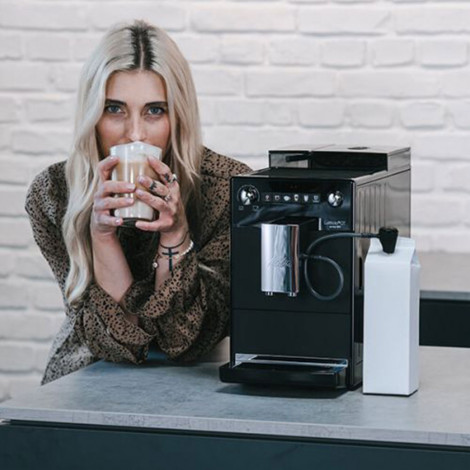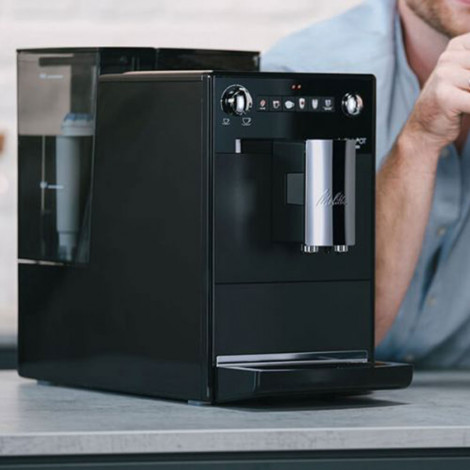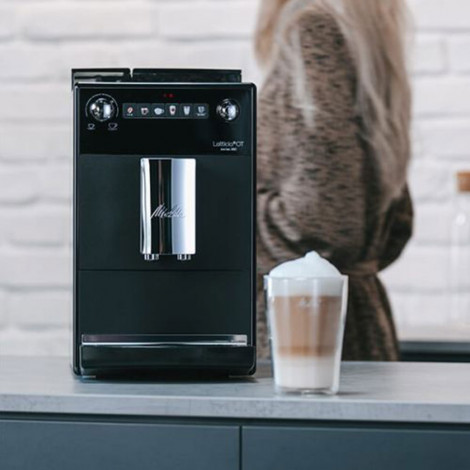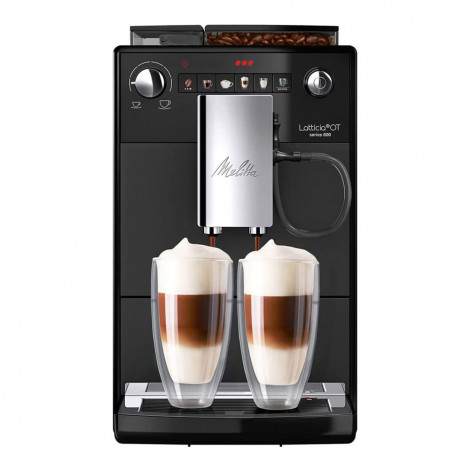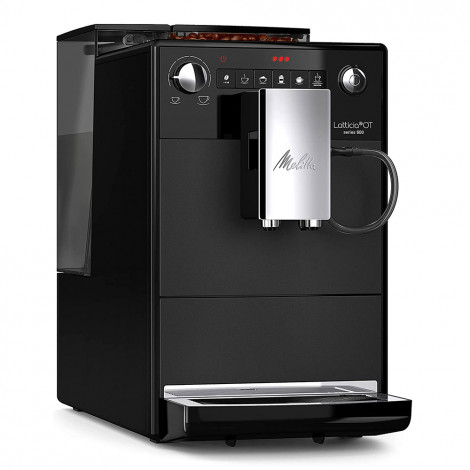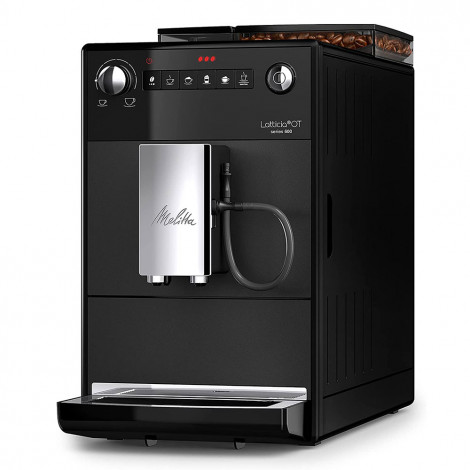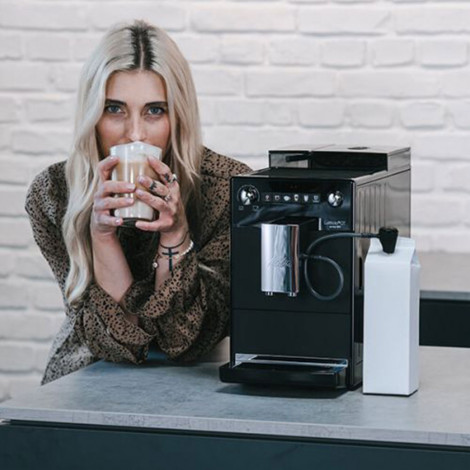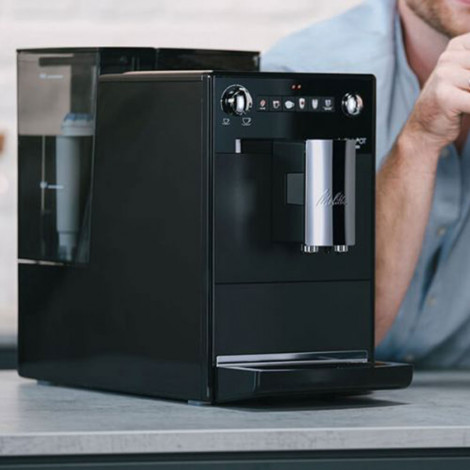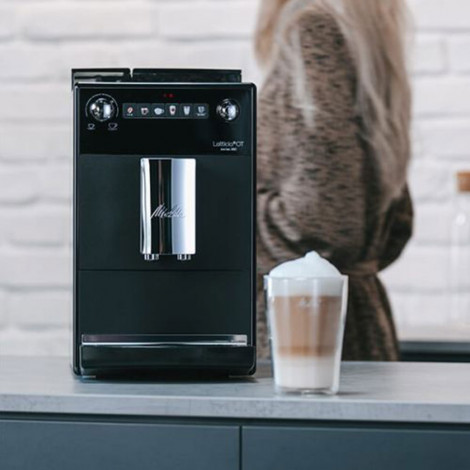 Coffee machine Melitta "Latticia OT F300-100"
By buying this coffee machine, you become eligible for the VIP membership program and discount vouchers with a total value of 50 €.
Become a member of COFFEE FRIEND'S VIP program and receive up to 5 vouchers of 10 € each for your upcoming purchases at COFFEE FRIEND'S online store. More information will be provided via your personal e-mail address once you've completed your purchase. The offer applies exclusively to natural persons.

Coffee machine Melitta "Latticia OT F300-100"
In Stock
Specifications
Coffee machine uses
Coffee beans
Milk system type
Automatic milk pipe system
Does coffee machine prepare hot water?
Yes
Height-adjustable coffee spout
13.5 cm
Water pump pressure
15 BAR
Country of Origin
Germany
Coffee machine's screen
Black/White
Number of black coffees prepared at once
2
Number of coffee with milk recipes prepared at once
2
Adjustable grinding level
5
Coffee strength (levels)
3
Coffee temperature (levels)
3
Milk system cleaning program
Yes
Other
Hot water, Milk foam
Coffee
Black coffee, Cappuccino, Espresso, Latte Macchiato
Package contains
(*The manufacturer reserves the right to change the items included in the set without prior notice*)
Coffee Drinks
Black coffee
Cappuccino
Espresso
Latte Macchiato
About product
Many coffee fans dream of enjoying homemade milk-based beverages that would taste exactly like those brewed in their favourite cafés. Luckily, with Melitta® "Latticia® OT", it's now very much a possibility! Thanks to the new integrated milk system called "LATTEperfection", any coffee is certain to turn out precisely how you want it. The machine is easy to use too due to its intuitive one-touch operation and coloured real image buttons. The double cup mode, the extra large bean container and the water tank with enlarged capacity all ensure plenty of coffee for you to enjoy—at the simple push of a button.
"LATTEPERFECTION" SYSTEM
Frothed twice, twice as delicious: the new "LATTEperfection" system makes all of your milk foam wishes come true at the push of a button. Unlike other integrated milk circuits currently on the market, this one froths milk twice. The result is wonderfully fine milk foam served at the exact right temperature.
ONE TOUCH
Enjoy café crème, cappuccino and latte macchiato by simply touching a coloured real image button. You can prepare some milk foam or dispense hot water at the touch of a button too.
EXTRA LARGE CONTAINERS
"Latticia® OT" boasts a removable, extra large water tank (1.5 l) and an extra large bean container (250 g), so there'll always be plenty of coffee for you to enjoy. Despite being just 20-cm-wide, this appliance is capacious enough to easily prepare two milk-based beverages at once.
SUPER-SILENT GRINDER
Now you can make yourself some coffee brewed from freshly ground beans without waking your loved ones up! This coffee machine is equipped with a super-silent steel conical burr grinder that grinds coffee beans quietly and efficiently.
BREWING STRENGTH AND GRIND LEVEL
To match everyone's individual preferences, brewing strength (three settings) and grind level (five settings) can both be adjusted.
BEVERAGE VOLUME ADJUSTMENT
Go ahead and set the desired volume for both black coffee drinks and milk-based beverages. The drink outlet can also be raised up to a height of 135 mm, so you'll be able to use glasses or extra large mugs too.
IDEAL AROMA
The new pump control system makes sure that water and coffee stay in contact for the exact required amount of time. Enjoy the classic espresso and café crème recipes, now with flawless aromas!
AUTHENTICALLY ITALIAN BREWING PROCESS
Coffee? Milk? Foam? What was the order again?.. All of the ingredients are guaranteed to be added in the correct order based on authentic Italian traditions.
ANTI-SCRATCH INSERT
The drip tray features a stainless-steel drip plate with a high-quality integrated anti-scratch plastic insert.
"QUICK & CLEAN"
It's definitely a good idea to clean your new appliance on a regular basis, that is, once two milk-based beverages have been prepared. Luckily, the new "Quick & Clean" milk circuit cleaning system provides you with flawless hygiene in just two simple steps! All you have to do is immerse the milk hose in a vessel filled with clear tap water and start the cleaning program. Thanks to the milk unit being easy to disassemble and clean, the whole process is made even more straightforward.
AUTOMATIC CLEANING AND DESCALING PROGRAM
This coffee machine will automatically notify you every time it needs to be cleaned or descaled. The service button provides easy access to the cleaning and descaling program, brewing temperature, water hardness settings and the handy auto-off function. The brewing unit is easy to remove too if necessary. You're guaranteed to be able to access the interior of the machine and clean it thoroughly without any problems.
WATER FILTER COMPATIBILITY
To make your coffee even tastier, use "Melitta® Pro Aqua" water filters. Using them will enable you to only descale your coffee machine once a year.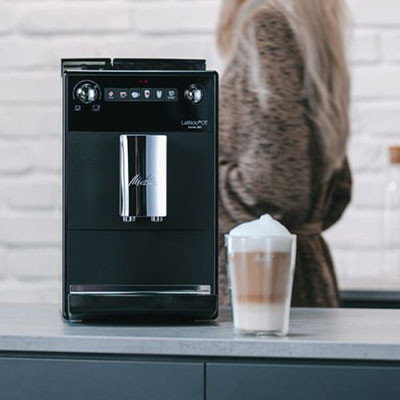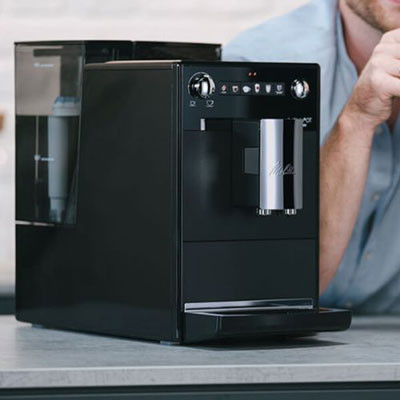 Frequently Asked Questions
Ask your question about the product