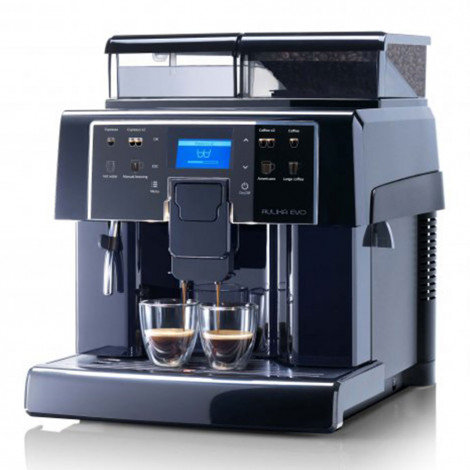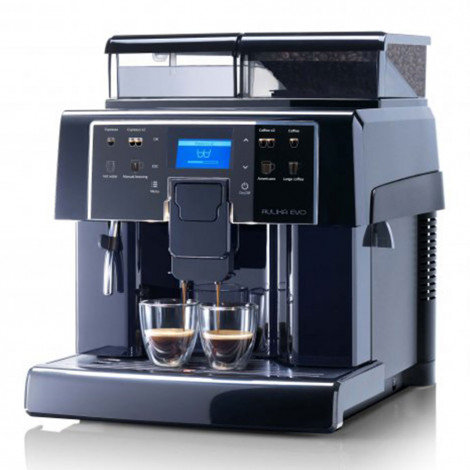 Coffee machine Saeco "Aulika Evo Black"
Once the parcel is ready for delivery, the gift voucher will be sent to the e-mail address provided by you (this may take a few days after payment). Promotions and discounts do not stack. he discount applies to all products except coffee machines. The offer is valid for natural persons only. Promotions are valid till 28.02.2023.
By buying this coffee machine, you become eligible for the VIP membership program and discount vouchers with a total value of 50 €.
Become a member of COFFEE FRIEND'S VIP program and receive up to 5 vouchers of 10 € each for your upcoming purchases at COFFEE FRIEND'S online store. More information will be provided via your personal e-mail address once you've completed your purchase. The offer applies exclusively to natural persons.

Coffee machine Saeco "Aulika Evo Black"
In Stock
Specifications
Manufacturer
Saeco Professional
Coffee machine uses
Coffee beans
Height-adjustable coffee spout
105 mm
Connection to the mains water supply
No
Recommended num. of cups per day
70
Coffee machine's screen
Black/White
Control type
Touch buttons
Coffee grounds capacity (portions)
18
Number of black coffees prepared at once
2
About product
Manufactured in Italy, the coffee machines belonging to the Saeco "Aulika Evo" line are designed for professional use. Thanks to a larger water tank, bean container and grounds container, the coffee machine Saeco "Aulika Evo Black" is absolutely perfect for offices.
CREATED FOR OFFICES
The coffee machine line Saeco "Aulika Evo" has been created specially for offices, so this model is equipped with larger internal containers: the water tank holds 2.5 l, the capacity of the bean container is 500 g, and the grounds container holds as much as 18 portions. The recommended maximum amount of cups brewed daily amounts to as many as 70 portions.
ESPRESSO, BLACK COFFEE, AMERICANO AND HOT WATER
With a single touch of the icon of your chosen drink, you can instantly enjoy espresso, black coffee (smaller or larger portion) and americano, all prepared from freshly ground coffee beans. Fans of tea can take advantage of the hot water function — the coffee machine is equipped with a separate hot water nozzle.
COFFEE JUST THE WAY YOU LIKE IT
Adjustable grind level, coffee strength, temperature and portion size allow you to enjoy coffee brewed just the way you like it.
CLEAR AND CONVENIENT OPERATION
Thanks to touch-sensitive drink buttons with photorealistic recipe icons, a convenient display and a menu that's easy to figure out, brewing drinks and operating the coffee machine is simpler than ever.
MODERN DESIGN
The stylish, modern design of this coffee machine means that it suits various spaces: from particularly elegant to informal ones.
EASY TO MAINTAIN
The coffee machine is equipped with automatic rinsing, descaling and brew unit cleaning programs. The brew unit of this appliance can be removed with ease, so perfect hygiene inside the appliance will be ensured with minimal effort.
Frequently Asked Questions
Ask your question about the product