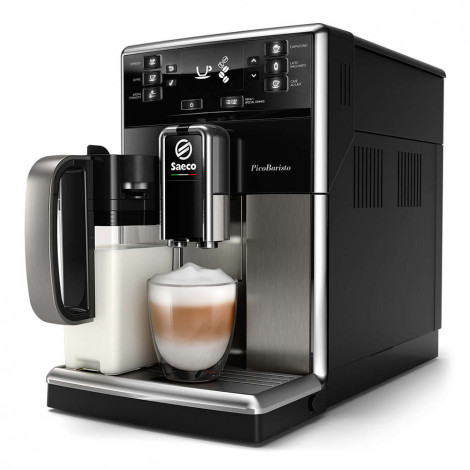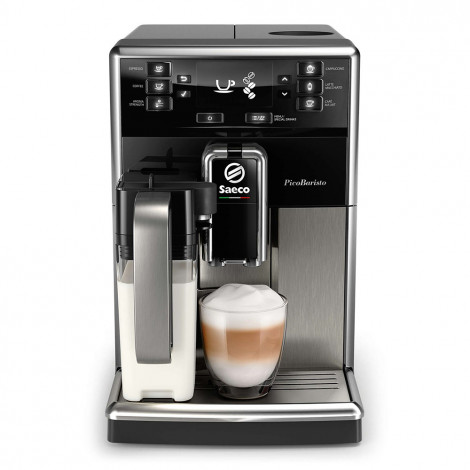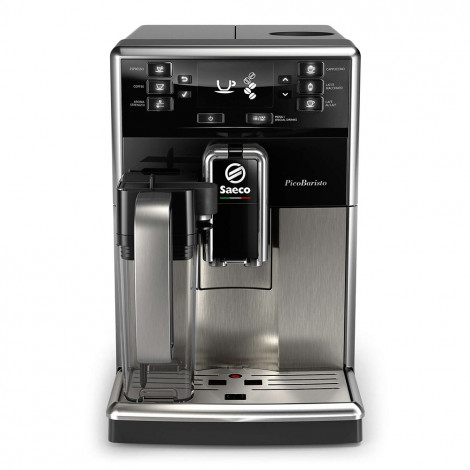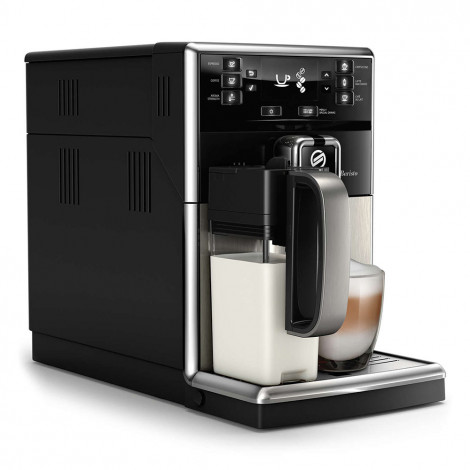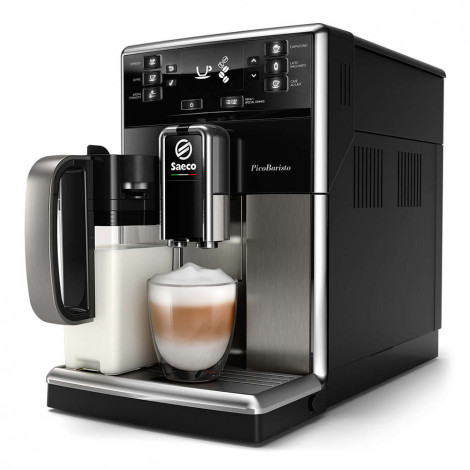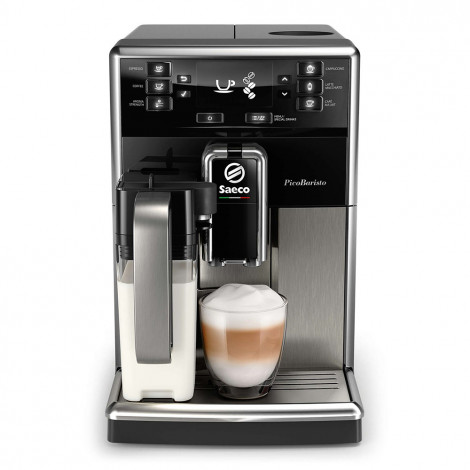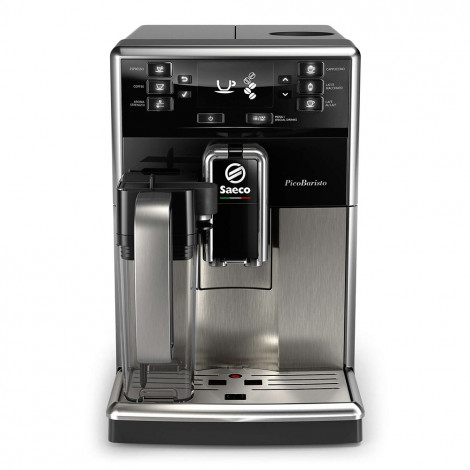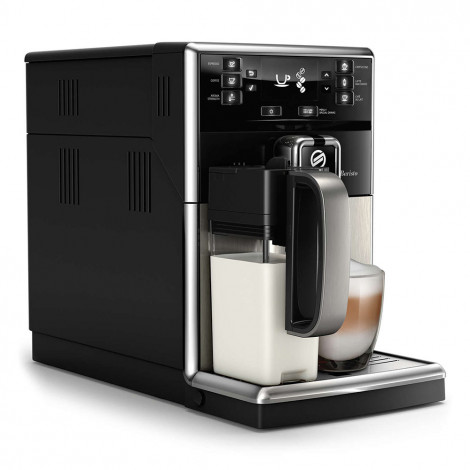 Coffee machine Saeco PicoBaristo SM5479/10
Become a member of COFFEE FRIEND'S VIP program and receive up to 5 vouchers of 10 € each for your upcoming purchases at COFFEE FRIEND'S online store. More information will be provided via your personal e-mail address once you've completed your purchase. The offer applies exclusively to natural persons.
Product is no longer in production.

Coffee machine Saeco PicoBaristo SM5479/10
In Stock
For coffee machine's maintenance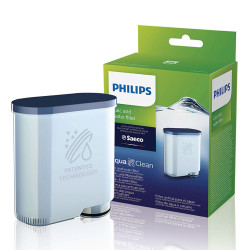 Water filter Philips AquaClean CA6903/10
With Philips patented "AquaClean" water filter you will not need to descale your automatic coffee machine every 500, cups. Enjoy pure water and great coffee flavour every day. Make sure you change the filter every 3 months.
*The product can be sent in either of the packages shown in the photo. The water filters have the same features and are compatible with Philips and Saeco coffee machines.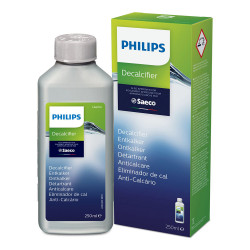 Descaling liquid Philips CA6700/10
Regular coffee machine's descaling is very important. This way your machine will always make impeccable coffee. This descaling liquid removes limescale and protects your machine, so in return it will serve a really long time.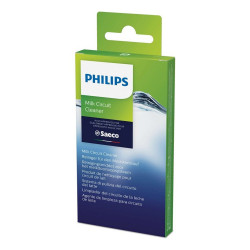 Milk circuit cleaner Philips CA6705/10
Using this Philips cleaner keeps espresso coffee machine's milk circuit clean. This cleaner not only protects the milk circuit from clogging, but also improves the taste of your coffee. It's recommended to use this cleaner once a month.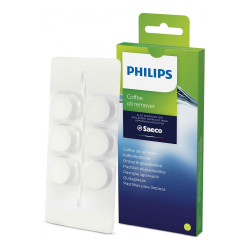 Coffee oil removing tablets Philips CA6704/10
These cleaning tablets will ensure your coffee machine's impeccable performance by removing coffee oil residues. It's recommended to clean your coffee machine every month or after every 500 cups. The package contains six cleaning tablets.
Specifications
Coffee machine uses
Coffee beans, Ground coffee
Milk system type
Integrated milk tank
Height-adjustable coffee spout
163 mm
Water pump pressure
15 BAR
Country of Origin
European Union
Coffee machine's screen
Black/White
Coffee machine's menu language
Czech, Dutch, english, german, Italian, polish, russian, Spanish, Swedish
Control type
Touch buttons
Coffee grounds capacity (portions)
15
Number of black coffees prepared at once
2
Number of coffee with milk recipes prepared at once
1
Adjustable grinding level
10
Portion size
Programmable
Coffee strength (levels)
5
Coffee temperature (levels)
3
Milk system cleaning program
Yes
Other
Hot water, Milk foam
Coffee
Americano, Black coffee, Cappuccino, Double espresso, Espresso, Flat white, Latte, Latte Macchiato, Ristretto
Package contains
(*The manufacturer reserves the right to change the items included in the set without prior notice*), Brew group grease, Cleaning brush, Ground coffee dosing spoon, Milk container, Water filter, Water hardness test strip
Coffee Drinks
Americano
Black coffee
Cappuccino
Double espresso
Espresso
Flat white
Latte
Latte Macchiato
Ristretto
About Saeco PicoBaristo SM5479/10
The fully automatic coffee machine "Saeco Picobaristo" prepares up to 10 coffee drinks from freshly ground coffee beans. Choose from classic drinks (espresso or cappuccino) or try the extremely popular and fashionable americano or flat white recipes. You can easily adjust drinks to your taste by changing the grinding level, the amount of coffee, portion size and temperature.
10 COFFEE DRINKS
Enjoy classic coffee drinks and discover new ones: ristretto, espresso, black coffee, americano, espresso doppio, cappuccino, latte macchiatto, latte, flat white. All drinks are prepared with a single touch!
EASY-TO-USE DISPLAY WITH TOUCH ICONS
Using the intuitive display with easily recognisable icons, you can easily select the desired beverage, change settings and run the necessary maintenance programs.
MEMO FUNCTION
Program the volume of each drink according to your taste and the size of your favourite cup. All you have to do is simply press the desired recipe button and wait for the MEMO icon to appear on the display: programming mode will start instantly. Once the desired amount of coffee or milk has been poured, just press the OK button and the coffee machine will remember your preference.
CERAMIC GRINDER WITH 10 GRINDING LEVELS
The 100% ceramic grinder is not only long-lasting (designed for no less than 20 000 cups), but it also grinds coffee beans perfectly for each portion of coffee. You can choose grinding settings from as many as 10 levels: from finest to coarsest.
AUTOMATIC MILK SYSTEM LATTEPERFETTO AND QUICK CLEAN
Saeco's automatic milk system "LattePerfetto" ensures milk foam that is perfectly thick and delicious every time. After each preparation of a milk-based drink, the coffee machine offers a Quick Clean: just press the OK button and the milk system will be rinsed with hot water. The integrated milk jug is easy to remove and disassemble for a more thorough cleaning.
CSA EVALUATION: AUTHENTIC COFFEE TASTE
According to the Italian Tasting Center (CSA), the coffee-making technology used in "Saeco" coffee machines ensures authentic taste of the prepared coffee and unveils the natural aromas of chocolate, nuts, fruit or flowers.
HOT COFFEE IN AN INSTANT
Preparing delicious coffee requires the right temperature. "Saeco" coffee machines use a highly efficient and fast-heating coffee brewing element (thermoblock): it is made of lightweight aluminum, while stainless steel has been used to make its body.
AQUA CLEAN WATER FILTER: UP TO 5000 CUPS WITH NO DESCALING
By using the "AquaClean" water filter and replacing it according to the instructions given by the coffee machine, you can prepare up to 5000 cups of coffee before running the descaling program.
PERFECT CLEANLINESS: REMOVABLE BREWING UNIT
The removable and easy-to-clean brewing unit (the most important part of a coffee machine) ensures perfect cleanliness of the coffee preparation system.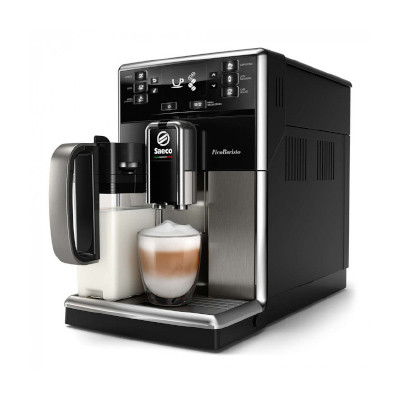 Frequently Asked Questions
Ask your question about the product
Saeco PicoBaristo SM5479/10 reviews