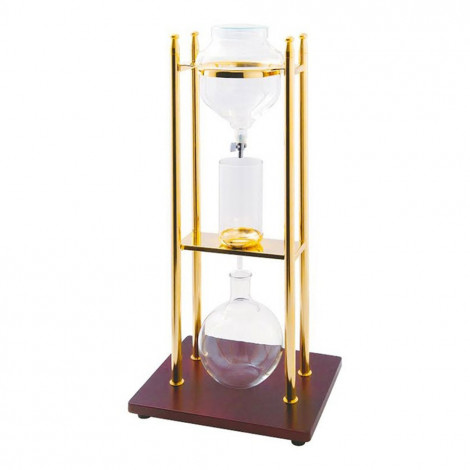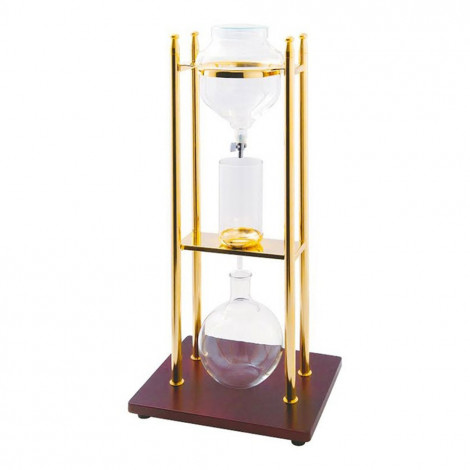 Cold brew tower Kalita Gold S (for 10 cups)

Cold brew tower Kalita Gold S (for 10 cups)
In Stock
Specifications
Type
Cold Brew coffee makers
About product
This coffee brewing system, or the cold brew tower, is designed for the preparation of cold brew coffee using the slow drip method. Not only is the brewing process beautiful to look at and bound to attract the attention of all customers in your shop or café, but the final result is also pleasing to the palate: the flavour of a drink prepared with the help of the slow drip technique is perfectly balanced and free of acidity. Moreover, the combination of the wooden base and the golden frame provides this brewing tool with a feel of true luxury and elegance.
The full set includes: a wooden base, an iron supporting frame, a top beaker, a glass lid for the top beaker, a middle beaker, a bottom beaker, a tap for the top beaker, a round 65-mm paper filter, a ceramic filter.
Fit for the brewing of 10 cups.
***
Kalita Co., Ltd. was established in 1959, in Tokyo. Since then, their products — extremely high-quality coffee-making equipment designed for brewing the perfect coffee at home — have become famous all over the world.
Frequently Asked Questions
Ask your question about the product