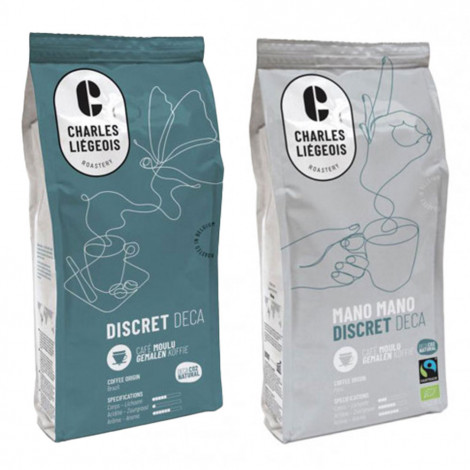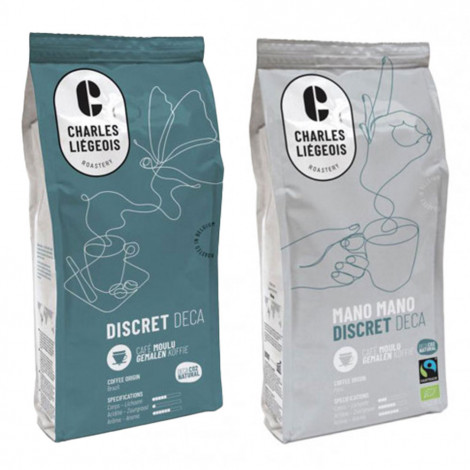 Decaf ground coffee set Charles Liégeois Mano Mano Discret Déca + Discret Deca
In Stock
Delivery takes 3 – 5 days * 85% of orders are delivered the next day

Decaf ground coffee set Charles Liégeois Mano Mano Discret Déca + Discret Deca
In Stock
Specifications
Coffee type
Ground coffee
Manufacturer
Coffee Friend
Country of Origin
Lithuania
About product
Ground coffee Charles Liégeois "Mano Mano Discret Déca", 250 g
This organic ground coffee from Peru is characterised by an intense and unique aroma. In the flavour of the prepared drink, subtle notes of spices and toasted oats are unveiled.
Caffeine-free: caffeine has been removed using the natural CO2 method.
Ingredients: ground roasted organic* decaffeinated coffee.
*Grown in organic farms: certified in accordance with BE-BIO-01.
Storage conditions: store in a dry, cool place.
Ground coffee Café Liégeois "Discret Deca", 250 g
If you have problems with high blood pressure or sleeping disorders, but you simply can not imagine your day without coffee, we suggest you try these beans! This coffee is caffeine-free yet aromatic and well-balanced. It won't disappoint you.
Asian origin adds intensive and unique taste for this coffee. You can notice a pleasant connection of spices and roasted grains.
No added flavours. Caffeine free.
Frequently Asked Questions
Ask your question about the product