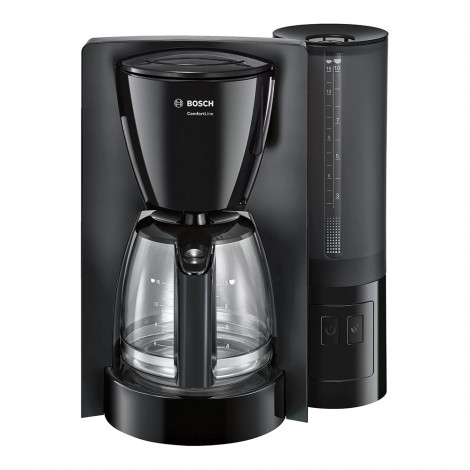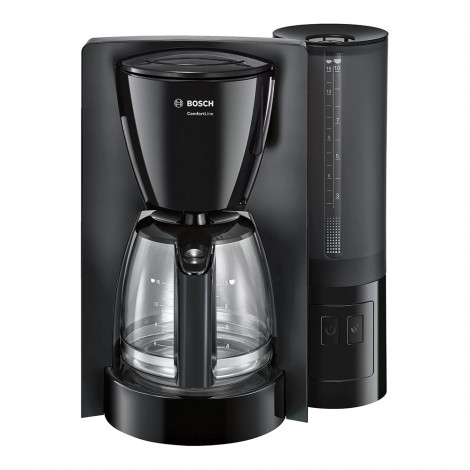 Filter coffee machine Bosch "ComfortLine TKA6A043"
Delivery takes 3 – 5 days * 85% of orders are delivered the next day

Filter coffee machine Bosch "ComfortLine TKA6A043"
In Stock
Specifications
Type
Filter coffee makers
Coffee machine uses
Ground coffee
Extra features
Integrated descaling indicator
Country of Origin
European Union
Coffee machine's screen
None
About product
Stylish filter coffee maker prepares up to 10/15 cups of coffee (1.25 l) at once. All you have to do is add your favourite ground coffee into a paper filter, turn on the coffee maker and you will soon enjoy the great aroma and taste of coffee.
AROMA + FUNCTION FOR INTENSE COFFEE
When the Aroma + button is pressed, the water flows more slowly, so the prepared coffee has a more intense aroma and taste.
EASY-TO-OPEN COFFEE FILTER HOLDER
Coffee preparation is very easy: open the coffee filter holder, insert the paper filter, add your favourite ground coffee, press the coffee button and enjoy a delicious coffee in an instant.
DROP PROTECTION FOR SAFETY AND HYGIENE
Due to the integrated drop protection function, you can remove the coffee jug before the coffee brewing process is completed.
REMOVABLE WATER TANK
Thanks to the easily removable, convenient and capacious (1.25 l) water tank, it is extremely convenient to refill water.
EASY-TO-USE SYSTEM FOR LIMESCALE REMOVAL
The integrated system "EasyDescale3" helps to protect the coffee machine from limescale and prolongs its service life. It consists of three parts: water hardness setting, notification signal about the need to process a descaling program and the descaling program itself.
Frequently Asked Questions
Ask your question about the product