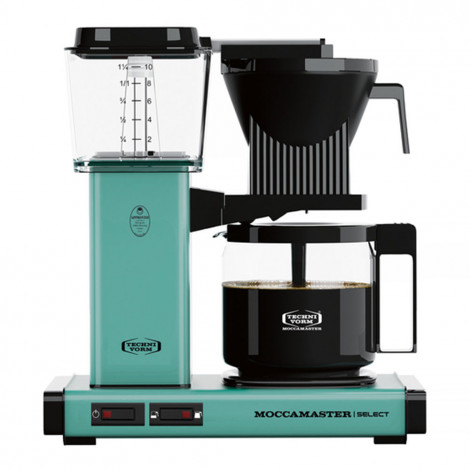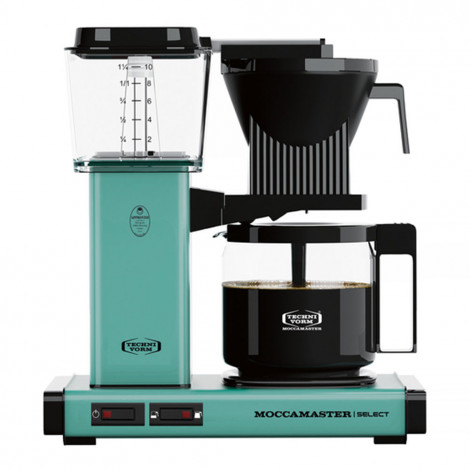 Filter coffee maker Moccamaster "KBG 741 Select Turquoise"

Filter coffee maker Moccamaster "KBG 741 Select Turquoise"
In Stock
Specifications
Type
Filter coffee makers
Coffee machine uses
Ground coffee
Country of Origin
Netherlands
About product
Handmade Moccamaster filter coffee makers are created for those, who appreciate the highest quality. Coffee makers produced in the Netherlands are compliant with the requirements of the well-known international coffee organizations (SCAE, ECBC, SCAA). This means that coffee made by these coffee makers is of perfect quality and taste.
MAKE AS MUCH COFFEE AS YOU NEED

The new model features an integrated switch, which allows you to select the amount of coffee to be prepared – you can choose between full jug (1,25 l) for 10 cups or half jug (750 ml) for 6 cups. While brewing smaller amount of coffee the water flow will be slower so that coffee always has the best taste and aroma.
IDEAL TEMPERATURE FOR PERFECT COFFEE

Brewing temperature used in the Moccamaster coffee makers is ideal for brewing the perfect coffee (from 92° to 96°C). At this temperature water perfectly dissolves aromatic oils found in ground coffee beans. The hot plate under the glass carafe keeps coffee at 80°- 85°C and automatically switches off after 40 minutes.
COPPER HEATING ELEMENT

Stable coffee preparation temperature will be guaranteed with the exclusive copper heating element. Temperature is even from the start, till the very end of the process, which is crucial for great taste. The brewing process itself is very quiet.
Technical features:

– Possibility to prepare 6 cups (750 ml) or 10 cups (1,25 ml) of coffee
– Coffee brewing temperature: 92 – 96°C
– Evenly damp coffee grounds
– Automatic drip stop
– Brewing time: 5-6 minutes, automatic switch off (independant from the hot plate)
– Hot plate keeps coffee at 80°- 85°C and automatically switches off after 40 minutes
– Glass carafe with a lid and an agitator for even coffee brewing (capacity – 1.25 l)
– Highest quality copper heating element with double safety casing
– Removable parts are easy to disassemble and clean
– Suitable paper filters of 4th size
– Compliant with the SCAE, ECBC and SCAA requirements

Frequently Asked Questions
Ask your question about the product