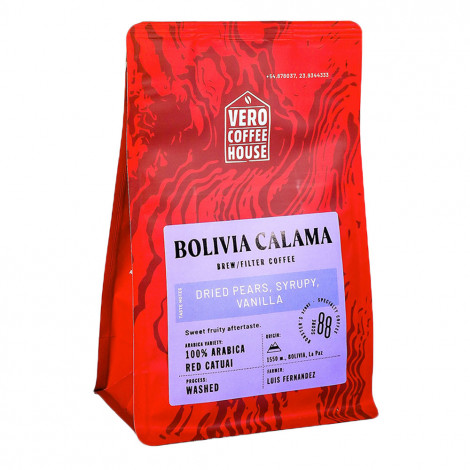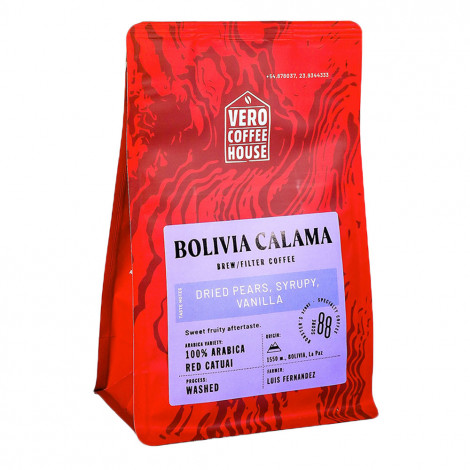 Ground coffee Vero Coffee House Bolivia Calama, 200 g
Bolivia
Single-origin
Medium
Product is no longer in production.

Ground coffee Vero Coffee House Bolivia Calama, 200 g
In Stock
Specifications
Coffee type
Ground coffee
Coffee kind
Single-origin
Manufacturer
Vero Coffee House
Coffee origin region
Bolivia
Country of Origin
Lithuania
Coffee beans type
100% Arabica, Specialty coffee
About product
Once prepared, this unique Bolivian coffee unveils notes of dried pears, syrup and vanilla.
This coffee originates from the farm run by Luis Fernandez and located in the Bolivian region of Calama. It's a small farm, measuring as little as 4 hectares. The beans have been processed by using the washed method and then drying them in direct sunlight (in hammocks).
The SCA has scored this coffee 88 points out of 100.
COUNTRY: Bolivia
REGION: Calama, La Paz
FARM: Luis Fernandez
ALTITUDE: 1550 m
VARIETY: Red Catuai
PROCESS: Washed
ROAST LEVEL: Fit for infusion and filter coffee
TASTING NOTES: Dried pears, Syrup, Vanilla
Ingredients: ground roasted coffee.
Storage conditions: store in a dry, cool place.
Frequently Asked Questions
Ask your question about the product